Barefoot: The Mark Baumer Story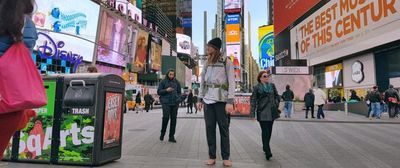 Your response to "Barefoot: The Mark Baumer Story" will depend entirely on your tolerance for Baumer himself.
The documentary follows the 33-year-old environmental activist, performance artist and poet in his attempt to walk shoeless across the United States to bring attention to climate change. His journey began in Providence, Rhode Island, in October 2016, just as the possibility of a Donald Trump presidency spelled peril for the planet; it ended along a Florida panhandle highway in January 2017, when a car struck and killed him in broad daylight.
Along the way, writer/director/editor Julie Sokolow offers a wide array of archival footage, most of which Baumer himself shot and narrated. A prolific documentarian, Baumer recorded everything all the time and posted videos on YouTube and Instagram daily. These clips feature him talking with nonstop intensity about whatever he encounters on his ambitious adventure. Solemn cows, a dead turtle, garbanzo beans gobbled straight from the can, a quiet lake on a peaceful morning—he marvels at all of it, usually with a buoyant and childlike enthusiasm.
"I don't want to live in a world where penguins don't exist!" the long-haired, bespectacled Baumer shouts at one point while discussing the decimation of the polar ice caps.
His energy and offbeat sensibility are a lot to take, though, even over the course of just 85 minutes. If you don't find him completely annoying, perhaps you'll become enthralled in the daring and sacrifice of Baumer's mission, as Sokolow clearly intends. This is a guy who literally walked the walk, raising money and giving his life for the crucial cause that drove him. His passion was genuine; his dedication, inspiring. But "Barefoot" makes the mistake of deifying him posthumously at the expense of rounding him out as a full human being, and it pads its running time with inane footage that grows repetitive.
"Barefoot" also relies on a series of talking head interviews with people who essentially say the same things about him over and over in slightly different ways. Sokolow talks with Baumer's mother and father, who help humanize their only child with stories of his active, outdoorsy youth. Anecdotes about his hockey and baseball prowess growing up in Bangor, Maine, lay the foundation for the arduous physicality of his journey. Friends and co-workers recall his willingness to jump in and lend his time and voice to various environmental causes.
But Sokolow scratches the surface of potentially more interesting material in her discussions with Baumer's girlfriend, Ada Smailbegović. She explains the allure of this unusual man and the interests that connected them, but she also speaks with candor and regret when she says she wishes he'd consulted her before setting out on his trek, because she wanted to spend the rest of her life with him. Just that little glimmer of complexity is tantalizing.
Some of the day-in, day-out details of his ordeal are compelling from a sheer curiosity perspective: what he included in his backpack (nail clippers, Lärabars, a head lamp), or how salt and chemicals scattered on the road after a snowfall trash his feet. And as he heads west from the liberal comfort of New England into the Trump-friendly territory of rural New Jersey and central Pennsylvania, he encounters people who perhaps didn't believe in climate change but are willing to listen to him as he shares facts and statistics.
Even more encouragingly, Baumer meets countless strangers along the road who offer him food, a ride and—often—shoes, mistaking him for a homeless man in need. A gentleman in a pickup truck stops him in the middle of a hailstorm and offers to drive him somewhere, warning Baumer that he'll catch pneumonia and die if he stays out like this in such harsh conditions.
Baumer gives them all a cheery thank you and tells them he'll be fine, that he wants to be barefoot, and politely continues on his path. Despite the film's sad ending, these moments of human interconnectedness at a time of such vast polarization ultimately represent a step in the right direction.
Now available on digital platforms