London Film Festival 2020 Highlights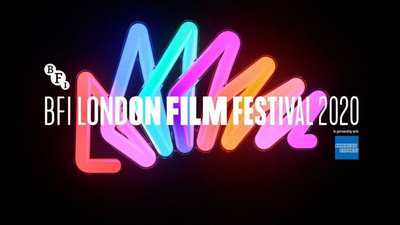 It wasn't like the last time I'd visited the British Film Institute. The buildings were all the same, massive cubes of concrete sitting along the bank of the Thames. Their façades were aglow with pink and blue lights, as I remembered them last time, glinting off of the river as we crossed Waterloo Bridge. But it was hard to ignore the general quietness.
I'd visited Southbank years ago. I was on a date at the Winter Market just a stone's throw from the BFI; it was a frigid November evening but the whole riverside was packed. Here I was again, my date from that night now my fiancée, accompanying me to a London Film Festival screening of Bassam Tariq's "Mogul Mowgli." This time there were hardly any pedestrians milling about despite it being a fairly balmy October evening. I'd been back since for other film screenings but now, as we stood outside the building waiting to be let in—under the new rules, we weren't allowed to queue in the lobby—I considered how drastically cinemas have changed to accommodate safety recommendations.
There was no press section for London Film Festival screenings this year. There wasn't enough room since they'd removed about half of the seats in each theater to enforce social distancing. Single and paired seats were now spaced by strangely empty gaps in every row. Masks on, we made our way to our pre-booked allocation.
Behind us, a man sat alone in a paired seat. A woman walked up: she'd booked that spot, an impossibility given that paired seats had to be purchased as a unit. But the seat listed on the man's ticket was now just a gap—no cushion. A fluke in the system? They didn't seem to mind. They sat together for the whole film. So much for distancing.
Despite the cinema's trappings, the rest of the screening played out as it has in past years. The filmmakers Tariq and writer/lead Riz Ahmed introduced the film over pre-recorded Zoom calls before launching into the movie where Tariq and Ahmed took turns discussing the ways Zed's physical troubles parallel his psychological and emotional pain. Building on these themes, "Mogul Mowgli" proves itself to be a beautiful film riddled with authentic commentary and rich pathos.
Ahmed fuses his own Pakistani upbringing with Zed's, wrestling with his roots as he debates his parents in fluent Urdu. As Zed develops an autoimmune disease where his body due to his immune system's inability to self-recognize, his career as a rapper also comes to a halt. The metaphor isn't lost: lack of self recognition also infuses Zed's almost hollow sense of who he is. Sure, he uses the trappings of his Pakistani identity to build his brand as a performer, but to what extent does he engage with his familial lineage? Questions of assimilation familiar to any child of immigrants or subcultures quickly start to arise, immediately clicking with my own internal struggle between my Jewish identity and the perils and promise of modern life. "Mowgli" is a smart film that uses illness to literalize these very concepts, powered by a typically sympathetic and defiant performance from Ahmed.
Up in Cambridge, I caught the Irish domestic violence drama "Herself" at my local cinema. The screening was scheduled just two days before the cinema was set to shutter for the foreseeable future. Its parent company, Cineworld, had announced plans to close amid the pandemic, taking with it Picturehouses around the UK. In light of this, there was a sense of absurdity as the previews before "Herself" highlighted upcoming events that may never happen. I sat space out from other patrons—although none of the seats were physically removed like they were at the BFI—and had the distinct feeling of post-apocalypse as I watched ads for moments that won't ever come to pass. Think Will Smith wandering through Times Square in "I Am Legend" as billboards advertise films from a bygone era.
There was no escaping COVID-19 during "Herself," either. Phyllida Lloyd's harrowing story of a woman surviving domestic abuse makes it hard not to immediately think of the troubling increase in instances of domestic abuse under lockdown, something Lloyd highlighted in her Zoom introduction to the film. But the film also speaks to the beauty of communal resilience under pressure: the community comes together to help Sandra (a heartbreakingly resilient Clara Dunne) build a house to escape Gary's (a simmering Ian Lloyd Anderson) menacing control. Conleth Hill's foreman calls the project an exercise in "meitheal"—an Irish concept of reciprocal cooperative labor that serves as a perfect analogue to the mutual aid efforts that have picked up under COVID. Reinforcing the good that spontaneous, autonomous approaches to helping families in impossible situations can do gives what might have been a dour film a hopeful tone without ever feeling cloying.
The London Film Festival was filled with pointed films like "Herself," powerful in their own right and even more so given our collective experiences over the past year. To take two documentaries as an example, "Africa Apocalypse" and "Ultraviolence" course with the justified rage of the Black Lives Matter uprisings in American and the recent #EndSARS protests in Lagos. "Africa Apocalypse" follows University of Oxford student Femi Nylander as he wrestles with his Nigerian and British identities: he is both the product and perpetrator of oppression. His journey along the Nigeria/Niger border as he traces the bloody march of the French soldier Paul Voulet brings into stark light the not-so-distant history of European colonialism in Africa. The film's steadfast interest in the angry testimonies of the descendants of those tormented by Voulet reinforces the historical narrative's horrifying sense of tangibility.
In "Ultraviolence," Ken Fero follows up his controversial film "Injustice" with another fiery documentary on the shameful history of killings by British police. The movie is a dizzying loop of murder-by-police, communities marching for justice, toothless inquiries into the officers' conduct from government watchdogs, and vindications for the cops at the back end. Each new victim Fero introduces follows this pattern—just as one case is getting popular support for an official inquiry, another investigation is ending with the typical result of no charges for the officers involved. It is a harrowing reminder that racism, militarism, Islamophobia, and egregious, untempered violence from the state are far from unique to America's tortured landscape—as is resistance to these evils through protest.
I particularly enjoyed "The Salt in Our Waters," a narrative film about a Bangladeshi artist named Rudro (Titas Zia) from the big city who travels out to the Bangladeshi Delta to live and work in a fishing village. His modern notions of gender parity, artistic expression, and scientific prediction clash with the community's traditional sensibilities, leading to conflict and more than a few brushes with death. It's a wonderful meditation on modernity, climate change, family, and love.
Yet while the film is beautifully acted and boasts a story that resonates across language and culture, what particularly struck me about "Waters" is how meticulously it's shot. Cinematographer Chananun Chotrungroj captures every scene with a sense of silent majesty. In one scene, the mise en scene is framed by the propellers of an enormous beached ship, shrinking Rudro and his companions against the beachfront as they flee pursuers. In another, she casts her camera's gaze wistfully across an array of downed trees, soon to become timber for the village's fires and shelters. It's artists like Chotrungroj whose work is so indelible you can't help but follow them excitedly from film to film; I cannot wait to see what she gets up to next.
It was a joy to return to the wilds of the Emerald Isle with Tomm Moore. "Wolfwalkers" is a fitting conclusion to his thematic trilogy about Irish folklore and is a marvel of animation. The film's peaceful moments revel in the deep greens and autumnal browns of hand drawn forests and landscapes, shattering suddenly when conflict arises. Gone are the mystical trees and bushes that dot the background as humans enter rabid contests with the wolves; amid the bloodshed, they are replaced by violently abstracted colors and shapes. Moore leans heavily into environmental themes this time which helps give "Wolfwalkers" a new spin on his latest story about a clash between human invaders and the spirits of nature. After 2017's moving and decidedly mature "The Breadwinner" from Moore's collaborator Nora Twomey, it looks like their studio, Cartoon Saloon, is on track for a fourth knockout.
I'd be remiss if I didn't mention Tomas Vinterberg's "Another Round," which once again pairs the storied director with both the inimitable Mads Mikkelsen and Thomas Bo Larsen's sonorous baritone. It's a thoughtful movie exploring masculinity, aging, and inhibitions, although for me it never quite reaches the heights of Vinterberg's unforgettable 2012 outing, "The Hunt." Meanwhile, the black and white "Shadow Country" (from director Bohdan Sláma) struggles to find something to say as it ponders through a both sides narrative about a Czech village suffering under the control of both Nazi Germany and the Soviet Union. Yet maybe the most confounding film that I came across at the festival was Christian Petzold's "Undine," a tragic romance that's too weird to be read linearly but too normal to say anything of particular interest. By the time the film's credits rolled, I found myself both bewildered by its messaging and disinterested in puzzling any of it out. I doubt I'd even remember the film's plot at all if I hadn't taken studious notes.
Perhaps my favorite film of the festival was the feature debut of writer/director Ekwa Msangi, "Farewell Amor." It's a sensitive exploration of reunion as Walter (Ntare Guma Mbaho Mwine) welcomes his wife, Esther (Zainab Jah), and daughter, Sylvia (Jayme Lawson), from Tanzania after 17 years apart. Esther and Sylvia walk into his simple Brooklyn life, a far cry from their Christian traditionalism back home, and find a man struggling against the unforgiving tide of the so-called American Dream.
The film is told from each of their perspectives in overlapping timelines. It's a choice that might feel gimmicky in lesser hands, but Msangi uses the structure to force us to reevaluate characters through different sets of eyes. The layering adds to the complexity and tenderness of the family dynamic as they adjust to the reunion and the realities of a modern New York.
Even where I had quibbles about "Farewell Amor," as with the cinematography—I wish Sylvia's dance sequence captured the choreography in full rather than chopping up the dancers with medium shots—other moments are visually remarkable enough to compensate. One sequence places Esther against ethereally lit church doors, a mesmerizing spectacle, while another shows her examining her outfit in the mirror while her neighbor is cleverly framed in the reflection. All told, I was completely enamored with this heartfelt tale of Angolan immigrants and estranged reunion. There's something poetic about civil war forcing a family apart and to all corners of the world, all for their journey to culminate as so many immigrant family stories have, including my own: in a tiny flat in Brooklyn.