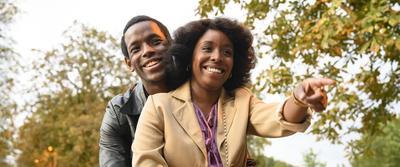 The ladies are in the kitchen cooking. As they chop and simmer, they suddenly break into song. It's a tender lover's lament, rendered a capella, with a high note that one of the women nails with pride while the other two mildly falter. They look at the overachiever in their midst, pointing at her as if to say "OK, Miss Thing, we'll give you that." As they joke, two gentlemen are moving around furniture in the house. One stops to tease the chefs, presumably to ensure that he'll be entitled to some of that good food they're cooking. Perhaps he's their brother, or the neighborhood comedian who is fun to be around even in the most dire of circumstances. His partners call for him to return to his duties, and when the camera cuts to them rolling out two large speakers in a van, we realize everyone is preparing for a house party. "Lovers Rock" will return to all these details later, creating a film so sumptuously present that you feel like one of the partygoers.
This film, which opens the New York Film Festival, is one of a five-part series called "Small Axe," comprising a decade-spanning look at West Indians in London. The festival is showing three episodes. In a way, director/co-writer Steve McQueen's opus evokes August Wilson's Pittsburgh cycle, which is also a multi-work narrative of Blacks dealing with life throughout the 20th century. But, unlike Wilson, who composed his unforgettable melodies with words, McQueen uses the screen as his canvas, delivering powerful, rich images that propel the story along. "Lovers Rock" is a delectable feast for the senses, not unlike that large pot of curry goat being fussed over on the stove by the songstresses. The viewer is not only a fly on the wall at this party, they are also on the dance floor being carried along as the music moves them.
One of the party's attendees, Martha (Amarah-Jae St. Aubyn) is first seen sneaking out of her window. Before she plops into the frame, we hear something drop to the ground, followed by sounds of struggle as she executes her escape. Mission accomplished, she meets up with Patti (Shaniqua Okwok), her best girl, who seems flabbergasted that Martha managed to climb out a second story window wearing those shoes. (She didn't—the shoes were the first things to leave the house.) They compare dresses under their trench coats, outfits they probably made themselves. Then, they catch the bus and are met at the house entrance by "The Doorman," a very large Rasta whose voice is as deep as your respect for him should be. He is the party's sole bouncer, and considering how many people show up for this shindig, that tells you all you need to know.
Patti and Martha are immediately cornered by two men, one of whom runs a macho game of entitlement on them. After he's deservedly dissed, the other guy, Franklyn (Micheal Ward) salvages the encounter by appealing to the ladies' ego with compliments. Flattery does get you everywhere, you know. However, when it appears that Martha got the better end of the deal by hitting it off with Franklyn, Patti gets pissed off and leaves the party. Martha sees her storming off from the bathroom window. Having witnessed this party, all I can say to that is gurl, you shoulda stayed!
Meanwhile, we meet a few people and make a few discoveries. The aforementioned jokester is actually our selector, and a great one at that. One of the women at the dance, easily recognizable whenever the camera gets a glimpse of her stunning red dress, is birthday girl Cynthia (Ellis George). She's involved in one of the little mini-dramas that nonchalantly float through "Lovers Rock." We also meet the dangerous Bammy (Daniel Francis-Swaby). He is instantly pegged as potential bad news, a slick man on the prowl whose memorable outfit is accentuated by his incredible Afro. McQueen's camera so lovingly presents Bammy's coif that, when he picks out his hair after removing his hat, I reflexively patted down an Afro that hasn't existed on my head since 1979.
Speaking of 1979, it's the year when Janet Kay's "Silly Games" came out. This is the song we heard the women singing as they cooked. This revelation occurs when our selector drops it in the middle of the party. What follows is the movie's centerpiece, a magnificent sequence where the camera snakes through the dancers as they slow dance. Everyone knows this song—it's the one everybody who came to the party eagerly awaits. It's that record that gets put on at every jam, sending the participants all up into their feelings, giving them permission to let the troubles of the world slip from their consciousness, if only for a few minutes.
Spike Lee executed a similar idea in "BlackKklansman" when Ron and Patrice danced to The Cornelius Brothers and Sister Rose, but McQueen builds on his scene of carefree expression, staying put with his characters and turning the song into an aria. When the record ends, the scene continues on long enough for everyone to sing it, even the deep-voiced men who have no shot in Hell of hitting the song's killer note. Amidst the crowd of revelers, the camera finds that one person who can, her face beaming with pride as the crowd staves off their worries through song. It's probably too early to call it, but this may be the best scene I'll see this year. Another dance number later in the film features The Revolutionaries' "Kunta Kinte" and channels an equally stunning expression of exaltation through movement.
"Lovers Rock" dispenses its details in the observations it offers you to make. Nowhere are we explicitly told it is 1980, nor is there a spoken reference to the racial discrimination and tensions its characters would have faced at the time. The clues are there, however, though. The great costumes by Jacqueline Durran highlight the era. And early on, when the men are retrieving items from the van, McQueen cuts to a few angry White faces. Later, when Martha temporarily exits the party, she is set upon by four sinister young White men with bad intentions. She is saved by the Doorman, who commands respect even when he's not at his post. The press notes reveal that Blacks were not allowed or wanted in London clubs, forcing them to throw their own "blues parties" where, for a few bucks, you could get good food, good music and hopefully someone to grind on when the slow jams play. The oppressed will always find a way to feel their joy.
Despite its brief 68-minute runtime, "Lovers Rock" is loaded with tactile, sensuous storytelling. The cinematography by Shabier Kirchner and McQueen's direction make the well-choreographed dance sequences into amazing mini-movies; you'll find yourself asking "where the hell is the camera?" They are just as adept at conveying the connections made at the party. Though the film doesn't always focus on them, Franklyn and Martha emerge as the lovers we care about and endorse, and Ward and St. Aubyn do wonders with minimal dialogue. They work so well that, when Martha gives Franklyn the number of a phone booth where she can be reached at 5pm after church (a suspicious move even Franklyn worries about), all I could think about was "man, I hope he calls and she's there." I'll be thinking about this one for a while.
This review was filed in conjunction with the New York Film Festival premiere. It will be available on Amazon later this year.