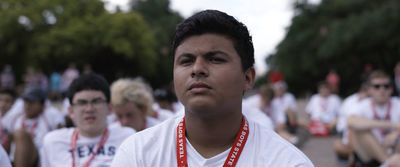 Since 1935, the American Legion has run Boys State, a week-long exercise in self-governance using the political system on the state government level. High school students are accepted into the program, where they are split into two parties that run political campaigns for several positions, including the top spot of Governor. As the titular new Apple TV+ film by Amanda McBaine and Jesse Moss opens, we see several famous politicians and pundits who have partaken in the event, from Bill Clinton and Cory Booker to Dick Cheney and Rush Limbaugh. Attendance doesn't guarantee success on the same level as these men, but if this entertaining documentary is any indication, it will definitely prepare one for the highs and lows of the American political system.
The young men (it's all male, though there is also a Girls State) are split into two political parties, the Federalists and the Nationalists. These parties have no pre-existing positions defined; the blanks will be filled in by the parties and their chosen leadership. While some of the members run for other positions, "Boys State" primarily follows the state district chairs and the candidates for Governor. To be placed on the gubernatorial ballot, one needs 30 signatures that must be obtained by pounding the pavement and pitching to potential voters. If no one from a party achieves over 50%, the two highest candidates will participate in a run-off. Eventually, the last men standing are Steven Garza for the Nationalists and Eddy Proietti Conti for the Federalists.
If you're thinking this will be one of those movies where the kids show they can be bigger and better than the adults who run the system they are emulating, "Boys State" disabuses you of that notion with its first image, which bears a quote from George Washington. Washington warns that political parties can be used by "undisciplined men" to "subvert the power of the people and usurp for themselves the reins of government." As the film progresses, the two originally undefined parties have become left and right-wing based and, since this is Texas, the big issue is guns and the 2nd Amendment. Washington's statement starts to play out amongst the candidates and their parties, albeit in a far less sinister fashion than real-life. After all, what happens in Boys State stays in Boys State.
Steven and Eddy are guided by their district chairs, René Otero and Ben Feinstein, respectively. Feinstein is a conservative who loves Reagan. He's also a very good spin man who happens to be a double amputee. Otero is a Black guy originally from Chicago who confides to the camera that he's "never seen so many White folks before!" Both are formidable opponents who are boisterous and completely committed to their candidates. They both seem older than their teenaged years would indicate, especially when they have to control a room filled with their fellow 17-year olds.
Moss and McBaine wisely focus on Otero, Feinstein, and Garza, but they also allow for a few other memorable characters to offer up commentary, some of which is thematically relevant. Robert MacDougal is another Nationalist candidate who runs off against Garza. He's so impressed by his opponent's ability to command the crowd that he briefly considers forfeit before allowing party delegates to vote for a winner. MacDougal's campaign strategy is simple: Since the room he's reading is conservative, he lies about his own pro-choice ideology. The conclusion he draws after losing is as darkly ominous as it is true: "Sometimes you can't win on what you believe in your heart," he says to the camera. "It's a morally questionable thing to lie in politics." He then imparts the lesson he's learned. "It gave me a new appreciation for why politicians lie to get in office."
Like its subject, "Boys State" is a microcosm of real world politics. It doesn't go unnoticed that Garza, the son of Mexican immigrants, and the African-American Otero align with the same party, nor is it a surprise when racist propaganda is used against Otero, who is irritated yet unfazed. Though he's a strong speaker who really connects with the people he's trying to win over, Garza is still subject to his outside gun control activism bleeding into his Boys State campaign. After all, this is Texas. Yet his willingness to listen to anyone who'll discuss issues with him, even if they disagree, is noble in that "they go low, we go high" philosophy that doesn't work in the real world. Whether it works here, I'll leave you to discover. Suffice it to say, he leaves the most lasting impression on the viewer.
"Boys State" is one of those movies that will play differently based on both your political affiliation and whether you see the glass as half-empty or half-full. The filmmakers document the events in such a way that you're unsure if you should be terrified or hopeful; the result is solely based on how you process their matter-of-fact chronicling of the story. If you are like me, the outcome of the final election will be practically anti-climactic for you. What happens next, however, is moving in very unexpected ways. The entire point of the American Legion's 85-year experiment seems to be bringing young people from all walks of life together and allowing them to learn about each other while experiencing a group event. "Boys State," which won this year's Sundance U.S. Documentary Grand Jury Prize, emulates this experiment as well, allowing us to be equally educated as we watch. You won't forget any of the young men who populate this film, nor will this be the last you'll hear from them.
Now available on AppleTV+.