Chloé Zhao to Receive TIFF Ebert Director Award During TIFF Tribute Awards Broadcast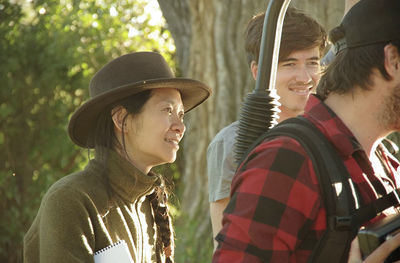 I am proud to announce that Chloé Zhao, the acclaimed filmmaker of 2017's Cannes prize-winner, "The Rider," will become this year's recipient of the TIFF Ebert Director Award during a televised presentation of the 2020 Toronto International Film Festival's Tribute Awards. TIFF and Bell Media Studios unveiled that for the first time television audiences can tune in to the awards ceremony, which will be broadcast on Tuesday, September 15th at 8pm ET/PT on CTV and everywhere CTV content can be found. The one-hour broadcast will feature special messages from the honorees and will be streamed to a global audience via Variety. The fact that the Toronto International Film Festival (TIFF) will be able to present its festival, even in a hybrid form–in person, and remotely–fills me with joy. And their creative action will bring the TIFF Tribute Awards to a larger worldwide audience through television and social media. TIFF co-directors Cameron Bailey and Joana Vicente, have worked tirelessly to put together a festival that takes into account science and the safety of attendees, along with the practical needs of those festival-goers who cannot travel next month. They seem to have found an ideal solution.
So much cultural film programming has been cancelled because of the coronavirus pandemic. I cancelled our Ebertfest Film Festival, and it has now been rescheduled for September 8-11, 2021. SXSW and even the global Cannes Film Festival were postponed until next year. Venice and the NYFF are scheduled to proceed in a hybrid fashion. But sadly, Telluride could not. Telluride co-directors Tom Luddy and Julie Huntsinger said in their notice of cancellation: "If the prospect [of a world where gatherings around a shared love of culture is no longer possible] prompts a sense of despair, please advocate and champion the return of our gatherings that provide vital nourishment and oxygen to humanity's soul."
The TIFF Tribute Awards ceremony is an annual fundraiser to support both TIFF's year-round programming and the organization's core mission to transform the way people see the world through film. The Awards honor the film industry's outstanding contributors and their achievements, recognizing leading industry members, acting talent, directorial expertise, new talent, and a below-the-line artist and creator.
"In what has been a challenging year for our global filmmaking community, we're delighted to partner with Bell Media to unite cinemagoers across Canada, and around the world, to share in our love of film and celebrate the industry's leading talent," said Joana Vicente, Executive Director and Co-Head of TIFF. "Featuring incredible career retrospectives along with appearances by extraordinary talent, we're thrilled to be working with the TIFF team to create the inaugural broadcast of the 2020 TIFF Tribute Awards for viewers in Canada and around the world," said Randy Lennox, President, Bell Media.
Last year Taika Waititi received the TIFF Ebert Director Award, which celebrates a remarkable filmmaker who reflects Roger's passion for cinema. In past years, I was privileged to bestow this award, as symbolized by the coveted Golden Thumb, to directors Martin Scorsese, Ava DuVernay, Agnes Varda, Wim Wenders and Claire Denis in Toronto live at TIFF. It is so important for cultural institutions to support each other, and I am pleased to maintain the connection with TIFF to honor filmmakers who have contributed so much to the world. Chloé Zhao's work continues in the humanistic tradition of our previous awardees. Vicente said Zhao's upcoming film "Nomadland" reminds us, particularly right now, that cinema has the power to connect us all no matter how far apart we might feel: "Chloé's work consistently exemplifies her signature flair for authentic, humane, and emotionally intimate storytelling."
In his four-star review of "The Rider," RogerEbert.com critic Godfrey Cheshire compared Zhao to Terrence Malick but said her sensibilities went beyond the cinematic. "The commanding abilities Chloé Zhao shows…easily mark her as one of the world's most important young directors," Cheshire wrote. "Yet what really distinguishes her work here is something beyond great filmmaking chops: a vision that is deeply humanistic, founded on a compassionate realism that honors the heartfelt struggles of all the creatures it encounters."
One of the things I loved about Roger's reviews were the heady trips through the senses and imagination his language immersed me in when he praised a great film. Cheshire's review took me on a similar one. He called "The Rider" "the kind of rare work that seems to attain greatness through an almost alchemical fusion of nominal opposites. An account of rodeo riders on a South Dakota reservation, it is so fact-based that it almost qualifies as a documentary. Yet the film's style, its sense of light and landscape and mood, simultaneously give it the mesmerizing force of the most confident cinematic poetry." He continues: "Add to that fact that this enrapturing vision of an indigenous American and hyper-masculine culture comes from a young female filmmaker who hails from Beijing and the achievements…are fairly staggering."
Zhao was born in Beijing, China, and was raised there and also in Brighton, England. After moving to the United States, she studied political science at Mount Holyoke College in Massachusetts and received an MFA in film production at NYU. "Songs My Brothers Taught Me," her debut feature film as a writer, director, and producer, premiered at the 2015 Sundance Film Festival and screened in the Directors' Fortnight section at the Cannes Film Festival, receiving a nomination for the Caméra d'Or Award for best first feature.
Zhao's sophomore feature, "The Rider," an impressionistic drama about a South Dakota cowboy, premiered at Cannes' Directors' Fortnight in 2017 and won the Art Cinema Award. The film went on to receive critical acclaim, with Zhao nominated for Best Director at the Independent Spirit Awards and won Best Feature at the IFP Gotham Awards. Zhao's upcoming film "Nomadland," which explores the vast landscape of the American West, stars Frances McDormand, David Strathairn, Linda May and Charlene Swankie. The film will screen at TIFF and will be released by Searchlight Pictures this fall. Incredibly, Zhao's other upcoming feature is "The Eternals" from Marvel Studios. We are happy that she will be the next recipient of the TIFF Ebert Director Award!
In addition to Zhao, other honorees at the TIFF Tribute Awards broadcast will be Oscar-winning actors Anthony Hopkins ("The Silence of the Lambs") and Kate Winslet ("The Reader"), both recipients of the TIFF Tribute Actor Award, and Oscar-nominated director Mira Nair ("Monsoon Wedding"), who will receive the Jeff Skoll Award in Impact Media.