Get Lost in Bruce Lee's Greatest Hits from Criterion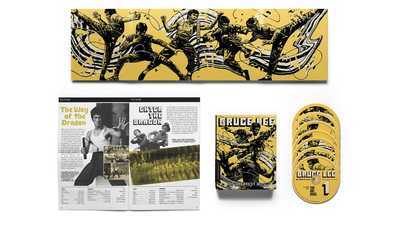 The latest Criterion box set after stellar releases centered on Ingmar Bergman (reviewed here), Eric Rohmer (reviewed here), and Godzilla (reviewed here) compiles the career of Bruce Lee into a comprehensive seven-disc release that's not only a must-own for fans but should induct new members into the cult of one of the most charismatic and fascinating screen presences of all time. With last year's controversy around the Bruce Lee cameo in "Once Upon a Time … in Hollywood" and the Sundance/ESPN doc "Be Water" earlier this year, Lee has been back in the public consciousness, but the truth is that his influence never really left. Watching all of the films in this set, one is struck by how much of their DNA is still all over the entertainment landscape. The tragedy of Lee's life was that he was never able to truly see his worldwide success due to his early death, but his legacy has been one of the most remarkable in film history, and "Bruce Lee: His Greatest Hits" doesn't just compile a filmography as much as it affirms how much film and entertainment owes to him. Film by film:
"The Big Boss"
After the frustration of being relegated to a cartoonish supporting role in "The Green Hornet," Bruce Lee returned to Hong Kong, surprised to find that he was an icon there. The HK film business realized they had something in Lee and tried to capitalize on it quickly as Raymond Chow and Golden Harvest signed the star to a two-picture deal. Even then, they weren't sure Lee could carry a film, and so they started shooting his 1971 breakthrough, "The Big Boss," unsure of who would be the film's lead. The movie was set-up to go either way so that either Lee's character or the one played by a bigger star at the moment, James Tien, would be killed halfway through, turning the movie over to a vengeance flick for the remaining actor. Lee won.
Watching the movie a half-century later allows one to see one of the best examples of instant star status. The minute Lee comes on screen, he just owns it. There's a confidence and swagger that's like early Clint Eastwood, an actor that Lee wanted to emulate, and you can see how Lee's work with Hollywood icons in L.A. like Steve McQueen and James Coburn taught him a thing or two about holding the camera's gaze. Lee plays a Chinese man who moves to Thailand to work in an ice factory run by a drug smuggler. He essentially helps lead a worker revolution and avenge the death of his cousin, played by Tien. Some of the filmmaking is clunkier than Lee's later films, but it's still one of the more engaging martial arts films of its era, and one of those movies after which nothing would really be the same.
"Fist of Fury"
Bruce Lee's second Golden Harvest film works from the true story of Huo Yuanjia, a Chinese martial arts expert who was well known in the field as a man who created his own legacy. Already Lee was aligning himself with a man who didn't conform to norms and protected his core values. Lee plays a student named Chen Zhen, who returns home to find his master has been murdered and does everything he can to unite the school and seek vengeance, while also facing racism from the Japanese colonialists. More of the classic Lee fighting style is defined in "Fist of Fury," a movie that reportedly had a tumultuous production due to Lee's demands for control over his story and image, and a film in which he seems even more confident on screen.
Once again, Lee is reminding viewers how self-aware he was as a movie star. In much the same way people like Eastwood and McQueen forged screen personas, taking this and "Big Boss" as a double feature makes it easy to see a star defining his legacy for himself. For years, he had struggled as other people tried to define his role in the entertainment world, but these films show him taking that into his own hands, melding his diverse background and styles into something riveting. "Fist of Fury" has a bit too much downtime for its own good, but the fight scenes in the final third, especially one in which Lee's arms blur, feel so influential that you won't be able to watch a movie like "The Matrix" again without thinking of it.
"The Way of the Dragon"
After the control issues on "Fist of Fury," Bruce Lee took filmmaking into his own hands with his directorial debut, which also happens to be the only Lee film that Roger Ebert reviewed, apparently under the title "Return of the Dragon." As Roger notes, there's an unusual amount of humor in "Way of the Dragon," the story of a young man who goes to Rome to protect a restaurant under siege by a crime boss. Once again, Lee is aligning himself with the downtrodden, portraying himself as a hero of the common man, while also making it clear how much he's unlike any other fighter. A final showdown in the Colosseum with Chuck Norris is legendary in the history of martial arts cinema.
Overall, "Way of the Dragon" is an unusual film tonally. The opening act practically qualifies as comedy, a way for Lee to show off his range and his affinity for the work of Jerry Lewis, and then the film takes a sharp turn into drama. The tonal balance doesn't always work, but, again, the film is fascinating when one considers it in terms of legacy building. Here's Lee saying, "I can do anything anywhere." He had been put in too many boxes by Hollywood and Hong Kong, and so making a genre hybrid set in Rome feels like a statement. And that Norris fight still rules. (One of the special features notes how Lee cast martial arts experts instead of actors because he actually liked to make contact with his co-stars instead of faking it. You can tell.)
"Enter the Dragon"
The gem of this set and of Bruce Lee's career is his Warner Bros. debut, a phenomenal film that forever changed the arc of the martial arts film around the world. As most people know, Lee never got to see the finished cut of his best movie, or the impact it would have on audiences everywhere. Blatantly set up as a "Kung Fu 007 Movie," "Enter the Dragon" is unapologetic about its effort to appeal to the widest possible demographic—the three leads are a White man, Black man, and Chinese man for a reason—but it's owned by Lee, who directed all of the fight scenes himself, including the final showdown, a mirrored reference to the climax of "The Lady of Shanghai" that's still one of the best action movie endings of all time.
Watching "Enter the Dragon" in 2020 reveals its influence on so many aspects of pop culture from action movies to television to video games. It's a force of nature, one of the movies of the '70s that transcended blockbuster filmmaking and changed the form. What often gets lost is that it's also Lee's best performance, a peak for the actor in terms of how much he had honed his acting and fighting styles. The fact that it was set up to start a franchise only makes his passing all the more tragic. He could have literally been as big a star as 007 in a series of Dragon films.
Before he went off to make "Enter the Dragon," Bruce Lee filmed a few scenes for his next project, a work that would be about a man fighting through five levels of a building, facing a different enemy on each level, with completely different styles. As Matthew Polly mentions in his special feature—the Lee expert offers great context for each film on each disc—this movie was designed to display Lee's range. He would meet each new fighter and adapt to their style, including NBA star Kareem Abdul-Jabbar on the top floor, who literally looks twice as tall as Lee.
Of course, Lee never got to finish "Game of Death," but the producers went back and used stand-ins to create a final film that's pretty damn atrocious for most of its running time. You're better off watching "Game of Death Redux," which only presents the scenes in the pagoda that actually use Lee and that he shot. He probably would have edited some of these down a bit more than this version, but it makes for an engaging short final film for the master.
Supplemental Material
Each disc includes a great short interview with Polly and a blend of archival and new material. As with all of the Criterion releases, it's an exhaustive collection that features a commentary on each film, along with alternate versions of some of them. (The clunky but fascinating "Game of Death II" is even included in its entirety.) I highly recommend watching the Polly segments after each film and at least sampling the archival material, which reveals how Lee's legacy was being formed as the films were being released instead of just looking back five decades later. A complete list of special features is below:
4K digital restorations of The Big Boss, Fist of Fury, Game of Death, and The Way of the Dragon, with uncompressed original monaural soundtracks
New 2K digital restoration of the rarely-seen 99-minute 1973 theatrical version of Enter the Dragon, with uncompressed original monaural soundtrack
New 2K digital restoration of the 102-minute "special-edition" version of Enter the Dragon
Alternate audio soundtracks for the films, including original English-dubbed tracks and a 5.1 surround soundtrack for the special-edition version of Enter the Dragon
Six audio commentaries: on The Big Boss by Bruce Lee expert Brandon Bentley; on The Big Boss, Fist of Fury, Game of Death, and The Way of the Dragon by Hong Kong–film expert Mike Leeder; and on the special-edition version of Enter the Dragon by producer Paul Heller
High-definition presentation of Game of Death II, the 1981 sequel to Game of Death
Game of Death Redux, a new presentation of Lee's original Game of Death footage, produced by Alan Canvan
New interviews on all five films with Lee biographer Matthew Polly
New interview with producer Andre Morgan about Golden Harvest, the company behind Hong Kong's top martial-arts stars, including Lee
New program about English-language dubbing with voice performers Michael Kaye (the English-speaking voice of Lee's Chen Zhen in Fist of Fury) and Vaughan Savidge
New interview with author Grady Hendrix about the "Bruceploitation" subgenre that followed Lee's death, and a selection of Bruceploitation trailers
Blood and Steel, a 2004 documentary about the making of Enter the Dragon
Multiple programs and documentaries about Lee's life and philosophies, including Bruce Lee: The Man and the Legend (1973) and Bruce Lee: In His Own Words (1998)
Interviews with Linda Lee Cadwell, Lee's widow, and many of Lee's collaborators and admirers, including actors Jon T. Benn, Riki Hashimoto, Nora Miao, Robert Wall, Yuen Wah, and Simon Yam and directors Clarence Fok, Sammo Hung, and Wong Jing
Promotional materials
New English subtitle translations and subtitles for the deaf and hard of hearing
PLUS: An essay by critic Jeff Chang
To order your copy of Criterion's Bruce Lee: His Greatest Hits, click here