Judd Apatow on The King of Staten Island, Telling Pete Davidson's Story, Self-Help Books and More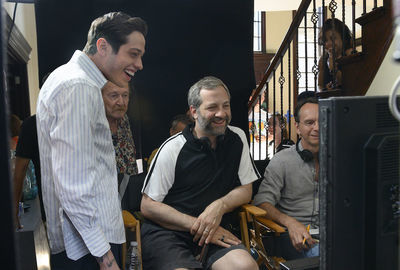 "The King of Staten Island" marks the first narrative feature from director Judd Apatow in five years, continuing his interest in not just promoting rising comedians as he did with Amy Schumer and "Trainwreck" or producing Kumail Nanjiani's breakout "The Big Sick," but sharing the stories behind their jokes. In the case of this vehicle for Pete Davidson of "Saturday Night Live," the script (co-written by Apatow, Davidson, and Dave Sirus) takes autobiographical details from Davidson's life, and lets the comedy arise from the character. Davidson plays Scott, a 20-something with a serious case of arrested development, a guy who loves tattoos, hip-hop music, and not having to make any big decisions. But Scott is pushed into growth when his mom Margie (Marisa Tomei) starts dating a fireman named Ray (Bill Burr), a development that brings up buried trauma regarding Scott's father who died on the job as a firefighter.
In a Zoom roundtable interview, Apatow talked about why he wanted to make a movie about Davidson, what he learned from previously making a documentary about comedian and writer Garry Shandling, directing his daughter Maude Apatow and more.
This film is like the opposite of your previous movies, in that it's a dramatic story but you let the comedy fall into place. Why is that mix important to you to tell these stories?
I generally think that all stories should have some amount of humor in them. It's always weird when a movie has none. When a movie has nothing funny in the entire movie, there's always something that feels false about it. There's always something funny that happens even in the worst of times.
For this, I just thought that I don't want to chase the jokes, I want to tell the story really well and it'll be as funny as it turns out to be. Pete is a funny person, the people in the movie are funny, but I'm not gonna spend the time grinding out jokes during the shoot. I'm just going to try to make every scene work as well as it can, and then hopefully it will be funny enough. And then we tested the movie, and everyone thought it was as funny as all the others, and that was the thing that I was happiest about.
I know that this film has autobiographical elements in it for Pete, but how did you make it personal for yourself as well?
I have been friends with Pete since we did "Trainwreck" together. I met him in 2014, and we worked on another movie for a few years that was a high-concept, silly idea that I had that Pete and his writing partner Dave Sirus worked on. It probably wasn't the right idea but it was a good first run at how to write a screenplay for them. And then slowly we started talking about making a movie that was discussing how Pete felt about his mom being single and having spent so much of her life taking care of him, and wanting her to be happy. As we discussed it, we came up with this idea of, what if she started dating a firefighter, and how that would force him to confront everything in his life that was difficult and that might be holding him back.
The idea was, could we come up with a fictional story which would allow him to talk truthfully about a lot of these issues? And stylistically I think we knew what we were going for. But it's still scary, you don't know if it's going to be funny, you never know what the balance of comedy and drama is until you jump into it. And really you don't know until you edit it because for every scene we probably shot a lot of additional jokes and additional dramatic moments and tried to find the tone in post. One of our editors, Jay Cassidy, who worked on "A Star is Born" and "Into the Wild," he has a great sense of humor. But he also had no issue cutting jokes. If he thought it didn't serve the overall story or the scene, he was aggressive as anyone I've ever worked with about removing humor in inappropriate times. That turned out to be very helpful.
Within the timeframe of your filmography, this came after your work on the Garry Shandling doc, "The Zen Diaries of Garry Shandling." How did working on that project, and telling Garry's life story, influence how you wanted to tell a new comedian's story?
Making the documentary abut Garry certainly challenged me to think deeper than I had in the past about people's journeys, and how their pasts affects them. The entire Garry Shandling documentary was about how the loss of his brother affected him everyday of his life, and how it defined his personality and both was the fuel for all of his great work but also held him back in other personal areas. That has always been of interest to me.
I also worked on a few stand-up specials which were also influential. I worked with Gary Gulman on his special "The Great Dupresh," and Chris Gethard on his special "Career Suicide." Both of those pieces are about mental health issues, and I think their courage to tell those stories and find a way to be both dramatic and hilariously funny got me thinking about how I could do that in a film. I think I learned a lot about what they went through and how it affected them, just by helping them out and being their friend. I think I did a better job with Pete having gone through that with them.
You've directed your daughter Maude Apatow in a lot of your movies. How has your working relationship changed between the first time and this time?
We shot "Knocked Up" in 2006, when she was eight. And that was more manipulating a child into improvisation that she didn't know she was in. We set up cameras and buckled them into chairs and give them bacon to get them talking and fighting, and we just assumed it would be amusing if we did it long enough. That whole sequence where she talks abut how babies are born, she just made that up, and that kept happening because she's very funny intuitively. Now she really knows her craft; we don't have to put her in the "Truman Show" to get a performance out of her.
There's a spiritual element in this movie—like when Bel Powley's character Kelsey says she's trying to meditate, or when Ray says he's trying to diffuse a situation. Even Action Bronson has a serendipitous cameo. Does that reflect your own life approach or philosophy? Why was that important for you to have in the film?
I think the whole world is trying to figure out their spirituality. I am obsessed with self-help. At any given moment I might be reading Courage to be Disliked, or Rest: Why You get More Done When You Work Less. I know it's funny that everybody is on their calm app, or reading their Eckhart Tolle book, I know I am. We're all lost and trying to come up with some lifeline that helps us through the day. It's especially funny when that's happening on Staten Island.
How was it bringing Bel Powley to the forefront of this story?
Bel was already friends with Pete, and I was already a fan I saw her on Broadway. She performed with Michael Cera in Lobby Hero, the Kenneth Lonergan play, and she was also in a movie called "Diary of a Teenage Girl" that Marielle Heller directed, and she was on "The Morning Show." She was always someone that we laugh about, because it's clear that when you have a Daniel Day-Lewis or Dame Judi Dench on your set, they don't know what's about to happen to them. She's very young, but in my head, she's going to be one of the all-time greats. She doesn't even know that she shouldn't have accepted this job. And then she brings so much to it; she's an amazing improviser, she's so funny. The fact that her and Pete really care about each other really made it feel alive, and so much of her part was designed by her and these improvisations that they did.
Speaking of casting—you are able to find great comedic leads, but all of the supporting people are really fit and catered to the lead. How is that process for you?
I like to ask the person I'm collaborating with, who in their world that they love that they should know about. That's how I met Pete, through Amy Schumer. And Pete loved Ricky Velez, who is one of his best friends and started in stand-up with, he's Oscar. And he was so helpful just talking to me about the script that we made him a co-producer in the movie. Derek Gaines, the guy who beats him up, at the fight club sequence, he is Pete's old roommate when he started doing stand-up, and he used to be a pop-and-lock dancer before he was a comedian. There's a lot of people from the Comedy Cellar who are great actors—Lisa Traeger plays the waitress, Lynne Koplitz is a great comedienne who plays Joy, Marisa's sister. I feel like if you fill the world with people who are already in his world, you get something magical out of it that doesn't feel like a world of strangers. I'm always looking for those opportunities. Kevin Corrigan was in "Pineapple Express," and I worked with him on the pilot on "Freaks & Geeks," and Marisa Tomei is the best actress you could get. Everybody wanted to raise their game because she was around. Having her really changed everybody's attitude on set.
What did you see in Pete that made you want to do a movie?
I am just a fan of comedy. So once in a while I'll meet somebody and just think, I wish they had a movie, or I wish I could collaborate with them on something. I felt that way about Amy just from hearing her on the radio on "Howard Stern," she seemed to have a great story and a great personality and it all seemed very unique. With Pete, he is one of those people when you meet him, I met him when he was 20, you think, "I think that's the next guy. It seems to be him." Sometimes it takes years between that feeling. I remember seeing Adam Sandler at The Comic Strip when I was a kid, and he was fresh out of college. And the second you laid eyes on him, you thought, He's the one, of all of us he's going to be the one. I knew it wasn't me!
Pete is a big-hearted person, he's ridiculously funny, and there's something fascinating about him. You do sense he's going through something, and you want to know what it is. And you root for him, there's something abut him that's very vulnerable. And he's a big, sweet guy. But quietly, he's a real artist who is not afraid to go to difficult places. There were many moments where he could have said, "I don't want to talk about that, I don't want to go that deep," and he never did. He did something on first movie that some people don't even try to until their 12th movie. And it is a remarkable achievement that he decided to go through this process fearlessly, and he gives up a lot of himself on screen. There are moments that are very real, and as an audience member you know it's real, it doesn't feel like an actor who nailed a scene. He's living it. I think it's a real gift to offer up this fictionalized version of his story. It really connects with people.
"The King of Staten Island" will be available On Demand on Friday, 6/12.