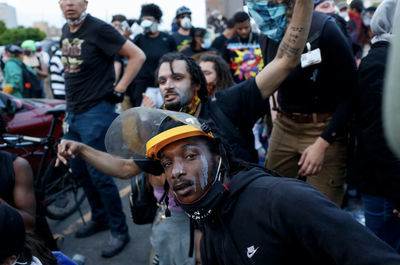 Thumbnails is a roundup of brief excerpts to introduce you to articles from other websites that we found interesting and exciting. We provide links to the original sources for you to read in their entirety.—Chaz Ebert
1.
"White Americans, your lack of imagination is killing us": "Eve's Bayou" director and former Ebertfest guest Kasi Lemmons pens a blistering editorial for The Washington Post.
"As a filmmaker, I help people imagine what's it's like to be someone else, to experience things from a character's point of view — things they never will experience outside the theater. But when it comes to black life in America, there's only one conclusion I can reach about some white people: You don't care to put yourself in our shoes. The consequences of this lack of imagination for black Americans are deadly. It's no secret that you like our music, our style, our swagger. You admire our athleticism, our beauty. Things you can sample without diving too deep, without knowing too much. Without fear of being scarred. You would rather be a tourist; you prefer to dip your toes in our culture without really understanding it. That, or you're addicted to the pornography of our pain. When I made my first movie, 'Eve's Bayou,' I got questions about why I didn't include incidents of white racism in a movie about a Creole family. The answer: The movie isn't about white people, or racism. It's about a black family, which could be any family. Twenty-two years later, some critics said that the racist violence in 'Harriet,' my film about Harriet Tubman, wasn't vicious enough. Apparently, they couldn't understand that I wanted to tell a story about a black woman's triumph, rather than make a movie that reveled in pain and degradation. I wondered why they craved seeing black bodies get beaten."
2.
"Halina Dyrschka on 'Beyond the Visible – Hilma af Klint'": At Indie Outlook, I spoke with the German director about her essential documentary, which ranks among the best films I've seen this year and is scheduled to complete its virtual run at the Gene Siskel Film Center this Thursday, June 11th.
"[Indie Outlook:] 'One of my favorite things you said during our previous conversation is how leaving behind what we've learned breeds positivity.' [Dyrschka:] 'I'm trying to connect that idea with my own life, and it's really hard work, but I truly believe that it's a process that can do a lot for us. Every day, it's important for us to question what we've been told to believe. I have the feeling that Hilma af Klint went very far with that, and without any compromise. She knew that this was important for her, and after practicing this myself, I have found that life feels a bit easier. In the beginning, nobody wanted to fund a movie about Hilma af Klint because nobody knew who she was. Eventually, we got the money we needed, and it was all worth it. But even when the film was finished, it was turned down by the big festivals, beginning with Berlinale, where it would've been a perfect Forum film. I remembered what my mother always said to me: 'You have to decide for yourself who is allowed to criticize you, in a good and a bad way.' You wrote such a great critique of my film that I could put it on my wall. It clearly connected with you, just as it has with so many people whom I met while touring with the movie last year. When I looked into their eyes, I could tell how deeply touched they were by what they had experienced. You are criticizing yourself when you are in the process of making the film, but after it was finished, I realized that I was content with it, and that is a good achievement. People can think whatever they think about it, and I shouldn't be too happy about the nice reviews or too upset about the bad ones. Your sense of self-worth shouldn't be bound by what other people think."
3.
"Stop Asking People of Color to Explain Racism—Pick Up One of These Books Instead": A vital list of recommendations from Scary Mommy's Rachel Garlinghouse.
"Some of my black friends have told me how utterly relentless and ridiculous white people are—and I can see why they feel that way. Whenever a curious white woman, once again, tries to stroke my daughters' cornrows or another white person fumbles over my kids' names or asks me if they like basketball and hip hop, I don't think it's possible to roll my eyes any harder. When I call them on their racism, they practically come unglued. They swear they 'didn't mean anything by it' and 'don't have a racist bone' in their bodies. They might pipe up some ridiculous white shit about black-on-black crime, the fact that they once dated a black person, the race card, colorblindness, All Lives Matter, or reverse racism. I can predict in almost every situation what the person is going to say before they say it. If I feel that these clapbacks get old, I can only imagine how sick and tired black and brown people are of hearing them. The responses are so terrible they appear rehearsed. Every time, I want to scream, 'Just get educated and quit burdening people of color with the task of making you less ignorant.' These individuals who are burdened include my four children–who should just be allowed to be, you know, kids. There are some incredible books available to teach us about race, race relations, history, and progress. For those who actually want to learn, to get woke, and to stay educated, these books are downright essential and helpful."
4.
"The Terror Within and the Evil Without: James Baldwin on Our Capacity for Transformation as Individuals and Nations": As analyzed by Maria Popova of BrainPickings.
"'The self,' the poet Robert Penn Warren observed in his immensely insightful meditation on the rouble with 'finding yourself,' 'is a style of being, continually expanding in a vital process of definition, affirmation, revision, and growth, a process that is the image, we may say, of the life process of a healthy society itself.' Indeed, if the great humanistic philosopher and psychologist Erich Fromm was correct, as I believe he was, in asserting that self-love is the foundation of a sane society, our responsibility to ourselves — and to our selves — is really a responsibility to one another: to know our interiority intimately and hold our darkest sides up to the light of awareness. But part of our human folly is that we do this far less readily than we shine the scorching beam of blameful attention on the darknesses of others. That is what James Baldwin (August 2, 1924–December 1, 1987) explores in a magnificent 1964 piece titled 'Nothing Personal,' found in The Price of the Ticket: Collected Nonfiction (public library) — the indispensable volume that gave us Baldwin on the creative process and his definition of love. A year after he contemplated 'the doom and glory of knowing who you are and what you are,' Baldwin writes, 'It has always been much easier (because it has always seemed much safer) to give a name to the evil without than to locate the terror within. And yet, the terror within is far truer and far more powerful than any of our labels: the labels change, the terror is constant. And this terror has something to do with that irreducible gap between the self one invents — the self one takes oneself as being, which is, however, and by definition, a provisional self — and the undiscoverable self which always has the power to blow the provisional self to bits.'"
5.
"'Stay Open to the Moose Head on the Table': Director Lesli Linka Glatter on 'Homeland,' Learning from Lynch and Spielberg, and Resuming Production": In conversation with Filmmaker Magazine's Jim Hemphill.
"After 'Amazing Stories' I got to work with David Lynch on 'Twin Peaks,' which was a director run show. I think it's why I never looked at TV as not being a director's medium, because starting off with Steven and then David Lynch, you tell a visual story. It doesn't matter what the delivery system is. Anyway, I was watching David work, which was always amazing. It was a scene with Michael Ontkean and Kyle MacLachlan in a bank looking at a safe deposit box. It was a wide angle lens, I figure it was a 21mm. The camera didn't move and there was a moose head on the table during the scene. No one really refers to the moose head, it's just there. The scene is brilliant because of it. It made the scene. So I asked David where he got the idea, like how does his brain work? And he said, 'It was there.' 'What do you mean it was there?' Well, the set dresser was going to hang up the moose head on the wall. When [Lynch] came into rehearsal, the moose head was sitting on the table and he saw it and said, 'Leave the moose head.' I like planning everything, but that was a moment where it became totally clear to me: you have your plan, but be sure you stay open to the moose head on the table. Don't miss the opportunity in front of you because you're fixed in your vision of something."
Image of the Day
At Medium, President Barack Obama shares his thoughts on how we can make this historic moment of protests in response to the murder of George Floyd "a turning point for real change."
Video of the Day
My initial interview with Halina Dyrschka, director of "Beyond the Visible – Hilma af Klint," took place last month as a virtual Q&A for the Gene Siskel Film Center. You can view our complete conversation, which begins around the 3:30 mark, here.