Life Itself to Have Magnificent Premiere in Virtual Cinemas on Friday, May 22nd, as Part of Magnolia Pictures' Favorite Documentary Series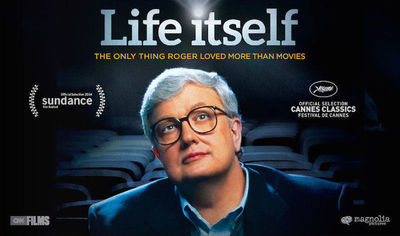 "Empathy is one of the most essential elements of civilization, and movies are a powerful generator of empathy."–Roger Ebert
Friday, May 22nd: "Life Itself" screens in virtual cinemas here
Wednesday, May 27th: "Life Itself" Q&A here
Steve James' acclaimed 2014 documentary "Life Itself," chronicling the life and legacy of our site's co-founder, Pulitzer Prize winning film critic Roger Ebert, will premiere in virtual cinemas on Friday, May 22nd (click here), as part of Magnolia Pictures' new screening series entitled, "A Few of Our Favorite Docs." Each of the films will have a virtual Q&A on the Wednesday following their premiere, while ten percent of the ticket sales will be donated to a charity of the filmmakers' choice. One of the subjects in "Life Itself", RogerEbert.com publisher Chaz Ebert, will take part in a virtual Q&A with Steve James on Wednesday, May 27th (at this link). Chaz Ebert designated donations to go to the Chicago Cinema Workers Fund to help hourly workers who have had their jobs eliminated during the Coronavirus Pandemic. To donate directly to the fund click here.
"Life Itself" was awarded the Producers Guild Award and an Emmy for Outstanding Editing (among other accolades) and made the shortlist for the Academy Awards. But Roger's prize was the rich cinematic life he lived, and the legacy of empathy for others that he passes along. At times hilariously funny, at times sad, but all unabashedly human, the film follows Roger's life from his birth in Urbana, Illinois, to his broadcasting days as Siskel & Ebert, to his romance with his wife, Chaz Ebert. This film is a classic and shines even brighter during this time.
Other selections in the series include Betsy West and Julie Cohen's "RBG," profiling the trailblazing Supreme Court Justice Ruth Bader Ginsburg, which begins its run Friday, May 15th (click here). A conversation with the filmmakers will be moderated by Melena Ryzik of The New York Times, and ticket sales will raise money for NYU Langone's food panty and The Table.
Gabriela Cowperthwaite's muckraking doc about the captivity of killer whales, "Blackfish," begins its run Friday, May 29th, with the director Q&A scheduled for Wednesday, June 3rd.
Last, but not least, is Penny Lane's satirical and provocative celebration of The Satanic Temple, "Hail, Satan?", which begins screening Friday, June 5th. Lane will be in conversation wit the Temple's head Lucien Greaves on Wednesday, June 10th. For these last two films, the charity will be GiveDirectly's COVID relief fund.
For more info, including a complete list of the participating venues, click here.

Questions for the Q&As can be submitted to submityourquestion@magpictures.com or be tweeted with the hashtag #magnoliadocseries.
"Life Itself" screens here on Friday, May 22nd, and the Q&A will take place here on Wednesday, May 27th.