Cannes Flashback: Quentin Tarantino, Werner Herzog, Ernest White II and More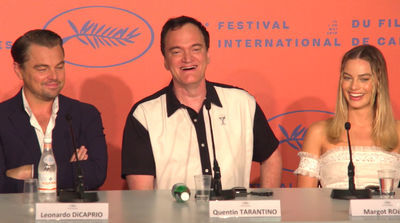 Since I would normally be broadcasting from Cannes at this time, I decided to go into the vault and share some of my cherished memories from past years spent along the French Riviera in the midday sun. The following video was originally published on May 24th, 2019 and produced by me and Scott Dummler of Mint Media Works.–Chaz Ebert
Chaz Segment 5-Up to 4K from The Mint on Vimeo.
It's a good thing I decided to be out on the street today, because yesterday would have been impossible. These streets were absolutely jammed with people in line or dying to get a ticket to this year's hottest opening, Quentin Tarantino's "Once Upon a Time in Hollywood." Without giving anything away, this movie has everything that sets this town a buzz: A-List hollywood stars, a film ABOUT the movies, and a director with a Cannes pedigree. Now we could have all predicted the frenzy for this film here in Cannes, but what I didn't anticipate was seeing a movie with a sweetness and sentimentality that is unusual in a Tarantino picture. So, I asked the man himself where those elements came from…
This is the first film that has paired Brad Pitt and Leonardo DiCaprio together. And their chemistry and good looks reminded me a little bit of Newman and Redford in "Butch Cassidy & The Sundance Kid."
This has been an unusually strong lineup of films, so the race for awards will be a tough one to predict. But whatever you do, do NOT count out Quentin Tarantino with this film. The standing ovation it received at the red carpet premiere was long enough to make Brad Pitt's hands sore. It will be a hard one for the jury to overlook.
Jason Gorber, Managing Editor of thatshelf.com, had a few thoughts about what the Tarantino screening means for Cannes…
Another strong entry in the competition for the Palme d'Or screened the same night. It's Joon-Ho Bong's latest film, "The Parasite." He brings his typical dark humor to the story of a young man hired to replace his friend as the tutor to a young girl from a rich family. Sensing an opportunity, he finds ways to get the rest of his family hired on as various staff. If you saw last year's Palme winner, "Shoplifters," imagine taking that family of small time grifters and putting them in a modern mansion with a gullible family. But something much worse than lying to get a job lurks in this home, and this is where the film really takes a dark turn. The audience at my screening really ate up the no-punches-pulled ending, and I think this film may also have a chance at a prize. But we'll see.
Werner Herzog has been coming to Cannes for over 45 years, when his film "The Enigma of Kaspar Hauser" was in competition in 1974. Roger loved that film, even putting it into his collection of the Great Movies. And I've been so pleased to know Werner personally for decades now. This year he brings his latest film, "Family Romance LLC," to Cannes, being shown in the Special Screenings section. It's a fascinating subject about people in Japan who rent other people – either as family members, friends, or in one case, as the bearers of a fake lottery check. In every case, there is an obvious sadness to all the clients who feel the need to rent a person to fill a hole in their lives. I sat down to talk with Werner about his latest piece.
In the international village, the Pavilion Afriques uniquely represents many countries throughout Africa and across the diaspora. I met up with Ernest White II, who is an American, but has been leading events here throughout the festival because of his extensive travel experience all around the world. In fact, he has a new travel show set to debut early next year on public television called "Fly Brother".
One film playing out of competition that is dazzling audiences young and old is Claude Lelouch's film "The Best Years of A Life" with Anouk Aimée and Jean-Louis Trintignant. They star as lovers who reunite after 50 years when the man is in an assisted living facility because of his beginning dementia. He is a race car driver who spends his days dreaming about his life, and the love of his life, who got away because of his infidelities. When she visits him in the rest home, he doesn't recognize her initially, but says her eyes and mouth remind him of someone. This is an impossibly romantic movie that allows us to switch back and forth between scenes of "A Man and A Woman," with the camera loving the beautiful Anouk Aimée, both 50 years ago and today, and Trintignant remaining dashingly charming in his twilight years. If you loved "A Man and A Woman" this film with set your heart aflutter.
Two-time Palme d'Or winners, Jean-Pierre and Luc Dardenne are back in Cannes with their latest "Young Ahmed." It tells the story of a Muslim boy being influenced by those around him and becoming radicalized. It's no secret that I love the humanity and realism that the Dardenne brothers bring to the screen. This film is no different. But it may not have that special spark it needs this year to distinguish itself in a tough field of other films.
Finally, American director Ira Sachs is in competition for the first time with his latest picture, "Frankie," starring french favorite, Isabella Huppert. The outstanding ensemble cast also features Brendan Gleeson, Marisa Tomei, Jérémie Renier and Greg Kinnear. Shot in the beautiful location of Sintra, Portugal, it's the story of a terminally ill movie star, played by Huppert, who looks to connect with her family on one last vacation. Unfortunately, to me it felt as if the script was a little half-baked, and this great cast just didn't have enough to say or do with purpose.
We're entering the home stretch of the 2019 Cannes Film Festival, but more interesting premieres are still to come. So keep checking back RogerEbert.com/Cannes for our daily written reports by Barbara Scharres, Ben Kenigsberg, and others. And as we wrap up the festival, we'll bring you our annual critics roundtable, wrap up of awards, and maybe even a live video or two.