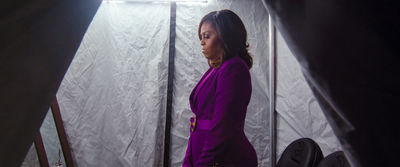 "I am from the south side of Chicago," Michelle Obama explains during an interview in the documentary "Becoming," which follows the former first lady on her nationwide book tour. "That tells you as much about me as you need to know."
The warm, down-to-Earth accessibility that statement implies is certainly on display throughout the film from director Nadia Hallgren, the first feature from the cinematographer who's worked with Obama before. But as consistently engaging as she reveals herself to be, Obama isn't quite as "unplugged" as the trailer suggests. She's got a knack for connecting with folks, whether one-on-one at a book signing, in small groups of young women or elderly churchgoers or thousands of dazzled fans at sold-out arenas. Her interest in other people's stories seems genuine, as does the sense of purpose she's forging for herself following eight years of structure and scrutiny in the White House.
But Michelle Obama is a brilliant and accomplished woman, and she's achieved a significant level of media savvy after two decades in the public eye. She's also gotten burned before for speaking freely during her husband's first presidential run, which she recalls here. So she's not as completely unguarded as her fans perhaps might hope to see. At the same time, Hallgren doesn't seem interested in pushing or provoking Obama to prompt any deep or uncomfortable truths. "Becoming" emerges as a semi-worshipful depiction of a world-famous woman in flux. She's such enjoyable and inspiring company, though, that you might not mind that.
Hallgren (who also served as director of photography) provides intimate access to Obama from the beginning, as she's getting pumped up in the car for her first stop on the tour with the joyous sounds of Kirk Franklin. That stop is her hometown of Chicago, where Oprah Winfrey (naturally) is waiting for her on stage to introduce her and walk her through some of the highlights of her memoir before a packed, rapturous house. (One of Hallgren's more irritating instincts is her repeated use of reaction shots from the audience: fans of all ages, men and women, laughing, crying or nodding in agreement but always gazing upon her with awe. We get it, she's a rock star, and we're feeling it too, but it gets ridiculous.)
"Becoming" tracks Obama's chats from city to city, with a star-studded array of moderators (Stephen Colbert, Gayle King, Valerie Jarrett, Reese Witherspoon) setting her up to tell a few key tales. Among them are the high school guidance counselor who didn't think she was Princeton University material, her first date with Barack Obama and how she felt the day she left the White House (after agreeing to her daughters' pleas for one last slumber party the night before). She's enormously charismatic and a gifted storyteller, expertly hitting the same beats and sparking the same laughter again and again. In between, Hallgren interweaves archival photos and footage of a young Michelle Robinson, behind-the-scenes moments of Obama joking around with her mom and big brother and interviews with members of the former first lady's trusted inner circle: her chief of staff, her stylist and the head of her Secret Service detail. All provide affectionate anecdotes.
But then Hallgren takes some baffling detours, following a couple of high school seniors who'd been part of select community conversations with Obama as they go about their daily lives. These segments deplete the film of its intimacy and momentum, and they provide no payoff. Far more compelling are the moments when Obama speaks her mind about the racism she and her family endured, and what it was like to be an African-American in the White House during the turmoil of the Black Lives Matter movement. She rarely refers to President Trump by name, but when she does, it's to call out people who simply didn't vote at all, rather than those who voted for him. (It appears she's criticizing her fellow African-Americans in this moment, although she doesn't state that specifically.)
While "Becoming" could have used more candid moments like that, the ultimate message of hope Obama delivers—one that's entirely unique and separate from the one her husband ran on, which made her such a famous figure in the first place—is undeniably welcome at a time like this.
Available today on Netflix.