Hulu's Very Funny Solar Opposites Thrives on Sci-Fi Chaos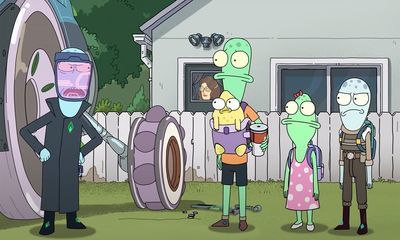 Justin Roiland and Mike McMahan's Hulu series "Solar Opposites" is likely to win the affection of fans from their previous show "Rick and Morty," and for obvious reasons. It looks an awful lot like that show, as fast-talking characters with inkblot pupils and relaxed body language do extraordinary things against a backdrop that's totally mundane, a physiology continued here with an "if it ain't not broke, don't fix it" mentality. In the case of "Solar Opposites," which premieres with eight episodes on Hulu on May 8, it's a sitcom like "Full House," but each episode racks up a death total from its tidy themes (making friends, managing stress, growing bodies), and usually involves alien science backfiring spectacularly. Each episode is also packed with a wit that's thrives on orchestrating chaos and then bringing it all back home, and for the most part it's a blast.
"Solar Opposites" focuses on a makeshift alien family from the planet Shlorp—a name that sounds like a creative afterthought, as if these really are just some generic aliens. Any who, as the credit sequence lets us know in each episode, they escaped from the planet before an asteroid hit, and now they live on Earth, their ship stuck on the roof. Also as Korvo's monologue indicates, he deeply hates humans, for different reasons that come with each show's introduction.
Korvo (Justin Roiland) has a contemporary in Terry (Thomas Middleditch), and are like pseudo-dads to "replicants" named Yumyulack (Sean Giambrone) and Jesse (Mary Mack) who have to navigate school life, which includes bullies who hate that they are aliens (the bullies being both kids and administrators). Sliming around around Korvo's home is a yellow blob called the Pupa, a type of Maggie Simpson but with world-destroying potential.
"Solar Opposites" essentially lets these aliens run rampant on daily American life, with every episode offering gory sci-fi action and guest appearances you might miss (Tiffany Haddish, Wendi McLendon-Covey, Alfred Molina, Andy Daly, Christina Hendricks, Alan Tudyk, Tom Kenny, Jason Mantzoukas and more). The show blitzes with its motormouth neuroses and how it expands the saga through Korvo's scientific travails, leading to episodes that ravenous "Rick and Morty" fans could binge, but run the risk of a sugar rush (I had to go for a walk after a few episodes, though I'd readily rewatch this show).
Being that it's on Hulu (a reference made along with other winks and product placement), the series has carte blanche with cuss words and jaw-dropping carnage, and "Solar Opposites" gets a lot of mileage out of such freedom, constantly finding some great dark comedy in a world that is so casually brutal. (The first episode, for example, features a throwaway visual joke about an exploding children's hospital.) And like with farts, there's an art to good swearing, one that "Solar Opposites" proves to be skilled in—it's funny to hear the voice of June Squibb pop up in episode two, just so that she can eviscerate the try-hard Korvo and Terry with perfectly tinged f-bombs.
The show can be known for really committing to a joke, and it particularly does with an entire parallel story that emerges about a community of people who have been shrunken by Yumyulack and Jesse and placed behind a glass wall. What starts as just a fleeting amusement for the two aliens then leads "Solar Opposites" to a saga not far removed from "Escape from New York" or "Mad Max," complete with a violent uprising. Roiland and McMahan seriously embrace what could have made for cutaway visual jokes, and while this B story may feel like too much of a parody to be consistently engrossing, it displays a lot of the chaotic, massive imagination that makes the overall series so fun.
Watching a show like "Solar Opposites," before it becomes a fixation for animation fans, you can nearly see the next jokes that viewers will adore, the heirs to Rick and Morty's "Pickle Rick." It's telling that "Solar Opposites," even in its first season of eight episodes, instantly feels like a full world, and one that's genuinely very funny without trying too hard. You'll want to join its cult, and not just because the show is so prepped for one. Bingo bango, all hail Funbucket.
All of season one screened for review. "Solar Opposites" debuts on Hulu on May 8.