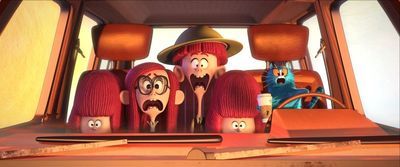 The family at the center of the animated movie "The Willoughbys" is not a happy one. Father and Mother (voiced by Martin Short and Jane Krakowski, respectively) love each other very much, but that affection does not extend to their children, Tim (Will Forte), Jane (Alessia Cara) and twins (Seán Cullen) both named Barnaby, likely because their parents didn't care to think of a fourth name. A Cheshire-like blue cat voiced by Ricky Gervais fulfills the role of narrator and sometimes pet, talking only to the audience in his signature droll tone. After much neglect, the Willoughby children decide to send their parents away on a dangerous trip that would hopefully leave them orphaned. Luckily for the young Willoughbys, they have a sweet-natured nanny named Linda (Maya Rudolph) and a kindly but intimidating Willy Wonka-esque candymaker named Commander Melanoff (Terry Crews) on their side.
If that sounds maybe too bleak, don't worry: many children's stories have followed precocious youngsters escaping mean caretakers or unhappy homes. James uses a Giant Peach to float away from his cruel aunts. Destiny intervenes on behalf of Harry Potter when Hagrid whisks him off to Hogwarts and away from his abusive relatives, the Dursleys. Little Orphan Annie moves from a grubby orphanage to the palatial home of her newly adopted father, Daddy Warbucks. Even Charles Dickens' most famous orphan, Oliver Twist, follows the scrappy boy through his many ordeals and an eventual happy ending in Victorian London.
Fortunately, with its candy-coated shell and visual style, "The Willoughbys" never gets too serious or scary. Under the direction of Kris Pearn and co-directors Cory Evans and Rob Lodermeier and the rainbow-tinged cinematography of Sebastian Brodin, many of the objects and characters glow with the shiny newness of a toy just out-of-the-box. The movie practically sparkles in scenes at Melanoff's candy factor, where the rainbow motif is woven throughout the space and even onto Melanoff's commander jacket, which is topped off with candy buttons and cupcakes on his shoulders.
The character designs by Craig Kellman, who most recently reimagined the characters of "The Addams Family" and "Spider-Man: Into the Spider-Verse," gave the Willoughbys a shocking reddish-pink hair that looks like it was made out of yarn, visually tying the various members of the family together, and frightfully skinny frames that, with the exception of "mushroom-shaped" twins, almost no one else outside their home shares. If you've watched a lot of computer animation, you'll notice that hair, fur and other fuzzy textures are notoriously difficult to get right. "The Willoughbys" uses those details as opportunities for visual jokes. Clouds look like fluffy candy floss that float by a candy-powered vehicle and the children's yarn-like hair can get messy and unkempt. Although there were aspects of Linda's design, story and maternal traits that gave me pause, Rudolph's performance is so fun that her presence feels like a necessary balance for the kids against their uncaring parents.
Based on the book by Lois Lowry, "The Willoughbys" often breaks out of its confines of impossible situations through fantasy. There's a speedy baby with a sweet tooth who defies the laws of gravity, a dirigible cooked up in a candy factory and a talking cat. Pearn, who shares script credits with Mark Stanleigh, sets up a number of visual jokes to move the action along at a brisk pace. They made the Willoughby parents comically neglectful –– as if they forgot they had four kids in the house –– or overreact to the smallest of disturbances. The parents' carelessness also makes life difficult for any unlucky adults who cross their paths on their trip. The movie's other villains are the Orphan Services, who with their black-out wide glasses and sharp suits, look like the Men In Black had been taken over by skinny aliens. But of course, the heart of the story belongs to the kids, especially Tim, who has to learn to trust grown-ups again.
For all its candy-colored silliness, "The Willoughbys" is a surprisingly sweet story about chosen families. The halls of the Willoughby's old-mannered mansion celebrate the relatives and mustached ancestors who came before them, but the Willoughbys of today have fallen far from their storied pasts and strong family ties, leaving the children to make up their own. Sometimes, the best families are those who chose to be a part of your life. It's a message both timely and timeless told through a whimsical story fit for most children of any age.