Coronavirus cases rise in China; Japan confirms 1st death from virus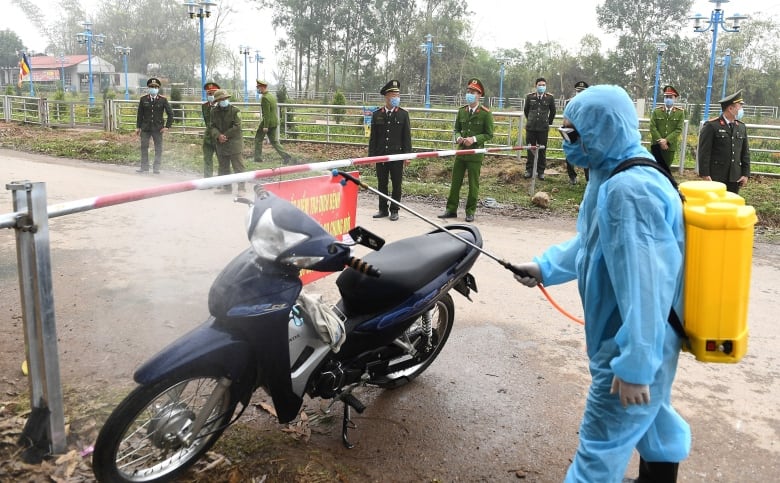 The latest:
Coronavirus case numbers spike significantly in China, mostly in Hubei province.
WHO official says increase 'is in large part down to a change in how cases are diagnosed and reported' in hard-hit province.
Shanghai's former mayor to serve as top party official in Hubei as health officials struggle to deal with cases of COVID-19, the illness caused by a novel coronavirus.
Japan confirms 1st death linked to coronavirus.
Princess Cruises says Japan to proceed with 'phased' process allowing passengers to leave ship, complete quarantine on land.
12 Canadians among the Diamond Princess passengers who tested positive, foreign minister says.
Risk in Canada still low, public health officials say. WATCH: What we actually know about the coronavirus
Cases of coronavirus infections are not rising dramatically outside China apart from on a cruise liner now quarantined off a Japanese port, the World Health Organization's emergency measures director said on Thursday.
"Outside cases on the Diamond Princess cruise ship, we are not seeing dramatic increases in cases outside China," Mike Ryan, executive director of WHO's health emergencies program, told a news briefing in Geneva. A further 44 cases were reported on the Diamond Princess on Thursday, raising the total to 219, though authorities said some elderly people would finally be allowed to disembark on Friday.
Of the passengers in Japan who tested positive for the coronavirus, 12 are Canadian, Foreign Affairs Minister François-Philippe Champagne told reporters while travelling with the prime minister in Senegal.
WATCH: Infectious disease doctor takes your questions about the coronavirus outbreak
The WHO's remarks came after China's National Health Commission said the death toll from the coronavirus outbreak in the country reached 1,367 as of the end of Wednesday, up 254 from the previous day. Across mainland China, there were 15,152 new confirmed infections on Wednesday, bringing the total number to 59,805.
There have been 447 cases in 24 other countries, Ryan said Thursday.
WHO spokesperson Tarik Jasarevic told Reuters earlier that the health agency was seeking further clarity from China, and that the organization understood "that the new case definition widens the net, and includes not only lab-confirmed cases but also clinically diagnosed cases based on symptoms and exposure."
New diagnostic method introduced
The sharp increases came after Hubei authorities said they had started using a new, quicker diagnostic method involving computerized tomography (CT) scans, which health authorities said had diagnosed 13,332 of the new infections.
The CT scans reveal lung infections, the Hubei health commission said, and enable confirmation and faster isolation of new virus cases.
Hubei authorities had previously only allowed infections to be confirmed by RNA tests, which can take days to process. RNA, or ribonucleic acid, carries genetic information allowing for identification of organisms like viruses.
"In other words, in Hubei province only, a trained medical professional can now classify a suspected case of <a href="https://twitter.com/hashtag/COVID19?src=hash&amp;ref_src=twsrc%5Etfw">#COVID19</a> as a clinically-confirmed case on the basis of chest imaging, rather than a laboratory confirmation"-<a href="https://twitter.com/DrMikeRyan?ref_src=twsrc%5Etfw">@DrMikeRyan</a> <a href="https://twitter.com/hashtag/coronavirus?src=hash&amp;ref_src=twsrc%5Etfw">#coronavirus</a>

&mdash;@WHO
The diagnostic change is just in Hubei, WHO officials said on Thursday. Ryan said in the rest of the country — and the rest of the world — lab confirmation is still necessary.
Top officials in Wuhan and Hubei replaced
People inside China and around the world have raised questions about the initial response to the coronavirus outbreak.
China's Communist Party has replaced the party heads in the coronavirus-stricken province of Hubei and its capital Wuhan, state media said on Thursday. The pair are the most high-profile officials to lose their posts following the epidemic.
Shanghai's former mayor Ying Yong has been appointed as the new secretary of the Hubei Provincial Committee of the Communist Party of China, replacing Jiang Chaoliang, the official Xinhua news agency said without explaining why Jiang was removed.
Ying worked closely with Chinese President Xi Jinping during the latter's time as party boss and governor of Zhejiang province. He pledged to contain the outbreak in the region that has been the hardest hit by the coronavirus, the province's official newspaper reported on Thursday.
Wuhan party chief Ma Guoqiang has also been removed, Xinhua reported separately. He has been replaced by Wang Zhonglin, party boss of Jinan city in eastern Shandong province.
Officials in Hubei have been heavily criticized for their handling of the epidemic in a province of almost 60 million people. The outbreak began in Wuhan late last year, and has spread throughout China.
1st death linked to coronavirus reported in Japan
On Thursday, Japan confirmed its first coronavirus death — an 80-year-old woman who lived in an area that borders on Tokyo, health officials said.
Health Minister Katsunobu Kato says the woman had been treated at a hospital near Tokyo since early February after developing symptoms. Her infection was confirmed after her death.
The news of the death in Japan came as the health ministry reported that 44 more people on a cruise ship quarantined in the port of Yokohama, near Tokyo, have tested positive for COVID-19. The ship has 218 infections among its 3,700 passengers and crew.
WATCH: Canada's foreign minister on coronavirus cases in Japan
Kato told reporters five of the patients who were already sent to hospitals for isolation and treatment of COVID-19 have severe symptoms and are on artificial respirators or under intensive care.
Princess Cruises, which operates the Diamond Princess, said in a statement Thursday that Japanese health officials are planning to allow passengers to disembark and complete their quarantine in a facility on land. The timing of when guests would be allowed off the ship was not immediately clear.
"From the information available it is our understanding that this will be a phased approach, with the most medically vulnerable guests in the first phase, including older adults with pre-existing health conditions," the cruise company said.
Ryan said WHO is working with health officials in Japan to get people off the ship.
Another cruise ship, the Westerdam, finally anchored Thursday off Cambodia after being turned away by several Asian and Pacific governments. No cases of the viral illness have been confirmed among its 1,455 passengers and 802 crew members, according to operator Holland America Line.
Thailand refused to allow the Westerdam to dock this week after it had already been turned away by the Philippines, Taiwan, Japan and Guam over virus concerns.
WHO chief Tedros Adhanom Ghebreyesus said on Twitter that all 20 passengers from the Westerdam who had been tested had returned negative results.
CDC says U.S. has another case
In the U.S., the Centers for Disease Control confirmed another coronavirus case — the 15th case of COVID-19 in the country.
"The patient is among a group of people under a federal quarantine order at JBSA-Lackland in Texas because of their recent return to the U.S. on a State Department-chartered flight," the CDC said in a statement.
The person who tested positive is in isolation at hospital.
The CDC said 195 people were released from quarantine on Tuesday, but noted there are more than 600 people who returned to the U.S. on charter flights who are still living under federal quarantine.
In Vietnam, official media reported that a commune of 10,000 residents northwest of the capital Hanoi was put in lockdown due to a cluster of cases there. The online newspaper VN Express cited a senior official of Ving Phuc province as reporting an increase in cases in Son Loi commune. Vietnam has confirmed 16 cases of the disease, most of them in Son Loi.