Quake at the Wonder of Godzilla with Phenomenal Criterion Box Set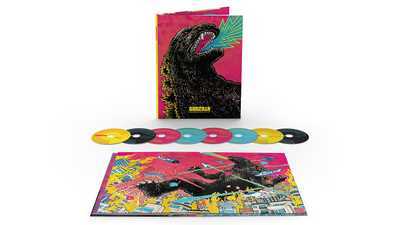 It makes sense that the Criterion box set for "Godzilla" would be gigantic. It towers over your puny normal DVD cases. It shouldn't be any other way for the King of the Monsters, paid tribute here by the legendary Blu-ray, DVD, and now streaming company in ways that even the most hardcore kaiju fans probably never thought would happen. Years before it arrived, fans of Criterion hypothesized what they would choose for spine #1000. Would it be an acknowledged classic? A newer film? A box set? It caused a bit of controversy when "Godzilla: The Showa-Era Films, 1954-1975" came lumbering over the horizon like a man in a lizard suit. Godzilla?!?! Really? Yes, really, and this set affirms why this was such a smart choice for Criterion, revealing the breadth of what they do as a business. I'm happy to put it next to last year's amazing Ingmar Bergman set on my shelf even if you'd be hard-pressed to find two films more different than "The Virgin Spring" and "King Kong vs. Godzilla." Criterion affirms how much you can love both.
"The Showa-Era Films" contains 15 movies on 7 discs, and sampling a number of them from different years, including "King Kong vs. Godzilla," "Invasion of Astro-Monster," "Mothra vs. Godzilla," "Destroy All Monsters," and "All Monsters Attack" allows for a complete picture of a mega-franchise as it went through changes in tone and fluctuations in quality. The dirty truth is that none of these films truly compare to the 1954 original, still one of the most influential and important films of its era. That film was already available in a Criterion release (spine #594) and it's still a wonderful experience for a number of reasons. Not only does it still contain fascinating cultural subtext and commentary in the wake of World War II, but it's even more interesting here as the start of something revolutionary. When I think of "movie spectacle," I think of Godzilla. Most of the movies are ridiculous, but they helped define larger-than-life moviemaking when I was a kid, and the first film is a gateway to so much moviemaking to come over the next six decades. "Godzilla" influenced everything.
It also started a franchise that was off and running, evolving over the next fourteen films in this collection without losing the core of what makes these movies entertaining. There are deviations in quality, for sure – my favorites after the original are "Mothra vs. Godzilla" and the ridiculous "Destroy All Monsters" – but all of them are culturally fascinating in the way they inspired filmmakers and fans for generations to come. It's also fascinating to see how the series tried to change shape to appeal to a fan base. After the success of the first two movies – "Godzilla" and "Godzilla Raids Again" – the first crossover film was created in the absolutely ludicrous "King Kong vs. Godzilla," which is an amazing hybrid of cultures. Cutting together something designed to resemble an American newscast with the Japanese film makes for a crazy B-movie experience. And you can now settle forever the urban legend that the winner of the titular match changed if you were in Japan or U.S. – if there was an alternate ending, Criterion would have had it.
Speaking of that, they present Godzilla fans with tons of special features, most of them on the first film, but the real draw is the gorgeous art in what is essentially a hardcover book that holds the discs. Some may complain that this doesn't fit as nicely on the shelf next to the rest of their collection, but I'm a fan of unique ways to package major releases like this one, and the actual art is incredible. It's something you should display, not shelf, and it's nice to have something that feels like a collectible in an era in which it feels like physical media is being threatened.
The Criterion set for "Godzilla" is unlikely to win over those critics who complained that this series of films wasn't "worthy" of #1000. If anything, it feels like it feeds what you already think of these movies. They're either "even better" or "even worse" than you remember, depending on how you felt about them in the first place. Watching them again, reminded me of the spectacle that I enjoyed as a kid, and that's what I really think of when I think of this series of films: enjoyment. Yes, they're often incredibly poorly made – watching them with kids born in the '10s was a fun experiment given how much kids were SO confused at what they were looking at – but that's part of the joy. They're goofy, fun, and over-the-top in ways that overly calculated blockbusters feels like they can't be anymore.
Special Features
High-definition digital transfers of all fifteen Godzilla films made between 1954 and 1975, released together for the first time, with uncompressed monaural soundtracks
High-definition digital transfers of Godzilla, King of the Monsters, the 1956 U.S.-release version of Godzilla; and the 1962 Japanese-release version of King Kong vs. Godzilla, presented with its original 4.0 surround soundtrack.
Audio commentaries from 2011 on Godzilla and Godzilla, King of the Monsters featuring film historian David Kalat
International English-language dub tracks for Invasion of Astro-Monster, Son of Godzilla, Destroy All Monsters, Godzilla vs. Megalon, Godzilla vs. Mechagodzilla, and Terror of Mechagodzilla
Directors Guild of Japan interview with director Ishiro Honda, conducted by director Yoshimitsu Banno in 1990
Featurette detailing Godzilla's photographic effects
Toho Unused Special Effects Complete Collection, a 1986 documentary featuring archival making-of footage; scenes deleted from films including Destroy All Monsters, King Kong vs. Godzilla, and Mothra vs. Godzilla; and interviews with Honda, producer Tomoyuki Tanaka, special-effects director Teruyoshi Nakano, and others
New interview with filmmaker Alex Cox about his admiration for the Showa-era Godzilla films
New and archival interviews with cast and crew members, including actors Bin Furuya, Tsugutoshi Komada, Haruo Nakajima, and Akira Takarada; composer Akira Ifukube; and effects technicians Yoshio Irie and Eizo Kaimai
Interview with critic Tadao Sato from 2011
Illustrated audio essay from 2011 about the real-life tragedy that inspired Godzilla
New English subtitle translations
Trailers
PLUS: A lavishly illustrated deluxe hardcover book featuring an essay by cinema historian Steve Ryfle, notes on the films by cinema historian Ed Godziszewski, and new illustrations by Arthur Adams, Sophie Campbell, Becky Cloonan, Jorge Coelho, Geof Darrow, Simon Gane, Robert Goodin, Benjamin Marra, Monarobot, Takashi Okazaki, Angela Rizza, Yuko Shimizu, Bill Sienkiewicz, Katsuya Terada, Ronald Wimberly, and Chris Wisnia