How to Style Bangs: The Best Bangs Tips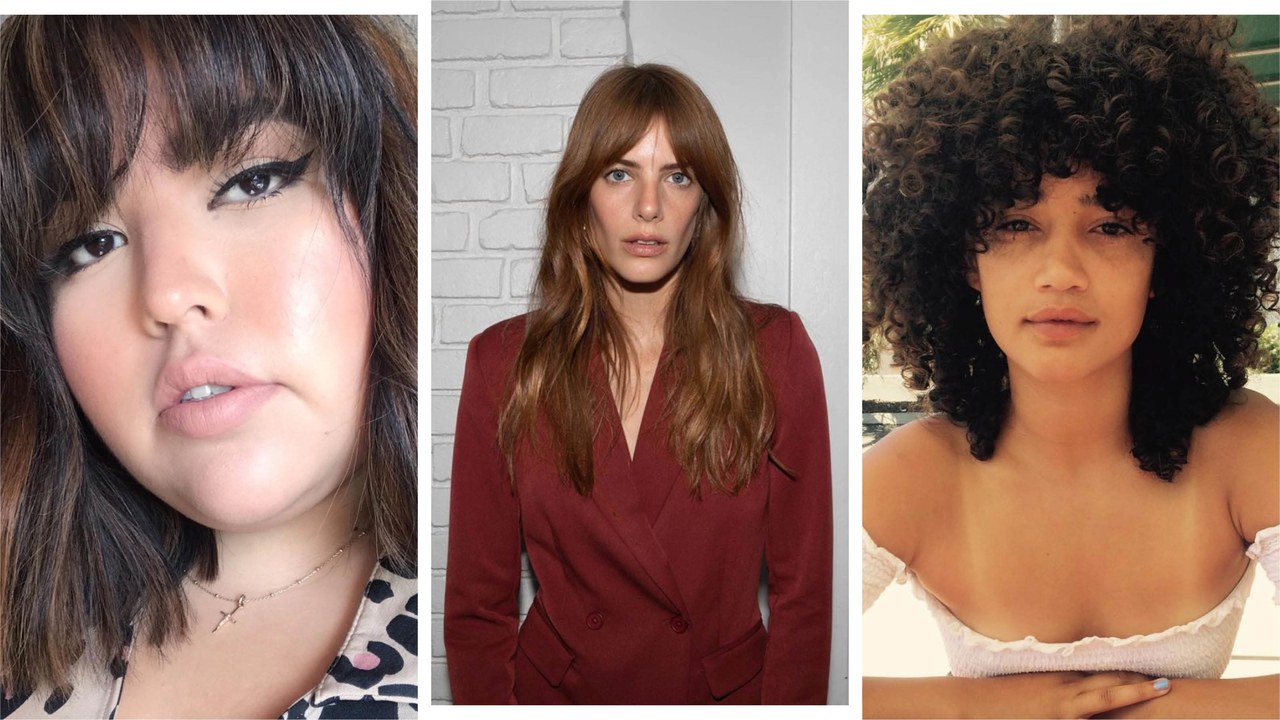 I only wash my hair about two or three times a month, and I use a really good clarifying shampoo. I get out of the shower while my hair is still wet, and work through DevaCurl Heaven In Hair Divine Deep Conditioner, it's the best, and then put my hair in two braids. I always style my bangs separately from the rest of my hair. I use the DevaCurl Styling Cream, and I finger coil my bangs, every little strand I finger coil, and then I diffuse them. I don't blow dry the rest of my hair, only my bangs.
I keep things super simple. I think with curly hair, people are like "What's the secret?" but your hair already has all the secrets, so I think it's best to let your hair do what it already does. I tell girls that want to get bangs to remember that curly hair has its own personality, and it might take your hair a year or two to really get the memory down when it comes to having bangs, especially if your hair isn't used to it. I've had them for 10 years, so they know what to do—my hair just wants to lay. But when I first got them, my hair was a mess for like eight months. So just be patient! The finger coiling helps, make sure you use a diffuser, and as far as the rest of your hair: Protective style. Put your hair in braids, sleep with your hair wrapped up, and don't use products with silicone in them, that contributes to frizz.
I've only have had bangs for a few months now, but I grew up having them all through high school. I love them. I think they add a romantic feel to everything I wear. I'll get them trimmed when I'm feeling dramatic and want a change but am only bold enough to cut my bangs. I have super straight hair, which can be a struggle with bangs. Sometimes they sit on my forehead like blinds, which is really annoying.
My hair routine is pretty simple. I wash my hair every other day and let it air dry. I like to blow-dry my bangs for a little bend and sometimes use a straightener for even more bend. My favorite look is slept-in hair. It gives my hair a natural wave, and there's something about your hair on the day after washing it that makes for such a good hair day. I'll throw in some texture spray and maybe a little bit of dry shampoo from Oribe and call it a day.
I have a love/hate relationship with my bangs, but they've been apart of me on and off for 10 years now. They're super versatile, and I love how they enhance my youthful look. I have a lot of hair, and with that comes frizz. My biggest hair struggle is keeping moisture in and keeping the shape.
My hair routine is simple. I don't shampoo my hair, I just use a good heavy conditioner and leave it in for five minutes like a mask. While it soaks in, I use my fingertips to comb through my hair, and then wash it out and detangle. It helps with not breaking my curls apart too much. Then I scrunch my curls to give them a little bounce and let them air dry. I only trim my bangs every few months. I love a natural overgrown shag.
Bella Cacciatore is the beauty associate at Glamour. Follow her @bellacacciatore_.