Netflix's The Politician is Ambitious but Messy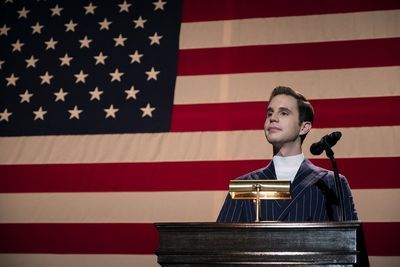 Ryan Murphy's "The Politician," his first major show at Netflix instead of FX, feels at first like a modern update of Alexander Payne's "Election," using high school politics to illustrate something about human nature and even comment on a system built on cults of personality. With a typically phenomenal ensemble of young talent and living legends, "The Politician" is never boring, but it never quite reaches the level you hope it would after that premiere. It struggles from a common Murphy problem in a lack of focus, but, much more surprisingly, often feels a bit toothless, sharing more tonally with "Glee" than his daring FX programs like "Pose" or "American Crime Story." It's a show with enough wonderful moments and smart performances to keep you watching and even excited for the already-announced season two, but one that falls short of its prodigious potential.
"Politics isn't about policies; a candidate is elected on a STORY," says Payton Hobart (Ben Platt), a young man with his entire future planned out. He's not just hoping to be successful in life, he knows where his presidential library will be. And one of the key chapters in his story will be his triumphant win in the election to be President of the Student Body. Then Harvard, then probably the Senate, the White House, and Mount Rushmore. Hobart is incredibly smart, reasonably likable, and comes from a very wealthy family, even if he is the outsider in it to everyone but his loyal, supportive mother Georgina (Gwyneth Paltrow, fitting perfectly in the Murphy oeuvre).
Hobart has a team of loyal advisors behind him who work as hard to get him elected as James Carville and George Stephanopoulos back in the day. Some of the "war room" scenes about Hobart's campaign are fascinating, especially as his team dissect poll numbers and discuss how to move the needle. For example, they know they need a running mate who will speak to a different section of the student body than Hobart. Why not the sweet young girl tragically-named Infinity (Zoey Deutch)? After all, she has cancer and is being cared for by her grandmother Dusty (played by Murphy vet Jessica Lange). She'll push Hobart over the competition. Of course, Infinity has some baggage of her own, and "The Politician" becomes a show largely about damage control and how spinning the story is more important than the actual truth of it.
Politics in the era of spin would seem like fertile ground for social commentary by a TV creator who has never shied away from such a thing…until now. "The Politician" feels surprisingly toothless at times. For one, it takes place in a strange vacuum in terms of modern politics. It's a show that will discuss McGovern/Eagleton and Reagan's assassination attempt, but I don't think the word Trump is ever actually used. Or Clinton for that matter. These are kids who would be talking about hot-button issues like gun control, ICE, and gender rights all the time. Or at least in the context of a young man who wants to be President someday! Maybe Murphy and Brad Falchuk felt like they couldn't keep up with current issues but it makes for a show that feels displaced from the real world more often than it should, especially given how much this show flirts with being a commentary on modern politics but ultimately doesn't feel like it has much to say about it. Consequently, it sometimes feels more like "Rushmore" (another story of an ambitious, quirky high schooler) than I think Murphy and his team were expecting.
Perhaps that's because a lot of the show seems to drift from its political foundation entirely. The saga of Infinity, Dusty, and Infinity's boyfriend sometimes feels removed from the political or even modern social commentary, and then the issues of privilege and wealth embedded in the Paltrow narrative can be another show altogether. Add to this lack of focus Murphy's habit to go off on complete tangents – only Murphy would have Platt sing the entirety of Joni Mitchell's "River," a wonderful scene but still – and you have a show that can be hard to put a finger on. Is it a character study? Social commentary? Satire? All or maybe none of the above?
It won't matter to some people simply because "The Politician" does have the performances to keep them engaged. Platt is truly phenomenal, finding a big heart inside an often-calculated character. He's surrounded by talented young stars – including his "Dear Evan Hansen" co-star Laura Dreyfuss, Theo Germaine, David Corenswet, and Lucy Boynton – and then Murphy and Falchuk cast the adults in this world with legends like Lange, Paltrow, Dylan McDermott, January Jones, and, in the finale that feels like a back-door pilot for season two, Judith Light and Bette Midler. Everyone involved is at least good and many of them are great, especially Platt, Boynton, Lange, and Midler. There's really not a weak player in the entire series.
So maybe that's all we need from a TV icon's first Netflix show? Maybe we're expecting too much if we wanted this to be "The People v. OJ Simpson" or "Pose" right out of the gate? It's certainly not that, but, as with pretty much all of Murphy's shows, it's also certainly never boring.
Entire first season screened for review.