'The genocide cannot continue' says longtime MMIWG advocate Gladys Radek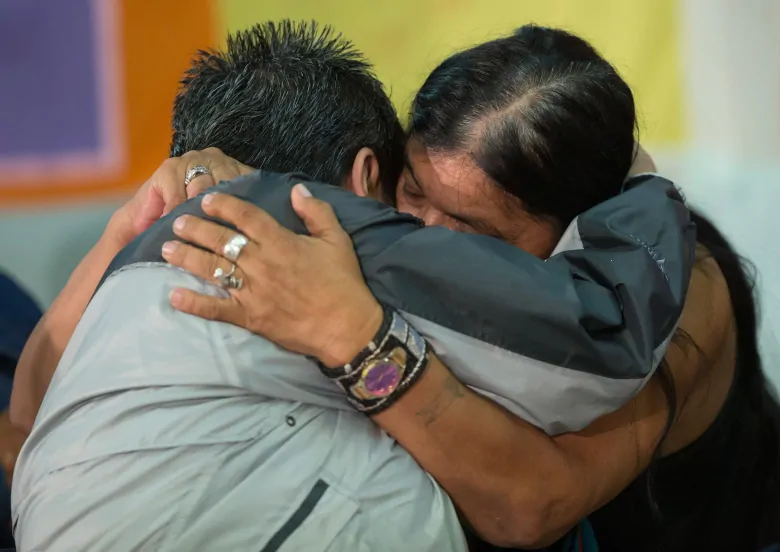 Gladys Radek dreamt about the day when the voices of families with missing and murdered loved ones would be front and centre in this country. A dream more than a decade in the making.
On Monday, Radek was among the hundreds in attendance at the closing ceremony of the national inquiry into murdered and missing Indigenous women and girls at the Canadian Museum of History in Gatineau. Que.
Her Toyota hatchback that she refers to as her "war pony" was parked out front, plastered with photos of the missing and murdered. On Tuesday, she'll start her nearly 5,000 kilometre drive home to Terrace, B.C.
She might be leaving the nation's capital but she said the families, survivors and advocates who pushed for the inquiry to happen aren't really going away.
Gladys Radek's 'war pony' parked out front of the Canadian Museum of History. Radek is a longtime grassroots advocate for <a href="https://twitter.com/hashtag/MMIWG?src=hash&amp;ref_src=twsrc%5Etfw">#MMIWG</a> and she drove here to Gatineau Quebec for the closing ceremony from northern BC. <a href="https://t.co/iODkjzv6P7″>pic.twitter.com/iODkjzv6P7</a>

&mdash;@pieglue
"We need to now hold their feet to the fire," she said, referring to the governments and institutions being called upon to take action by the inquiry's 231 Calls for Justice.
Radek has long been recognized for her work among the network of people across the country who have made it their mission to get justice for the families of missing and murdered Indigenous women and girls.
"I do believe we have pulled together a grassroots movement of these women — strong Indigenous women — who have had enough," she said.
A movement born of pain and frustration
Like so many others, Radek's involvement in this movement is rooted in personal loss.
In 2005, her niece Tamara Lynn Chipman vanished from the northwest coast of B.C. The 22-year-old, who Radek says "loved her fast boats and fast cars," was last seen trying to hitch a ride outside of Prince Rupert.
The body of 14-year-old Aielah Saric-Auger was found dumped in a ditch next to a highway near Prince George just a few months after Chipman's disappearance. No one was ever charged in Saric-Auger's homicide.
The stretch between where Chipman disappeared and where Saric-Auger's body was found is commonly referred to as the Highway of Tears.
A gathering was held in Prince George weeks after the discovery of Saric-Auger's body bringing together communities and families together from across the region. It was called the Highway of Tears Symposium. Like the national inquiry, the symposium led to a host of recommendations aimed at improving safety for women and girls.
In connecting with so many families and communities in the aftermath of Chipman's disappearance, Radek said she started hearing people talk about the need for some kind of national inquiry into the issue of missing and murdered Indigenous women and girls.
By December 2007, Radek decided it was time to take action. She says she called up her friend Bernie Williams and said she was thinking of doing a cross-country walk to raise awareness about the missing and murdered, and to walk up to Parliament to demand a national inquiry.
By 2008 the first of many walks from Vancouver to Ottawa was underway.
More and more voices joined the movement, including national organizations like the Native Women's Association of Canada.
By 2015 the calls for an inquiry made their way into the federal election cycle and political parties started making promises about making the inquiry a reality. It was part of the Truth and Reconciliation Commission's final report as Call to Action 41.
'It's up to everybody'
Now, more than a decade since that first cross-country walk, the inquiry has fulfilled its mandate, delivering its final report with 231 Calls for Justice, and will wind down its operations at the end of June.
Those who pushed to make the inquiry a reality say they are committed to keep up the pressure for change, as the deaths and disappearances continue.
"We're going to be working to implement these recommendations that we made so that we can protect our future generations," said Radek.
"The genocide cannot continue…. It's up to everybody. It's up to society to open their eyes and see what's going on."