When winter wouldn't let up in Alberta … in May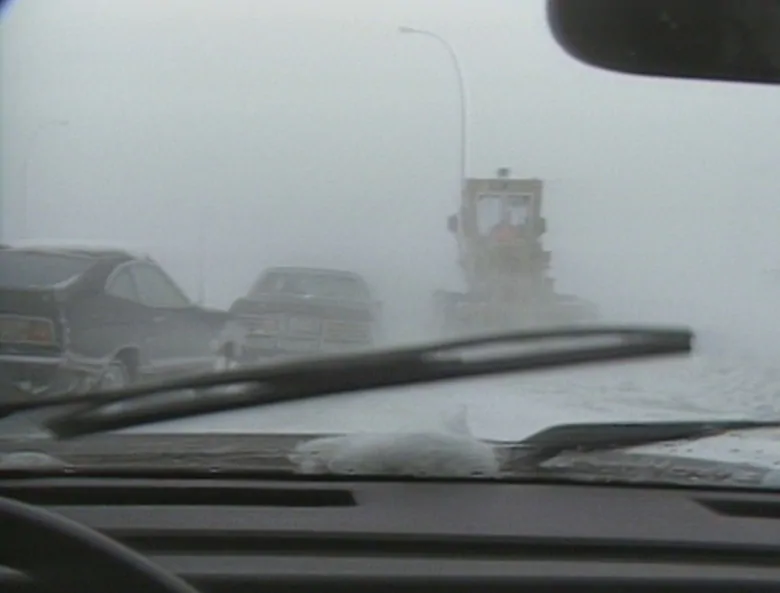 The start of summer was barely a month away, but snow covered much of Calgary and southern Alberta 33 years ago today.
It was, according to CBC reporter David Kyle, the worst such spring storm to hit the province in five years, when it arrived on May 14, 1986.
The storm toppled power lines, closed schools and generally made a mess of the highways.
The snowstorm that hit Calgary and much of southern Alberta on May 14, 1986, made driving very treacherous. (The National/CBC Archives)
"Winds gusting to 70 kilometres an hour cut visibility to zero on the highways and police turned motorists back," Kyle told viewers on The National.
"Abandoned cars made for difficult driving in Calgary, although some drivers waited patiently to be rescued."
Highway maintenance crews had been deployed from other parts of the province, so they could be on hand to clear the roads once the snow stopped falling.
The storm grounded all flights at the Calgary airport. (The National/CBC Archives)
The storm also grounded flights at the city's airport for the entire day, leaving passengers stranded in the terminal.
"Until it lets up … Calgary and southern Alberta will remain virtually paralyzed," Kyle said, summing up the situation.
A day later, the cleanup was in full swing, but the snow still hadn't gone anywhere, as seen in the footage below.