Meet the Alberta skunk whisperer immune to their noxious spray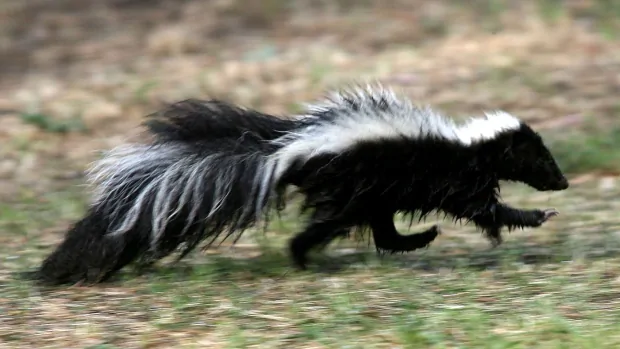 It's a stinky job but Gwenevere Marshall doesn't mind doing it.
A wildlife conflict specialist with the Red Deer-based Medicine River Wildlife Centre, Marshall is a skilled skunk whisperer.
Even if the animal becomes startled, she remains unperturbed.
Her unusual sense of smell acts as a superpower on the job. She is immune to the ravages of skunk spray.
"Personally, I can't really smell them," Marshall said. "It has to spray right next to me, and if it does it smells faintly of garlic toast."
That's right, garlic toast.
While others may be retching, Marshall can barely notice the odour at all.
"I got sprayed in the face once and it didn't really bother me," Marshall said. "I mean, it stings your eyes but I wiped my face and I completely forgot I'd been sprayed because I couldn't really smell it.
"It makes me very well-suited for this job."
Marshall has been rescuing skunks for more than a decade and has been out more than 30 times to help people evict skunks from residential areas.
Most recently she was called out to help rescue a skunk that had become trapped in the bowl of Optimist All Wheels Park, a skate park in the town of Blackfalds, located about 15 kilometres north of Red Deer.
The creature had fallen in overnight and couldn't crawl up the steep concrete.
Marshall recommended town staff lay down a piece of lattice, so the skunk could use it as a ladder. But the critter was just too tuckered to climb out on its own.
A video of the Thursday afternoon rescue shows Marshall slowly approaching the skunk, before wrapping it up in a blanket and placing it in a cat crate.
Putting up a stink
"The skunk was not terribly happy, it had kind of rough night stuck in the skate park," she said. "But skunks are very docile animals. I held the blanket out in front of me and I talked to it the whole time. It realized I was not about to eat it, so it calmed down."
People looking to rid their properties of a skunk should always call in an expert, but those who do encounter one can likely talk themselves out of a bad situation.
Speaking gently to a distressed skunk in a soft voice can help ensure you don't get sprayed, Marshall said.
It realized I was not about to eat it, so it calmed down.– Gwen Marshall
Skunks will only create a stink if they feel truly threatened, Marshall said.
"Adult skunks only have about two tablespoons of juice, and they know that if they waste it all they're defenceless for the 10 days it takes for it to replenish," she said.
"They really don't want to spray."