Luxury fashion retailer Holt Renfrew closing Edmonton store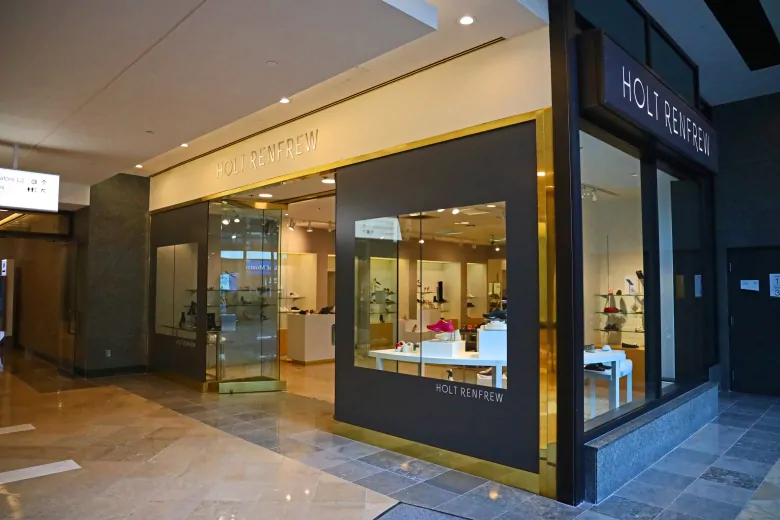 Edmonton's Holt Renfrew store, a fixture for more than three decades in Manulife Place downtown, will close next January as the luxury retailer shifts its focus to larger stores, the company said in a news release Tuesday.
"The decision to close our smallest regional store in Edmonton was difficult, and we did not take the decision lightly," Holt Renfrew chief operating officer Robert Zeidel said in the release.
"This store is led by a great team that has performed well and we've cherished our history in the community."
The store's closing date has been set for Jan. 11, 2020.
Employees can look for new opportunities at other Holt Renfrew locations or receive "personalized packages that reflect their service along with career planning support," the company said.
The closure of the Edmonton store is part of Holt Renfrew's continuing strategy to focus on what it calls a large-format store model. The plan was announced in June 2018.
Other smaller locations in Ottawa and Quebec City closed in 2015.
The Calgary store will not close.
"We are highly committed to the markets in which we currently operate, including Calgary," Zeidel said in a statement to CBC News.
The move is part of a strategy by the company to focus on larger-format stores. (Cort Sloan/CBC)
"After looking at a variety of options in the area and careful financial and market analysis, it was determined that Holt Renfrew's enhanced specialty luxury business model requires a significantly larger store footprint to host the experiences and deep merchandise offering of its core brand partners," the company said Tuesday.
The company said it is spending $400 million to renovate and expand stores across Canada. A renovation and expansion is nearly complete in Vancouver. Renovations and expansions are underway at two Toronto locations and the 250,000-square-foot Holt Renfrew Ogilvy in Montreal.
An article last year in Retail Insider said the Edmonton store occupies 35,000 square feet.
Holt Renfrew was founded in 1837 as a hat shop. Since 1986, the chain has been owned by the Weston family.