U.S. pastor at centre of diplomatic spat freed by Turkish court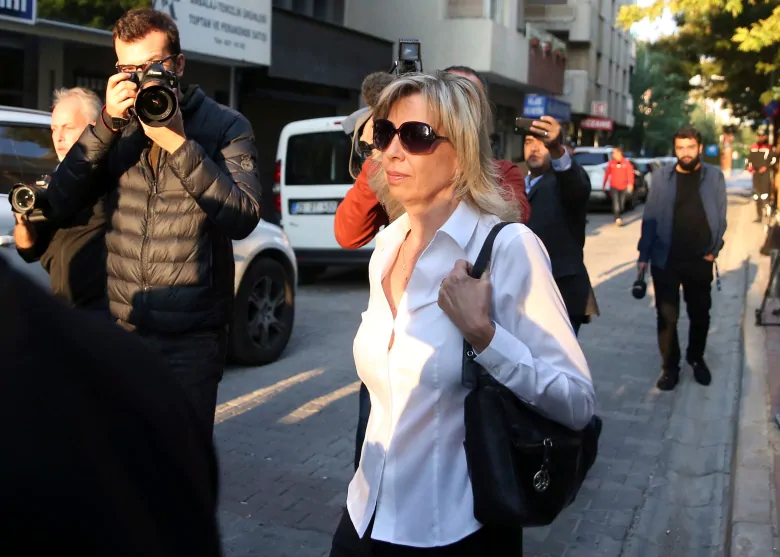 A Turkish court has convicted an American pastor at the centre of a Turkish-American diplomatic dispute of terror charges but has released him from house arrest and allowed him to leave Turkey.
The court near the western city of Izmir on Friday sentenced Andrew Brunson to three years and a month in prison for the conviction, but since the evangelical pastor has already spent two years in detention, he won't serve more time.
Brunson had rejected the espionage and terror-related charges and strongly maintained his innocence.
Brunson, who is from North Carolina and has worked in Turkey for more than 20 years, has been accused of helping the group headed by exiled cleric Fethullah Gulen, who has been living in Pennsylania and whose supporters Ankara says were behind a failed military coup in 2016.
My thoughts and prayers are with Pastor Brunson, and we hope to have him safely back home soon!

—@realDonaldTrump
He denied the charges but faced up to 35 years in jail. Earlier, this year he had been transferred from prison to house arrest.
Brunson, 50, told the court Friday he is "an innocent man. I love Jesus. I love Turkey."
Norine Brunson, the wife of U.S. pastor Andrew Brunson, is escorted by a U.S. embassy official before his trial in Izmir, Turkey on Friday. (Emre Tazegul/Associated Press)
The saga has been at the forefront of tense relations between the countries, who have slapped economic sanctions on each other as the case has wound its way through the courts.
While the first year of U.S. President Donald Trump's administration passed with little public comment about the case, both Trump and Vice-President Mike Pence have increasingly taken up Brunson's case publicly in 2018.
Trump welcomed the result on Friday on Twitter, hoping Bruson would be "safely back home soon!"
Jay Sekulow, who has been a part of Trump's own legal team, has also been representing the Brunson family.
The lawyer said in a statement that Brunson was already airborne en route to the U.S.
"We're grateful to the president, members of Congress and diplomatic leaders who continued to put pressure on Turkey to secure the freedom of Pastor Brunson," Sekulow said. "The fact that he is now on a plane to the United States can only be viewed as a significant victory for Pastor Brunson and his family."
Turkish President Recep Erdogan had said he was powerless to interfere in Brunson's care and that Turkey won't extradite anyone to the U.S. until U.S. extradites Gulen. He was an ally of Erdogan's until a public falling-out in 2013 led the government to declare Gulen's network a terror group.
Release days after U.S. resident disappeared
Since the coup, the Turkish government has moved to purge or arrest thousands it believes were involved or sympathized with the Gulen movement, including people in the civil service, police forces, universities and media organizations. According to a New York Times report, the U.S. has expressed concern about some 20 Turkish-Americans who have been detained in the last two years.
Turkey has also been publicly critical of criminal prosecutions in the U.S. involving state-run Halkbank official Mehmet Hakan Atilla, as well as Reza Zarrab, a Turkish-Iranian gold trader.
The conflicts over individual cases in civilian courts occurred as the two countries have been at odds over the war in Syria.
Turkey has urged the U.S. to halt its support for Kurdish YPG fighters or risk confronting Turkish forces on the ground in Syria. Turkey considers the group linked to the Kurdistan Workers Party (PKK) it bans at home, with the Americans using the fighters in its efforts to root out Islamic State in Iraq and Syria (ISIS) militants.
Erdogan has consolidated power in the 18 months since the coup through a disputed referendum and recent re-election, which, along with a close relationship with Russian President Vladimir Putin, has concerned the U.S. and other NATO partners.
A man holds a picture of missing Saudi writer Jamal Khashoggi, during a protest in Istanbul in Oct. 5. It was unknown if the disappearance in Turkey of Khashoggi, a U.S. resident, had any impact on the result of Friday's hearing for Brunson. (Emrah Gurel/ssociated Press)
Brunson's release comes just 10 days after the disappearance of U.S.-based journalist Jamal Khashoggi at the Saudi consulate in Istanbul. Turkish officials say they fear Saudi Arabia killed and dismembered Khashoggi, without offering evidence explaining why they believe that.
Khashoggi contributed columns to the Post, including some critical of Crown Prince Mohammed bin Salman, who the the current U.S. administration has courted as an ally.
Saudi officials reject the claims as "baseless."
Court on Friday heard from two witnesses who cast doubt on testimony given at an earlier hearing, in which Brunson was accused of aiding terror groups. The new witnesses did not confirm Kalkan's accusations. Another witness for the prosecution said she did not know Brunson.
Brunson again denied accusations that his church aided Kurdish militants, saying he had handed over a list of Syrian refugees whom the congregation had helped and adding that Turkish authorities would have identified any terrorists.
"We helped everyone, Kurds, Arabs, without showing any discrimination," he said.
Brunson led a small congregation in the Izmir Resurrection Church. The U.S. Commission on International Religious Freedom, with top representative Tony Perkins monitoring the trial, has listed him as a "prisoner of conscience."
With files from CBC News