'He confuses hate for love and love for hate': Crown urges jury to convict Tyrell Perron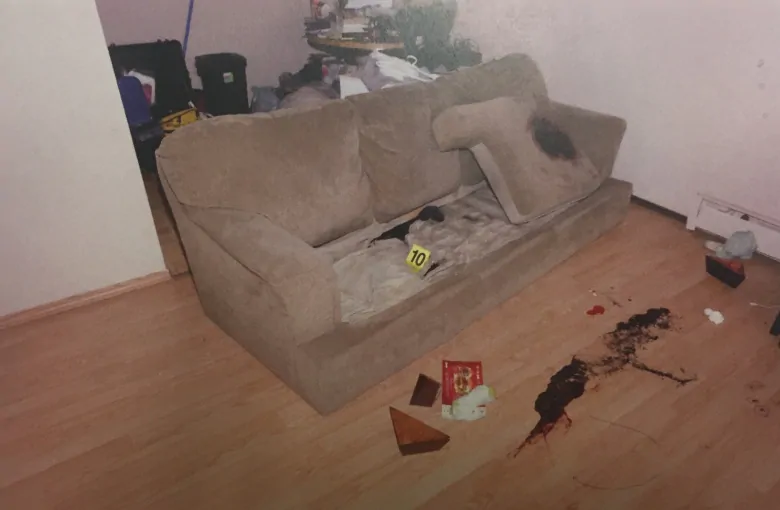 "Truth is often stranger than fiction," Crown prosecutor Phil LeFeuvre told the jury in his closing argument Tuesday morning in a Hinton courtroom. "This was plain and simple first-degree murder."
Tyrell Perron, 24, is charged with the first-degree murder of a 14-year-old girl, who can only be identified by her initials D.H. due to a court-ordered publication ban.
Perron is accused of stabbing, smothering and sexually assaulting D.H. in Edson on March 4, 2016.
Over the past two weeks, the jury has heard from friends of the victim and roommates of the accused along with testimony from investigators, a DNA expert, the medical examiner and an undercover police officer.
"The murder was sexually motivated," LeFeuvre said in his closing. "The Crown respectfully submits it has been proven beyond a reasonable doubt Tyrell Perron was the person who murdered D.H. and the murder was in the first degree."
The apartment living room in Edson where D.H. was stabbed, smothered and sexually assaulted. (RCMP/Court exhibit )
LeFeuvre painted the scene for the jury.
"Earlier in the night, he asked for one favour — a kiss on the cheek," LeFeuvre said.
"Tyrell Perron got up from his adjacent couch and stood over [D.H.] with a black gerber knife. He plunged the knife into [her] neck and murdered her."
During his 43-minute summation of the case, the prosecutor explained there were two ways the jury could find Perron guilty of first-degree murder: first, that it was planned and deliberate. Secondly, that it was in the commission of a sexual assault.
Evidence of premeditation
In a videotaped confession to RCMP that was watched by the jury, Perron admitted he'd become obsessed with D.H., and said he'd been thinking about it for a month or so, and tried to warn D.H. by telling her to stay away.
Crown prosecutor Phil LeFeuvre as shown in a 2016 photo. (Twitter/Fred Hutton )
Later during the interrogation, Perron admitted he was "really thinking about it" for the past week.
Perron also admitted, "The day before I'd stood over her and contemplated ending her life."
"This was not a spur of the moment decision by the accused," LeFeuvre told the jury. "He'd been thinking about it for awhile. He felt humiliated by a 14-year-old. He could not handle that she was seeing other people."
"His rage grew," LeFeuvre continued. "He told you how he had a dark side. He described his feelings as monstrous. As a different side that took over. He could not deal with it and thought about killing this child as a result."
"He finally carried out his plan and murdered D.H."
LeFeuvre argued Perron's confession included details about the crime "that only the killer would know."
'All the violence was sexually motivated'
The Crown's theory is that D.H.'s murder was committed for the purpose of committing a sexual assault.
LeFeuvre reminded the jury the victim was only 14-years old at the time, and that in the eyes of the law, she was too young to legally consent to having sex with a 21-year old.
"Legally she was a child," he told the jury. "As such, any sexual contact was illegal and meets the definition of sexual assault."
DNA evidence entered at trial showed Perron sexually assaulted D.H.
Perron confessed to the RCMP interrogator as well as an undercover officer, who had been placed in his cell, that he had sex with D.H. after he thought she was dead.
On that basis, the Crown also urged the jury to find Perron guilty of offering an indignity to a dead body.
He reminded the jury D.H. was just a child when she died.
"We were all 14 once," LeFeuvre said. "Fourteen is an interesting age as it's an important crossroads to adulthood. It's a time when we probably think we know much more than we do.
"She no doubt thought her associates had her best interests at heart. We know Tyrell Perron did not have her best interests at all.
"He confuses hate for love and love for hate."
'This incident is a tragedy'
Because the defence presented no evidence, Perron's lawyer, Derek Anderson, was able to follow the Crown in his closing arguments and thereby give the last word to the jury.
"This incident is a tragedy," Anderson began. "There is really no other way to describe it. It is dark. It is a tragedy. And it has left us with very few answers and with a lot of questions."
"Ms. [H.] was 14 years old. She was living a life that was not, I think we can agree, suitable for a 14-year old girl. She was involved in drug use. She was spending a lot of time with boys who were notably older than her."
Defence lawyer Derek Anderson urged the jury to acquit Tyrell Perron. (Facebook/Derek Anderson )
"The drug use and the moral character of some of the witnesses we heard from is not an issue," Anderson continued. "But they are relevant to whether or not the witnesses are credible on the evidence that they gave."
Anderson suggested testimony from less than credible witnesses, a number of inconsistencies, holes in the evidence and investigators' tunnel vision should give the jurors reasonable doubt, enough to acquit Perron.
"What I am here to talk about is why we believe the Crown has not proven beyond a reasonable doubt that Mr. Perron is guilty," Anderson said.
"We are not suggesting that any of the witnesses we heard from were in fact responsible for Ms. (H.'s) death," Anderson said.
"No one was asked that question and we would ask you to put that idea out of your minds."
But the defence lawyer said the evidence shows there was "darkness in that world," and based on the information provided to RCMP just hours after D.H.'s murder, "the police stopped investigating really anything other than Mr. Perron."
Anderson also suggested the undercover RCMP officer who was placed in Perron's cell planted the idea of a sex assault in his mind.
"Our position is that he put it into Mr. Perron's mind as something being real," Anderson said."As well as the idea that it would feel better if he made some admissions."
The defence lawyer asked the jury to consider inconsistencies in Perron's videotaped confession to RCMP.
"When you look at the interview or the interrogation and you listen to Mr. Perron's answers, don't only look at those points that appear to be consistent," Anderson said. "Look at pieces of his evidence that don't agree with everything else."
Throughout Anderson's nearly one-hour long closing argument, a male juror in the front row sat with his arms crossed the entire time, refusing to look at the defence lawyer as he spoke.
1st-degree or 2nd-degree murder
Even though Anderson asked the jury to find Perron not guilty, he addressed the issue of whether to find the 24-year-old guilty of first- or second-degree murder in the event they decide he was responsible for the crime.
Anderson argued that if they decide he's the killer, then they should also accept "that what happened in his apartment was a crime of opportunity; spur of the moment, and nothing more," Anderson said.
"If you find it was a spur-of-the-moment killing," he continued, "I would strongly urge you to accept it would not have been with the intention of committing a sexual assault."
"I thank you again for your patience and your attention," he said to the jury. "Good luck."
The nine men and three women will return to the courthouse at 9 a.m. Wednesday to get instructions about the law from Court of Queen's Bench Justice Paul Belzil.
He told them to be prepared to stay together until they reach a verdict.