Alberta boilermaker describes fear, chaos during fiery Saint John refinery explosion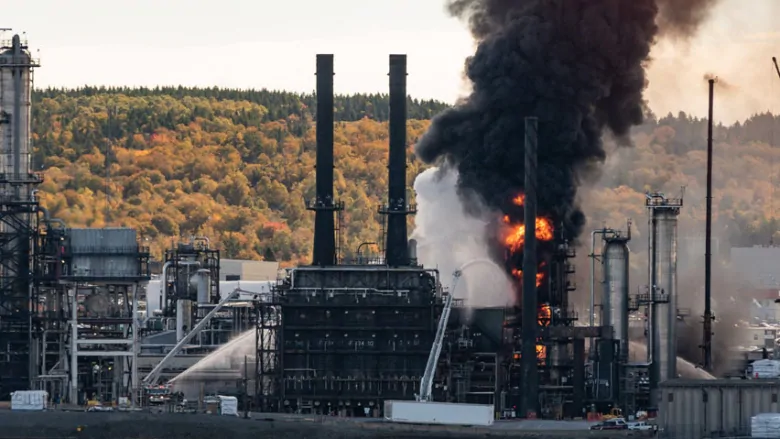 A boilermaker from Western Canada says he was rattled by the fiery explosion at the Irving Oil refinery in Saint John where he was working, but is ready to return when called, which could come as early as today.
Some of the contractors working on the turnaround maintenance project were back on site Tuesday night. The cause of the blast that sent five people to hospital still hasn't been determined and a WorkSafeNB investigation is ongoing.
Terry MacEachern, a Nova Scotia native who has been a boilermaker for 16 years and is a member of the International Brotherhood of Boilermakers Lodge 146 in Alberta, said he was surprised to hear they were called back so soon.
"I know a lot of people are still [shaken] up by it and I think that there might be a few people that probably just aren't coming back."
He said the blast caused chaos and was scary, pushing some workers into "panic mode."
At first, it just sounded like a crane had dropped a load of steel and "everyone just kind of paused and looked at each other," wondering what had happened.
Then all of a sudden, "it was like [a] sonic boom."
MacEachern, 36, who was about 180 metres from the origin of the blast, says the shockwave knocked him back about a step. Other workers who were closer to the site "flung" three metres across the ground.
When you're seeing 280-pound guys keeping up with you, you know it's go time.– Terry MacEachern , boilermaker
"You could feel it literally right through your body. It was pretty intense."
A black mushroom cloud filled the sky and flames shot 30 metres high.
People were "sliding" down scaffolding and yelling, "Run, run run."
"Not knowing whether the rest of the plant is going to blow up or not, it's kind of a scary moment," said MacEachern.
"When you're seeing 280-pound guys keeping up with you, you know it's go time."
Fire crews were still dousing "flare-ups" as of 9 p.m. AT Monday, about 15 hours after the explosion, said Saint John Emergency Measures Organization officials. (Submitted by Joseph Comeau)
Despite the fear, everyone knew where to go and were quickly accounted for, said MacEachern. He credited Irving Oil's detailed emergency plan, which includes a secondary muster point, and the professionalism of everyone involved — from management and union officials, to his co-workers and the firefighters he describes as lifesaving heroes.
"They had some backbone to go into 160-foot [nearly 49-metre] flames in a live plant," he marvelled. "It's like someone standing with a match in a puddle of gas and saying, 'Please don't drop that. We're all standing in the puddle with you.'"
The Irving Oil facility is the largest refinery in Canada. It employs about 1,400 people and is capable of producing more than 320,000 barrels per day at the sprawling site, which covers more than 300 hectares.
Close to 3,000 people were working at the time of the explosion over the Thanksgiving holiday. About 100 of them were the normal operations crew, while the rest were tradespeople on a turnaround project, officials said.
Five people were treated at the Saint John Regional Hospital for non-life-threatening injuries, according to the Horizon Health Network.
Timing helped saved lives
MacEachern, who has also worked in Newfoundland, said the timing of the explosion was "crucial" to the casualties not being much worse.
Because it hit around 10:15 a.m. AT, right before their lunch break, many workers were already climbing down from the towering pressure vessels, he said.
Just five minutes earlier, they could have still been some 40 metres in the air, working right beside the blast Irving Oil believes originated in the diesel-treating unit, he said.
Five minutes later, and up to 400 workers could have been walking across an exposed crosswalk, just 45 or 55 metres away from the explosion.
MacEachern said he didn't sleep well Monday night, replaying the events in his head.
"I've been through a lot of things but I mean, you never really expect something this big to happen, the magnitude. I'm just glad that people walked away from it."
He said he thought it would be at least a couple of days before any work would resume, but he's comfortable about going back.
"I'm sure the Irving family would never put us into a situation that they'd put us in … danger.
"They wouldn't let us back into a refinery that they didn't feel was safe."
WorkSafeNB may need outside help
Eric Brideau, assistant director of investigations for WorkSafeNB, planned to begin his onsite investigation into occupational health and safety issues Tuesday afternoon and hoped to get as close as safely possible to the blast origin.
The area was previously still considered a "hot zone," he said.
The last "flare-up," or reignition, occurred around 9 p.m. Monday, according to the Saint John Emergency Measures Organization.
The cause of the blast that sent five people to hospital still hasn't been determined and a WorkSafeNB investigation is ongoing. (Photo: CBC)
Irving Oil said Tuesday morning "the refinery as a whole is safe and the specific site of the incident is isolated and contained."
Brideau planned to meet with Irving Oil officials to gather some preliminary information about the incident and the "somewhat complex" refining process.
"One piece of the investigation is to understand that complexity and we will need obviously some assistance in that area," possibly from a WorkSafeNB engineer or others outside the organization, he said.
"At this point we have almost everybody in the team involved in some capacity."
It's too soon to say how long the investigation will take, Brideau said.