Ward breaks single-season consecutive FG mark as Redblacks top Eskimos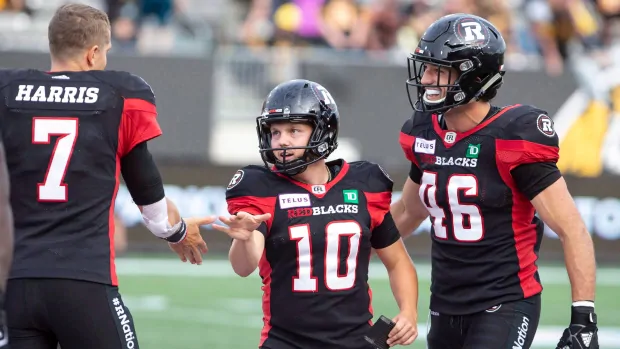 Lewis Ward set a single-season mark for consecutive field goals Saturday to help the Ottawa Redblacks defeat the Edmonton Eskimos 28-15.
Ward had four field goals in the first half alone to break the previous benchmark of 32 straight set by Rene Parades in the 2016 season with the Calgary Stampeders. Ward finished the game with seven and has now connected on 37 straight.
Parades also holds the overall consecutive record of 39 set between the 2012-13 seasons, also with Calgary.
A late drive that ended with a four-yard touchdown pass from Trevor Harris to Greg Ellingson at 11:16 of the fourth quarter gave the Redblacks a 25-15 lead after the Ward conversion.
Ward then kicked a 22-yard field goal with less than two minutes to play, giving him 22 points for the game.
Harris completed 23-of-30 passes for 313 yards, while his counterpart Mike Reilly was 27 of 40 for 276 yards. Both had a touchdown pass and an interception.