'I grew up knowing what I was, was a conflict': Tommy Orange writes about challenges facing 'urban Indians'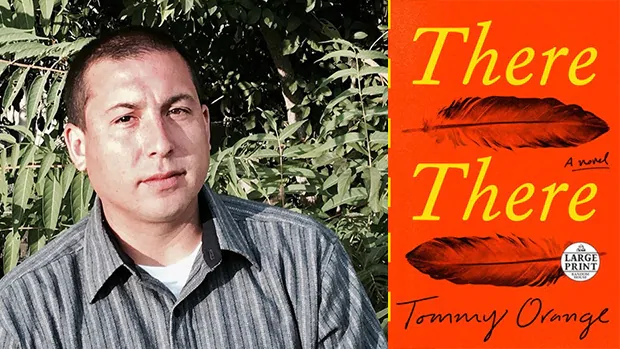 In his debut novel, Tommy Orange reveals a world not often explored, the lives of "urban Indians."
There, There is set in Oakland, California and is told from the perspective of multiple characters in short episodic chapters. Ultimately, the connections between the characters are revealed when they converge at the Big Oakland Powwow.
The book's title comes from Gertrude Stein's famous quote about her hometown, "there is no there, there." But Orange, who was raised in Oakland, has a very different view. His mother is white and his father is Cheyenne and Arapahoe. There,There rises from questions about his own divided identity, faith, race and the social uncertainty facing urban Indigenous people.
"I very much knew I was white because my mom is white. She has orange hair, her last name is Orange, we had an orange van at one point," Orange said.
While his father spoke Cheyenne at home and the family would visit relatives on the reservation during summer and winter breaks, most of Orange's childhood was spent in the city.
"It was a stark contrast. So I grew up knowing what I was, was a conflict," he said.
Orange said there was a certain sense of dislocation and a yearning of not really belonging to one group or the other. Some of the writing in his book came out of that kind of loneliness.
As a self-described "urban Indian," Orange didn't see himself represented, and said he knew a lot of other Indigenous people experienced similar feelings.
"If we don't talk about or tell the stories about who we are, it just disappears."
Finding his story
Growing up, Orange wasn't much of a reader until he got a job at a bookstore. That, he said, was where he fell in love with words.
"It wasn't originally story that got me, it was language and what it could do," he explained.
He said at first, his attempts at writing a novel were clumsy but knew he wanted to continue. He attended the Institute of American Indian Arts in Santa Fe, New Mexico alongside Heart Berries writer, Terese Marie Mailhot.
"It took many years to figure out [how to write a novel] and many years of reading to figure out what I liked and what I wanted to try and do," he said.
The storytelling bug really hit when Orange started working with the Native American community in Oakland.
"So my love of reading and writing was happening at the same time of understanding the community that I didn't necessarily grow up in," he recalled.
Still he said he did not base his characters on those he met and worked with. Instead, they are reflections of himself.
"It's about home and belonging. And how we create those things and how they come from something as basic as where were you born and what were you born around and what is your connection to that. How do you keep that connection, just to feel like you belong."