Great expectations: Wilfred's a welcoming spot for breakfast, brunch or cocktails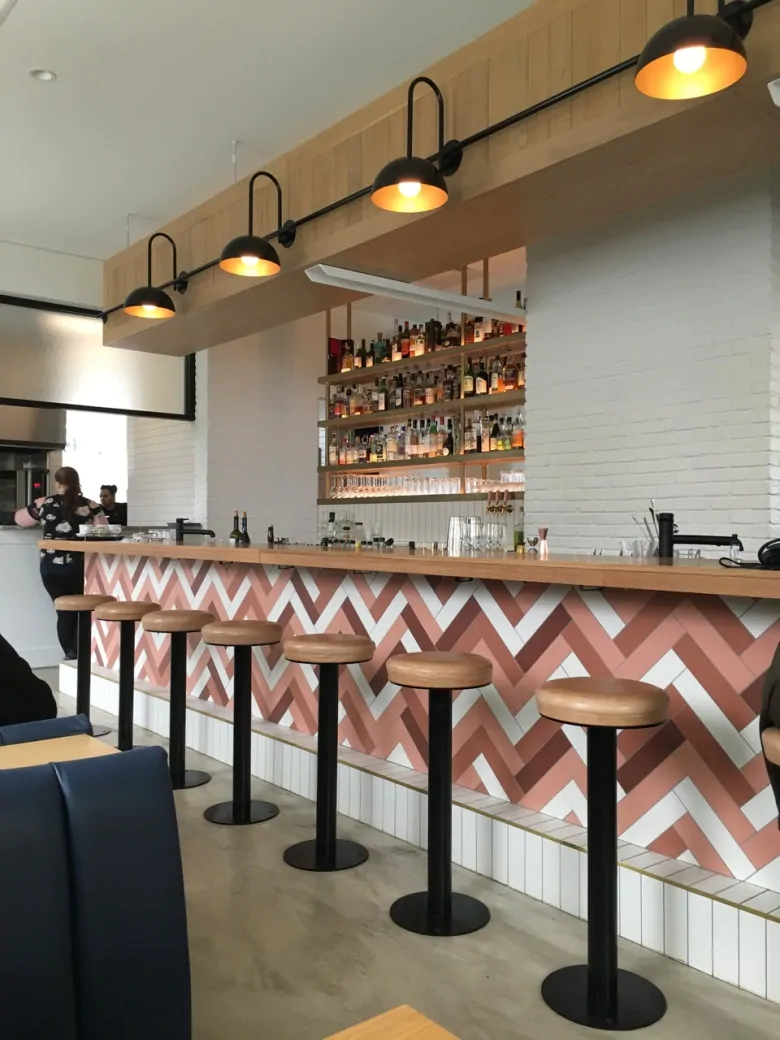 Wilfred's, a contemporary diner in the Brewery District, takes up residence in a 100-year-old building that once housed the Molson Brewery administrative offices.
It stands alone at the western edge of the district like a beacon in a red-bricked sea of fast-casual restaurants, banks, medical offices and various retailers.
The inviting interior, blanketed in a soothing palette of salmon pink and white, is brightly lit with sunshine during the day and warmed by the glow of vintage-style lighting fixtures at night.
A personal touch
The restaurant is named after the father of one of the owners. It's also the moniker given to a fictional bear who appears as the restaurant's whimsical mascot.
Sidle up to the bar for a cocktail or tasty snack, Campbell recommends. (Twyla Campbell)
A hand-painted mural by the design team, Vanguard Works, on one wall features Wilfred and friends in a European inspired playground complete with references to Monet, and childhood favourites Tintin and Madeleine.
There is a very personal feel to Wilfred's.
The owners' grandparents each have a breakfast sandwich named in their honour. The four sandwiches (Mervin, Eliana, Ina and Everett) offer iterations of softly scrambled free-range eggs on a brioche bun.
Breakfast and brunch come with free Ace coffee refills. Nice touch.
The avocado toast topped with a soft poached egg kept me fuelled and happy for hours.
Wilfred's wants people in nearby condos and homes to feel this is "their place" in the hood.
Indeed, it is easy to feel comfortable here, especially in the leather-covered benches and tables that line the perimeter, but the coveted spots are the padded stools at the horseshoe-shaped bar in front of James Grant and his talented crew.
If the stools were moveable, even better; unfortunately, they're anchored in place, so people of certain heights might find them a bit uncomfortable after a while.
A $12 expertly made cocktail or glass of wine is a rarity these days, so the prices on the drinks list make up for any seating discomfort. Wine by the bottle is also an enticing option. At $50 and $46 respectively, the citrus-forward Huber Grüner Veltliner and the Spanish A Portela Mencia are both lovely and good deals.
Crumbly Parmesan does not play nice with others when it comes to grilling.– Twyla Campbell
There are so many good things happening at Wilfred's that it pains me to say the food on the lunch and dinner menu leaves me wanting.
The craving I'd been experiencing for a grilled cheese sandwich went unfulfilled with the kitchen's pairing of gruyere and parmesan between overly buttered, grilled, thin slices of Bonjour bakery sourdough.
Hard, crumbly Parmesan does not play nice with others when it comes to grilling, and after a few moments on the plate, the bread and cheese had cooled and hardened making it difficult to eat.
I opted for the cauliflower potato soup as a side after hearing less than complimentary comments about the fries from people at the next table.
The soup looked pretty enough but was lacklustre in flavour and had an unpleasant grainy texture.
The nine ounces of beef in Wilfred's burger, too, doesn't live up to its potential. It's certainly impressive looking, but the meat is ground too fine and the patty is missing the juiciness and looser texture that it should have.
'Keen to please'
Home fries, roasted almonds, devilled eggs and marinated olives are suitable options for bar snacks and pair well with a glass of wine or dry martini (not listed but still available). If you're feeling more adventurous at the bar, opt for the Oaxacan Wakeup — a three-ounce concoction of mezcal, ancho chili, coffee liqueur, bittersweet vermouth and smoke.
The oily mackerel with shaved radish, dill, lemon and capers might appeal more to Catalans (who prefer to dine late) than Edmontonians readying for bed.
It shouldn't take much to find balance between food and drink at Wilfred's.
In the three months since they opened the doors, they've made some improvements and seem quite keen to please but still, several small issues remain.
Breakfast, cocktails, service and ambience are top-notch but I'm counting on Wilfred's to make great — not just good —things happen for lunch and dinner.