Trans Mountain court ruling win for 'OPEC dictatorships,' says UCP Leader Jason Kenney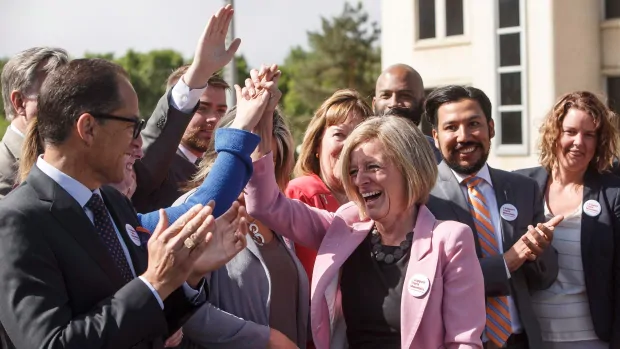 Jason Kenney, leader of the Official Opposition United Conservative Party, called Thursday's federal court decision quashing the Trans Mountain pipeline expansion a win for other oil producing nations, and called on the Alberta government to immediately repeal its carbon tax.
Speaking in Calgary, Kenney said the court decision proves Premier Rachel Notley's Alberta government has been headed in the wrong direction by continually arguing that carbon tax would win the social licence needed to build such projects.
"She has been wrong on this from day one," Kenney said of the premier. "She drank the proverbial Kook-Aid, believing that a punishing carbon tax would get the radical environmentalists to down tools."
Kenney said he doesn't blame the federal government for the situation but said the courts appeared to continually change the definition of what constitutes meaningful consultations with Indigenous groups.
He called the court decision a bad day for Canada.
"Today is a win for the OPEC dictatorships," Kenney said. "It's a win for Donald Trump."
Albertans wanting to hear from Notley about Thursday's court decision on the Trans Mountain pipeline will have to wait until this evening.
Notley, who has pushed hard for the $7.4-billion expansion project to get built, will deliver a live statement at approximately 6:08 p.m. MT, a spokesperson said.
Notley's comments are being billed as a message to Albertans and all Canadians, and will run about five minutes, the spokesperson said.
Notley will not take questions.
CBC News will carry the statement live.
In a decision released Thursday morning, the Federal Court of Appeal found the National Energy Board's assessment of the project was so flawed it should not have been relied on by the federal cabinet when it gave final approval to proceed in November 2016.
Also Thursday, Kinder Morgan shareholders overwhelmingly approved the sale of the Trans Mountain pipeline and expansion project to the Canadian government for $4.5 billion.
Notley said in July that Alberta would likely end up owning a piece of the pipeline. In May, she said her government would make up to $2 billion available, if necessary, to keep the project going.
Alberta Party caucus leader Rick Fraser said the court decision resulted from politicians "at all levels of government" putting political announcements ahead of the work needed to get the pipeline built.
"Today, we saw how hollow all of that celebrating is without the work to back it up," Fraser said in a news release.
Calgary Mayor Naheed Nenshi expressed his disappointment with the court ruling in a statement released by his office.
"I will be very supportive of all future actions to move this project forward. Important, nation-building projects like this deserve a fair, consistent, and transparent process, and I expect the advancement of the Trans Mountain pipeline expansion will continue to follow such a process."
Eric Adams, an associate professor of law at the University of Alberta, said even if the project does finally get the approval, "a lengthy delay in construction" can be expected.
"Meaningful consultation is probably never a short process," Adams said. "Especially when you are doing what the court is demanding that the government do here, which is respond and accommodate and maybe shift some of the requirements that they were intent on in order to take account of Indigenous concerns."