Smoke from raging B.C. fires seen from space by NASA satellite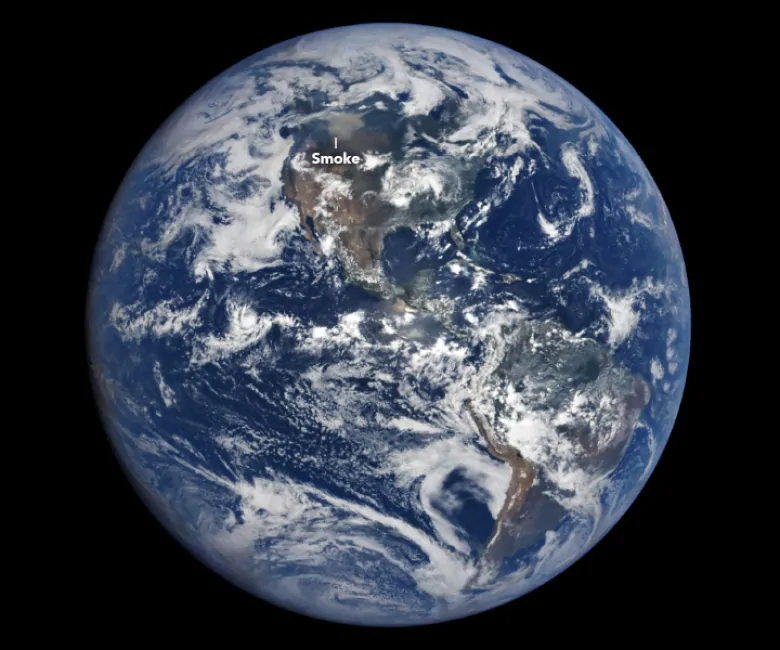 The fires raging in British Columbia aren't just confined to the province: a NASA satellite captured the smoke as it blanketed the skies over Alberta and Saskatchewan earlier this week.
There are nearly 600 fires burning across B.C. which is in its third day of a province-wide state of emergency. Between Wednesday morning and Thursday afternoon 36 new fires started, mostly sparked by lightning.
This NASA satellite image was taken 1.5 million kilometres away on Aug. 15. The smoke from the fires in B.C. are seen clearly even at this distance. (NASA Earth Observatory/NOAA/DSCOVR )
NASA used two satellites to image the smoke: the Visible Infrared Imaging Radiometer Suite, or VIIRS on its Suomi NPP satellite and the DSCOVR satellite that launched in 2015.
Smoke from the fires rises high into the atmosphere, NASA said, where it doesn't pose an immediate threat to people in the region. However, as the smoke travels eastward, the wind can bring carbon monoxide pollutants down to the surface.
On Aug. 16, the smoke from B.C. wildfires are seen stretching across most of the country. (NASA Worldview/Terra/MODIS)
For example, on Thursday the government of Manitoba issued an air quality advisory for the southwest part of the province as smoke from the B.C. fires descended into the region.
Black carbon
Among pollutants that make their way into the atmosphere during forest fires is black carbon. This black, sooty material forms from the incomplete combustion of vegetation and fossil fuels. The material travels easily in the wind and, if inhaled, can cause respiratory and cardiovascular problems.
Black carbon density is seen in this map using data from the GOES-5 satellite. (NASA/NOAA)
On top of this, it can affect the climate.
White clouds reflect light. But once black carbon is picked up by clouds, it causes them to absorb light. The clouds are so effective at doing this that they can absorb one million times more sunlight than CO2 and can change cloud and rain patterns.
This is why people near the fires woke up on Friday morning waiting hours before there was any semblance of daylight. Sunrise in Prince George is at 5:55 a.m., but at 9 a.m., residents remained in darkness and streetlights were still on.
Prince George at 9:10 a.m. on Friday, Aug. 17. (Nicole Oud/CBC)