Puck luck: From the streets of Haiti to teaching at Edmonton Oilers hockey school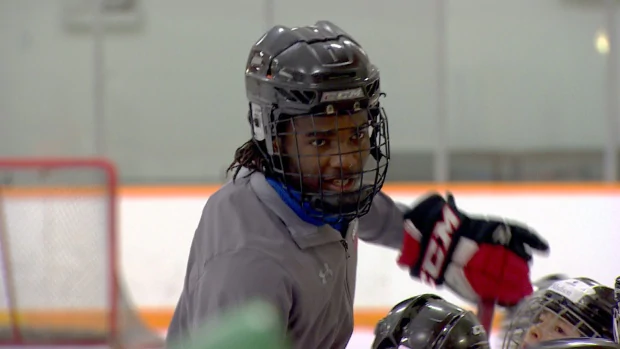 Hudson Guenette remembers being recruited by gang members while playing with his friend in the streets of his hometown Cité Soleil, located in Haiti's capital Port-au-Prince.
He also remembers going to bed hungry, unsure where his next meal would come from or when he would get clean water.
With no income, his parents struggled to feed him and his five siblings.
"Reflecting back on it now, seeing the lifestyle of kids in Canada, I can tell it was tough now but back then it was normal to me," he said.
His life changed when he was six-years-old.
After two of Guenette's older sisters died of an unknown illness, his birth parents put him up for adoption, hoping for a better life for him.
He was adopted by a couple from Edson, Alta. and was brought to Canada.
His adoptive parents, Ross and Chanda Guenette, introduced him to Canadian culture — including hockey.
Sports have always been a positive influence in his life. He used to play soccer in Haiti.
His adoptive mother said that hockey and other sports helped Guenette while he grieved the loss of his birth parents. His birth mother died of tuberculosis and his birth father died later in the 2010 earthquake.
After years of practice and dedication, the 16-year-old now has a bright future ahead of him in hockey.
He is currently at the Okanagan Hockey Academy Edmonton (OHA), a hockey specific sports school. He's a forward with the Midget prep team and scored 12 points in 36 games last season.
Guenette recently finished working a summer job with the Oilers Hockey School as a coach. He taught young players between the ages of 5 through 15 essential hockey skills.
One of those young players was his younger brother, Rowan, who was also adopted by the Edson family.
He's a good, hardworking guy. He's willing to come in every day, put in the extra effort– Tyler Day, Oilers Hockey School
His coaches describe Guenette as a hard worker on and off the ice.
Tyler Day with the Oilers Hockey School says the 16-year-old has potential.
"He's a good, hardworking guy. He's willing to come in every day, put in the extra effort," said Day.
The young hockey player hopes to one day make the NHL, but his main goal is to bring his two sisters, who are still living in Haiti, to Canada.
He said he is thankful to his adoptive parents for allowing him to play hockey on an elite level.
"I didn't have the childhood where I would get any toy I wanted or even the luxury of eating every night," he said.
"Getting sports like this or to have fun, we had to create our own type of fun. It is two different worlds."