It Turns Out Reese Witherspoon Basically Has An Identical Twin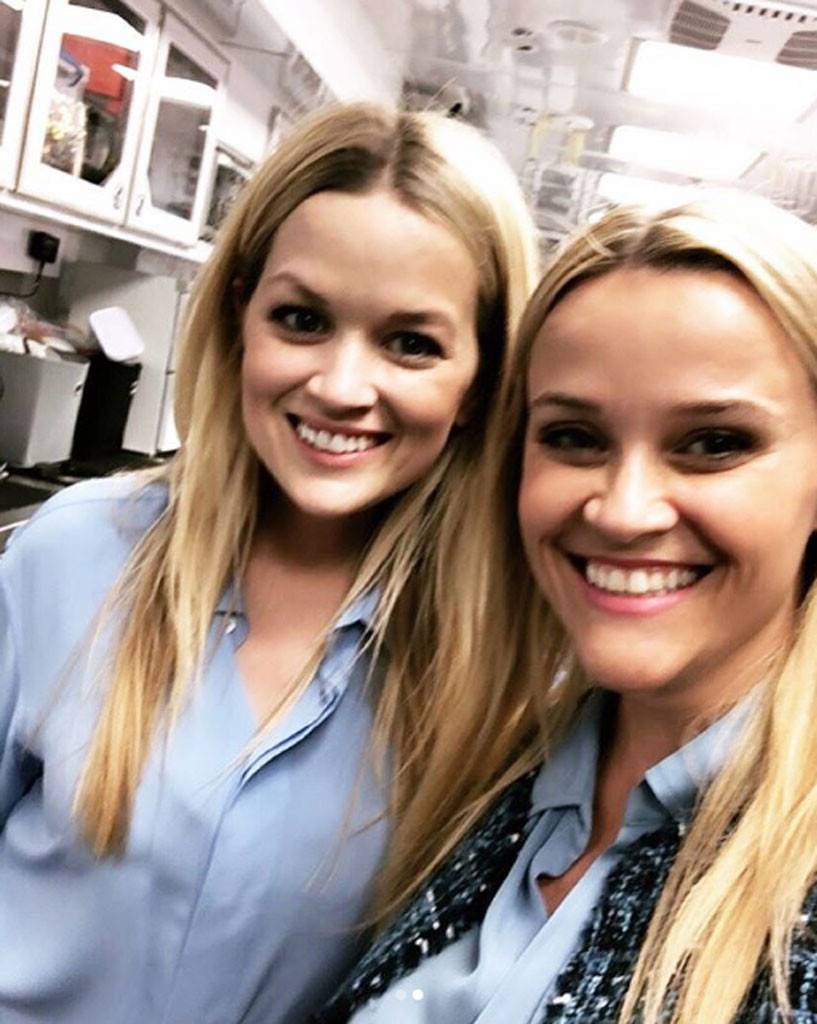 Reese Witherspoon has an identical twin and this is no big little lie.
Witherspoon and her lookalike Marilee Lessley aren't identical due to genetics, but rather by some heavenly coincidence.
The Big Little Lies star introduced Marilee to her followers in an Instagram video with the utmost enthusiasm. "Okay guys I want to introduce you to someone who has been working with me for years," she said. "This is Marilee and she's my double. Don't we look alike?!"
Marilee then chimes in: "We do. We totally look alike."
According to the Legally Blonde actress' Instagram caption, she and Marilee have worked together on five movies together, and now the doppleganger is bringing her talent to Monterey, Calif. as Madeline Mackenzie's double.
Marilee isn't the only new face in town on the set of BLL. Legend Meryl Streep joined the cast to play Mary Louise Wright, the mother of Celeste Wright's (Nicole Kidman) late husband, Perry (Alexander Skarsgård). There's not too much we know about Streep's addition to the show, except for the fact that Madeleine chucks an ice cream cone at Mary.
Throwing a cone at Streep was definitely a highlight for the producer. Witherspoon said, "I have to say it was like top five moments of my career."
As it turns out, Marilee isn't the only one who looks pretty identical to the Draper James designer. Witherspoon's 18-year-old daughter Ava Philippe could potentially be another body double for her mom. There's some pretty clear photographic evidence that this mother-daughter duo brings #twinning to an entirely new level.
Check out more photos below of celebrities and their non-famous look-alikes.
Instagram
Jennifer Lopez

Double take alert! Houston-based bodybuilder Janice Garay is without a doubt the pop star's secret twin.
Instagram
Gigi Hadid

Dutch model Iza Ijzerman is described as the 22-year-old catwalk queen's "curvy" twin. There's no denying both beauties share similar features, including their their perfectly plump pouts, light blue eyes and button noses.
Paramount Pictures/Studio One Photography
Rachel McAdams

Twitter went absolutely nuts over this high school student's senior portrait, which resembles McAdam's Regina George character in Mean Girls. "I'm surprised because I still don't really see the resemblance but I guess it resonated with a lot of people," April told E! News. "It's kind of amusing actually."
Instagram
Ariana Grande

Instagram sensation Jacky Vasquez told E! News of the constant comparisons to the "Side to Side" songstress, "It feels amazing to be compared to Ariana since I see her as a sister. She's so beautiful, so it kinda boosts my self-esteem when people tell me that. I honestly don't know she feels about the comparisons but to me, it's a huge compliment!"
Twitter/Getty Images
Scarlett Johansson

After a Reddit user posted a photo of his 72-year-old grandmother Geraldine Dodd at age 22, it caught the attention of her modern-day doppelganger ScarJo. The duo ultimately attended the Rough Night premiere together, and in the actress's words, got "kind of trashed!"
Getty Images
Leonardo DiCaprio

The Oscar-winning actor has a Swedish twin! Not really, but Swedish man Konrad Annerud could definitely pass for a 20-something-year-old Leo.
Instagram; Getty Images
Taylor Swift

When she's not in costume, Kansas-based cosplayer April Gloria bears an uncanny resemblance to the internationally famous pop star.
Getty Images; Courtesy Zoe Walton
Ed Sheeran

A 2-year-old toddler named Isla went viral for her uncanny resemblance to the "Shape of You" songwriter. Ed himself responded, saying on ITV's Good Morning Britain, "She's not mine! It's mad the kind of things that go viral."
20th Television
Steve Harvey

The Family Feud host came face-to-face with his "better looking" twin named Olden, a full-time pastor who said he constantly gets asked if he's Harvey.
Instagram, Jemal Countess/Getty Images
Angelina Jolie

The A-list movie star has a possible film stand-in thanks to Scottish woman Chelsea Marr, whose striking facial features caught the attention of many Jolie fans in 2015.