How Mel B's America's Got Talent Family Is Supporting Her Through PTSD Battle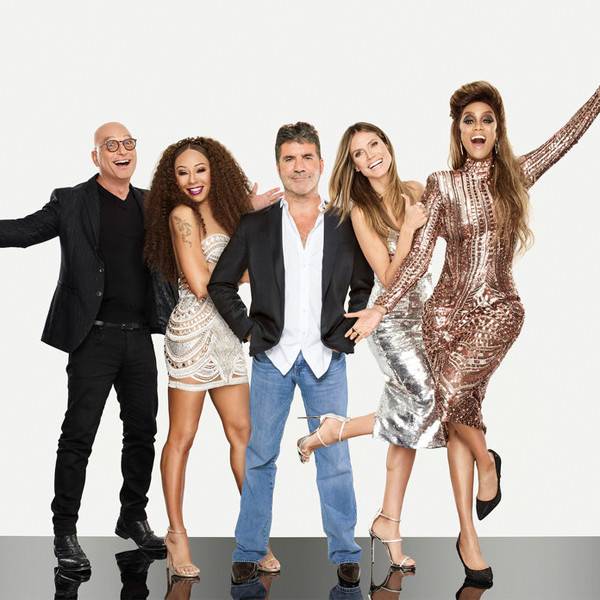 Mel B's America's Got Talent family is showing their support for the singer in her time of need.
Judges Howie Mandel, Heidi Klum and Simon Cowell told E! News they are all rooting for the singer after it was revealed she is entering rehab due to struggles with PTSD.
Klum, who has been friends with the Spice Girls member for a long time, said, "We definitely have grown much closer because we have spent so many hours together, so many years." And like everyone else, the model hopes her friend knows, "I am always going to be there for her and help her in whatever is she needs."
Likewise, Mandel shared his admiration for the star, who he says is a "wonderful" talent and friend. "I am very proud of that young lady," he shared.
That sentiment was shared by Cowell, who praised the Brit for her commitment to the show. The music mogul said, "When she does the show, everything is directed towards the contestants. She is not sitting there thinking about herself and that is a true professional."
The U.K. native recently opened about her decision to seek treatment after going through an "incredibly difficult" past six months. Following her divorce from Stephen Belafonte, the singer began "working with a writer on my book, Brutally Honest, and it has been unbelievably traumatic reliving an emotionally abusive relationship and confronting so many massive issues in my life."
She continued, "I am being very honest about drinking to numb my pain, but that is just a way a lot of people mask what is really going on." In coming to terms with the trauma she experienced, the judge has realized "the problem has never been about sex or alcohol—it is underneath all that."
After making the announcement the star went on The Ellen DeGeneres Show to clarify her statements. "I do address a lot of those issues. But you know, no, I'm not an alcoholic. No, I'm not a sex addict," she explained on the show. "You know, I was with the same person for 10 years and that was quite a turmoil, very intense. That's all I can say about it. I'd like to say a lot more, but we're on this show—let's keep it P.C. But yeah, I address a lot of those issues [in the book] and I did kind of have to ease my pain…I do suffer a lot from PTSD."