Free haircuts in Edmonton encourage kids to focus on school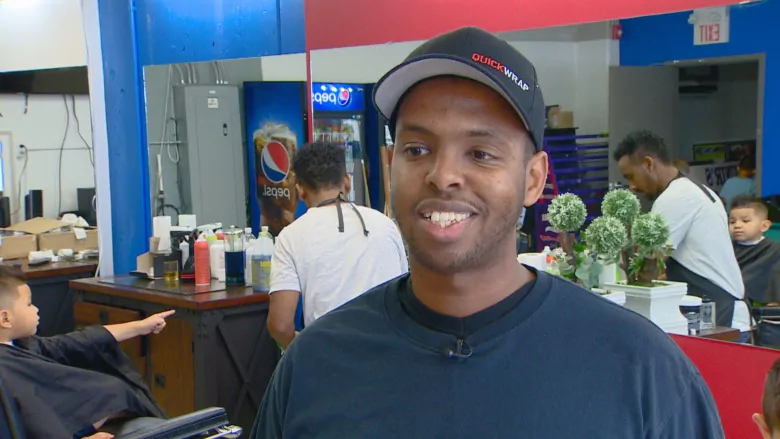 Free haircuts and school supplies offered a fresh start while shaping young minds in Edmonton's Queen Mary Park community on Monday.
It's a way for students to "look good, feel good and then receive the knowledge," said Abdul Said, co-owner of scaffolding firm Quickwrap Canada Ltd. which sponsored the community event at Munir's Barbershop.
"We're promoting school, seeking knowledge. the importance of it, the power of it," said Said, who lived in the inner-city neighbourhood for three years in his youth and credits his business success to his education. "Knowledge was the key factor for me to get out of the situation I was in."
The first 50 students to participate received school supplies, something Said jokingly referred to as a "small stimulus package." The event was also aimed at easing the burden for parents as back-to-school expenses pile up.
"It's a very hard life to live — your mom working endless hours while you're at home and trying to figure it out with your siblings," said Said, who was one of six siblings raised by a single-mom after moving to Edmonton in 2003, a decade after they arrived in Canada from Somalia.
"We understand what's going on here. We understand the hardships refugee families have to go through when they come through. Even the Syrian refugees — we understand the struggles that they go through."
Abdul Said and his business partner organized free haircuts for kids in the Queen Mary Park community. (CBC/Scott Neufeld)
On Monday morning, three children sat in chairs as barbers trimmed and shaped their hair while a handful of families waited for haircuts.
Keenan Houle, 9, inspected his new "Ceasar" cut — short on the sides, with straight cut bangs — in the mirror. He said his hair grows quickly so he was pleased not to have "messy hair on the first day of school."
Knowledge was the key factor for me to get out of the situation I was in– Abdul Said
Rochelle Charkawi stopped by Munir's with her daughter and son after hearing about the event on social media. She said dealing with new clothes, hair cuts, and school registration fees can be "very expensive."
'It's really awesome that they're giving to the neighbourhood, giving to the kids and families — giving back to the community," said Charkawi."It really helps their self esteem, boosts their confidence and makes them look sharp and ready for success."
Rachel Charkawi dropped by Munir's with her daughter and son. (CBC/Scott Neufeld)
'A lot to take in for a kid'
Abdul moved into the neighbourhood when he was 15. He loves the people and the multiculturalism of the community. But he recalled hearing police sirens "every-other-hour" or walking home from the downtown YMCA where he played basketball and seeing "zombie-like" people on drugs walking the streets.
"It's a lot to take in for a kid,' he said.
'You'll see in the playgrounds by Queen Mary Park, that there's a lot of kids playing. Just around the other side there's not-so-good-stuff happening. So this area needs attention."
After graduating from École Maurice-Lavallée, Said went on to complete a degree in business, with a minor in social responsibility, at the University of Lethbridge. Eventually, he co-founded Quickwrap with Lee Geyd.
andrea.huncar@cbc.ca
@andreahuncar