Edmonton teacher's charity helps educate 100s of children in her native Ethiopia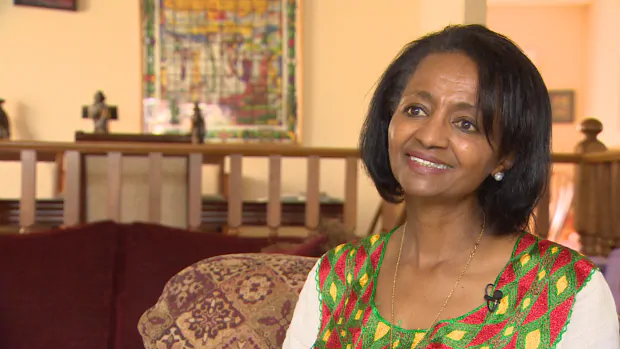 The nine-year-old girl showed up for class with her little brother, too young to be a student himself.
It turned out there was no one at home to care for the boy, said Meheret Worku, an Edmonton-based philanthropist whose charity sponsors 100 children at the Birheu Tesfa school in Addis Ababa, Ethiopia.
The children's mother had gone to work in the middle night, collecting garbage for the local landfill behind the family's small home in exchange for money.
"She brought him because she wanted to be at school," Worku said. "This is the stable space for the kids. That's why they show up."
For 21 years, she and her husband, social worker Scott Smillie, have led a non-profit from their Edmonton home, supporting hundreds of Ethiopian children as they complete their education.
"I am here because of the opportunity I was given," said Worku, who grew up in Addis Ababa in the 1960s and 1970s. "They are me. They can do it."
Worku, who teaches at Westbrook School in southwest Edmonton, spent most of July and part of August in her homeland.
"It opens your eyes," she said. "Difficulties, poverty, money, opportunities, it all depends on how you see it."
"Because that's what they have… they don't look at it as a challenge."
A position of privilege
Worku was the sixth daughter of an army general and his wife, born at a fragile point in Ethiopia's history. The country, in constant conflict with neighbouring Eritrea, was about to erupt into civil war.
Her father wanted his children to be safe, she said, and saw education as the key to ensuring that.
Though social norms favoured boys, Worku's father pushed to put all nine of his children — eight girls and one boy — through private schools.
Every one of them ended up leaving the country academic scholarships to pursue post-secondary studies.
At 19, Worku found herself in Edmonton in 1981, at the University of Alberta, where she completed a degree in animal sciences then another in education before becoming an elementary school teacher.
In 1997, as Ethiopia and Eritrea began negotiating the border dispute, Worku returned to Addis Ababa.
"I said I wanted to do something," said Worku, who wasn't sure how she could help but was eager to find out.
She said she'd always known how lucky she was.
"You have an opportunity," she said. "You don't share it, it ends with you."
'How do you say no to all of these kids?'
On that trip, she was struck immediately by the number of poverty-stricken children roaming the streets of Addis Ababa.
She visited a local school, Mesrack Del, and talked to the principal. She learned in that initial meeting that he was paying for the uniform, supplies and medical needs of a student who had lost his parents.
"I said, 'Bingo! This is the school I want to work with,' " Worku said.
Worku and her husband followed the principal's lead, sponsoring 11 children from Mesrack Del at an annual cost of about $100 per child.
But they had a list of at least 50 students who needed their help.
"How do you say no to all of theses kids?" Worku asked.
So they took their project to their church (the now-closed Knox Metropolitan), and with fundraising and donations, the following year were able to support 25 children.
Since then, their capacity to help through the non-profit they now call SEEDS — the Sustainable East African Education and Development Society — has grown thanks to its backers, most of whom are from Edmonton.
The charity today
Those 11 children Worku and Smillie sponsored in 1997 all completed their education and launched careers of their own.
One became a hairdresser, another an accountant. One is a university instructor, another is a mechanic, another a tour guide.
"For me to see that they've gotten an education and they can support themselves, that is a huge success," Worku said. "They took the opportunity and used it."
Today, SEEDS supports 100 children at the Birheu Tesfa school in Addis Ababa, and another 160 in three district schools in the rural community of Amanuel, Gojjam.
"You know everybody has the capacity to do better, to do well," Worku said. "That's our drive."