Trump revs up Harley-Davidson fight into second day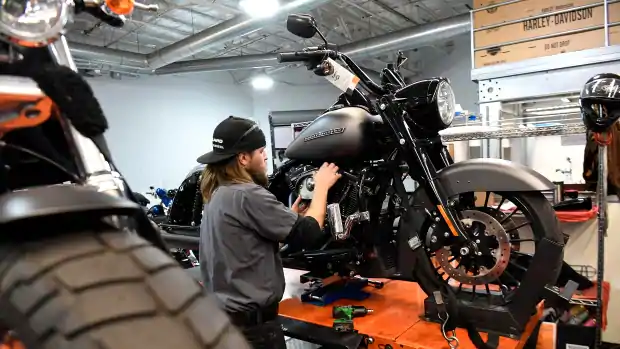 U.S. President Donald Trump has denied that his trade policy is responsible for Harley-Davidson's decision to shift some motorcycle production overseas.
The company says it's doing so because of tariffs it faces in a trade dispute between the U.S. and the European Union. But Trump says that's just an excuse.
Early this year Harley-Davidson said they would move much of their plant operations in Kansas City to Thailand. That was long before Tariffs were announced. Hence, they were just using Tariffs/Trade War as an excuse. Shows how unbalanced & unfair trade is, but we will fix it…..

—@realDonaldTrump
Trump said in tweets Tuesday that the company had already announced it was closing a Kansas City plant. Union officials have said those jobs are going to Thailand, something Harley-Davidson denies.
Trump says he's getting other countries to reduce and eliminate tariffs and trade barriers, and open up markets. He also threatened Harley that if they don't reverse their decision, they would face harsh consequences.
A Harley-Davidson should never be built in another country-never! Their employees and customers are already very angry at them. If they move, watch, it will be the beginning of the end – they surrendered, they quit! The Aura will be gone and they will be taxed like never before!

—@realDonaldTrump
On Monday, the iconic American bike maker announced plans to move some of its production to other markets outside the U.S., now that the EU has slapped a tariff on its products in reactions to Trump's own trade policies.
Harley-Davidson says it faces a tariff on average of $2,200 US per bike in Europe now.
The move comes against the backdrop of already slumping sales for Harley. In January, it said it would consolidate its Kansas City, Mo., plant into its York, Pennsylvania, facility. U.S. motorcycle sales peaked at more than 1.1 million in 2005, but then plummeted during the recession.
One of biggest unions the company works with came out on the president's side.
"Harley-Davidson's announcement today is the latest slap in the face to the loyal, highly-skilled workforce that made Harley an iconic American brand," Robert Martinez Jr., president of the International Association of Machinists and Aerospace Workers, said in a statement. The union represents Harley-Davidson workers in Milwaukee, and the Kansas City and York plants.
"Will Harley use any excuse to ship jobs overseas?" Martinez added. "Does Harley even understand what 'Made in America' means?"