Strawberry harvest has cultural and ceremonial significance for Kahnawake community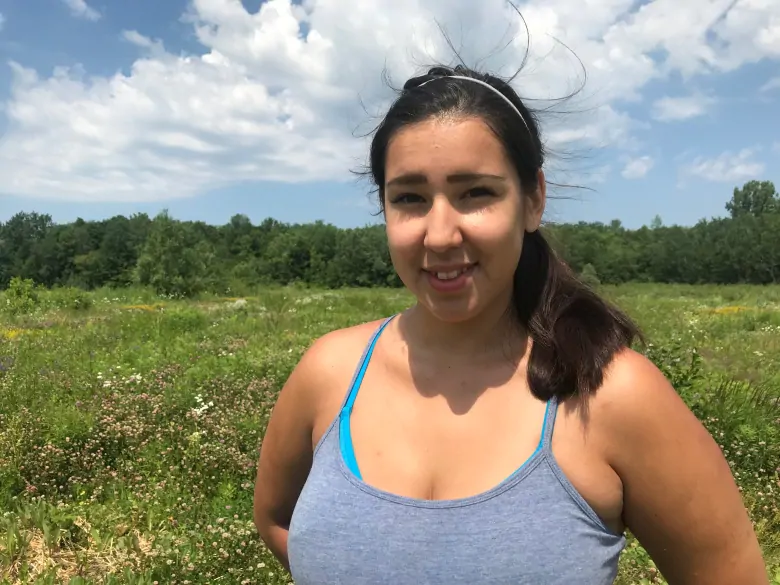 For Raven Swamp, Kahnawake's community garden is about more than food security, it's a way to reconnect with Kanien'kehá:ka culture.
This is the fourth summer that Swamp and her partner Kanerahtiio Hemlock spearheaded the garden with the aim to establish an organic, self-sufficient farming project that strives toward the community's economic independence through food sovereignty.
"Practising Indigenous food sovereignty and food security is reclaiming our independence as Indigenous Peoples," said Swamp.
"It reinforces our individual relationships with the natural world and also strengthens the interconnectedness within the community."
Planting on contested land
The garden is located north of Autoroute 30 on a piece of land waiting since 2013 to be finalized by the federal government's additions to reserves process. While the Mohawk Council of Kahnawake initially earmarked the land for development, the couple had alternative plans.
"We wanted to demonstrate a healthier sustainable use of the common lands in Kahnawà:ke Mohawk Territory, something that highlighted our Indigenous roots as Haudenosaunee," said Swamp.
Raven Swamp and her partner Kanerahtiio Hemlock started Kahnawake's community garden in 2015. (Jessica Deer/CBC)
They focus on planting traditional seeds significant to Haudenosaunee people. The food is shared among families who participate in planting and care for the garden, while the remainder is donated to local schools and organizations.
"As Haudenosaunee, we acknowledge all of creation. But, if you look at the cycle of ceremonies, it revolves around food and around medicines, so that's why we like planting traditional foods because it's who we are," said Swamp.
The important of the strawberry
One of those plants is the strawberry or ken'niiohontésha in the Mohawk language. It's a woman's medicine with its leaves used for tea to help with blood illnesses, while its season is also the time babies are named in the longhouse.
"It's very sacred to us. We give thanks to it and that's when we name babies. It's a big part of who we are," said Swamp.
The strawberry is one of the several festivals in Haudenosaunee's cycle of ceremonies to give thanks to the natural world.
According to Darryl Thompson, a cultural facilitator at Tsi Niionkwarihò:ten Tsitewaháhara'n Centre in Kahnawake, strawberries are symbolic of life and health with deep roots connected to the Haudenosaunee creation story.
The strawberry plant is an important part of Kanien'kehá:ka culture. (Submitted by Raven Swamp)
"It was always a special fruit from the Creator. The reason why it's special is because it's the first one that appears in the beginning of the new year," said Thompson.
"The berries hang just above the ground, much like our newborns clinging to the mothers and a lot like spirit babies which shouldn't be touching their feet on the ground until later on."
The importance of the strawberry goes as far as being a focal point of Kahnawake Tourism as it gets ready to hold its annual strawberry food festival throughout the month of July.
"We created this event to help businesses get more involved culturally by adding food to their menu that we have ceremonies for, such as strawberries and maple, but to also have some more modern foods added as well with those traditional ingredients," said Emma Ouimet, special projects and tours co-ordinator at the Kahnawake Welcome Centre.
"It helps spread some cultural awareness and lets people know what foods are in season, and what our traditional foods are. It's an interesting and unique concept that is linked to our culture and community."