Power surge knocks out Jasper SkyTram, stranding 160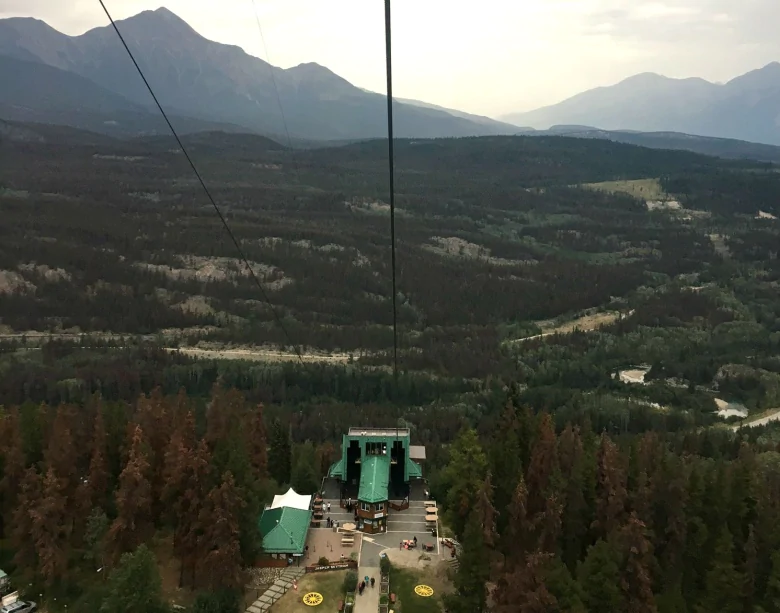 A power surge shut down the Jasper SkyTram Monday night, stranding 160 people at the top of Whistlers Mountain.
Most of the stranded visitors were evacuated later by helicopter, but 50 people had to spend the night at the top.
The popular destination, known for its pristine views of Jasper National Park, was hit with strong wind gusts on Monday afternoon, causing a power surge that shut down the two-car tram system sometime after 3:30 p.m.
No passengers were stranded in the tram cars, because operators had enough auxiliary power to get summit-bound passengers to the top and return descending passengers to the bottom, said Brian Rode, vice-president of marketing and sales for Marmot Basin and the SkyTram.
But 160 people were atop the mountain. As dusk drew closer and tram operators were unable to get the cars running again, two Peregrine helicopters based in Hinton were called after 7:30 p.m. to begin an evacuation, Rode said.
Helicopter crews ferried 110 people down from the 2,227-metre summit. Parks Canada rangers helped co-ordinate the evacuation, Rode said.
The evacuation was called off for the night just before 11 p.m., leaving 50 people — including 10 staff — at the top.
Blankets, pillows and extra food were transported on the last helicopters, along with SkyTram general manager Todd Noble, who spent the night with guests and remaining staff in the restaurant at the summit.
160 people were evacuated from the alpine of the Whistler Mountains after a power surge shut down the Jasper SkyTram on Monday. (David Apps)
"You had people in one part of the room that were sharing stories with one another and who stayed up most of the night just chatting … you had other people that were getting a few hours of shut-eye," Rode said.
The evacuation resumed at 6:30 a.m. Tuesday. Rode said he saw mostly smiles as the last evacuees touched down at 10:30 a.m.
"This is not an experience these people will forget and I think a lot of them are going to have some great stories."
No one was injured during the operation, Rode confirmed.
He said the SkyTram will reopen by Thursday at the earliest.