'No panhandling' sign won't deter begging, critics say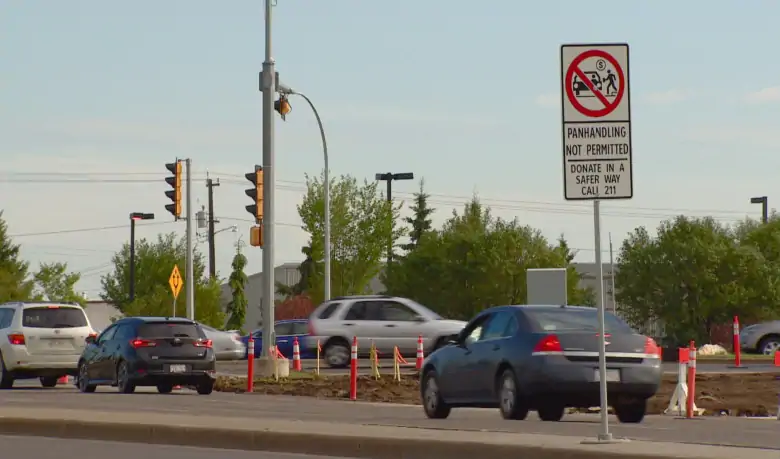 A new sign at the intersection of 23rd Avenue and Parsons Road dissuading motorists from giving money to panhandlers won't work, two critics believe.
The sign reads: "Panhandling not permitted. Donate in a safer way — call 211".
City councillor Michael Walters said panhandling may be getting worse in his ward but he doesn't think a sign will deter begging.
"You see more and more homelessness and more and more panhandling and activity in south Edmonton these days than we have before," he said. "I've never known them [signs] to be effective in any way."
A sign in one specific spot will simply prompt panhandlers to go somewhere else, he said.
Councillor Michael Walters says signs push panhandlers to other areas, like Whyte Avenue and Jasper Avenue. (CBC)
"They'll just find a different corner in a different way, so they may then start panhandling in parking lots in grocery stores," he suggested. "Or they just find different intersections that have lots of traffic."
The reason for the sign going up at that intersection isn't clear.
211 is a 24-hour hotline that helps people connect to social, health and government services.
A City of Edmonton spokesperson told CBC News that police requested the sign. A police spokesperson said signs allow them to enforce the no-panhandling bylaw but there was no information on whether there was a specific problem at the intersection, or that a local business has complained recently.
Aidan Inglis, director of programs with Boyle Street Community Services, also thinks that putting up a sign will push panhandlers to a different location.
"Are they going to go to an intersection that's potentially more dangerous?" Inglis said. "They're not going to just essentially close up shop."
Inglis said street clients panhandle out of desperation.
An Edmonton police campaign encourages people to donate to agencies and non-profits instead of giving money to people on the street. (Edmonton Police Service)
"People essentially feel they've stripped away all of their pride when they get to the point when they have to panhandle," Inglis said. "People are often very desperate when they have to do that."
Personal choice
Inglis believes giving money is a personal choice but he hopes people will respond with kindness to panhandlers.
"Saying hi, asking how someone is, wishing they have a good day — goes a long way in having positive interactions with people who are panhandling."
He said the agency also talks to clients about their methods and encourages them to be as polite as possible.
"There's nothing that stops people from asking for money," he said. "As long as they're doing it in a way that is not causing anyone harm — they're not chasing people down the street being aggressive."
Walters believes the solution is to create more affordable housing and provide more mental health services.
"What we really need to do is up our game in providing permanent supportive housing in all areas of Edmonton," he said.
Funding for these initiatives comes from the provincial and federal governments, he said, while the city creates strategies and helps oversee projects.