Mom mourns third child's death, as police seek public help with investigation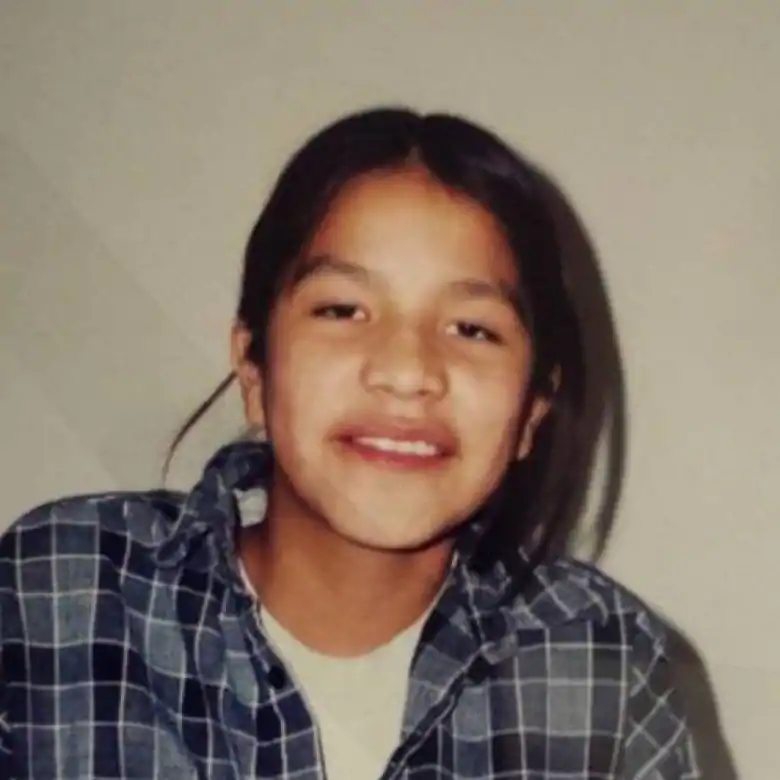 Myrah Whitstone is now buried in the family plot at Red Pheasant First Nation in Saskatchewan, beside the two brothers she seemed unable to live without.
The 34-year-old woman was found dead near Range Road 213 north of Highway 16 in rural Strathcona County on Saturday, March 24.
Whitstone, who was transgender, lived in Edmonton both as Myrah and by her birth name, Murray Whitstone.
'Empty hole in my heart'
While Alvina Whitstone said she supported her daughter's transition, she never stopped referring to Myrah as her son.
"My three older boys are gone," Alvina said. "We are not supposed to bury our kids. They are supposed to bury us. It feels like a big empty hole in my heart."
The cause of Myrah's death remains under investigation and RCMP have issued a call for tips from the public. Investigators are asking for information about a man in a Dodge Journey who was seen interacting with Myrah during her final hours. Toxicology reports are still pending.
Her death is the latest in a string of family tragedies.
Alvina's eldest son, Marcel, died in a car accident in Edmonton in 2003. A passenger in a vehicle that ran a red light, he was thrown into the street and died instantly from head trauma. He was 21 years old.
A year and a half later, Alvina buried another son. Drayton was 19 when he committed suicide.
"Why can't they take me instead of my sons?" Alvina asked, her voice breaking. "I would rather give up my life so my sons could all come back."
He was so, so lost, right until the day he passed away.– Alvina Whitstone
Myrah never recovered from the loss of her two brothers, her mother said, and soon fell into a dangerous pattern of addiction.
"He was so, so lost, right until the day he passed away," she said in an interview Monday with CBC News.
"He was really, really heavy into drugs and drinking, and a lot of times he used to say he would rather die than be here, because his brothers weren't."
Myrah grew up in Saskatchewan's Onion Lake Cree Nation, about 50 kilometres north of Lloydminster, where she excelled as a competitive powwow dancer.
Myrah Whitstone grew up in Saskatchewan before moving with her family to Edmonton. (Facebook)
Life had become difficult for the family in Saskatchewan, Alvina said, so in 1990 she decided a move to Edmonton would allow her to get sober, "straighten out" her life and return to school to study social work.
She got clean, graduated a few years later, and continued to raise her children as a single mother.
Myrah came out to her family as transgender in her early teens.
While Alvina said she found it difficult at first, she "stood by" her daughter. She attended Pride events and spent many nights helping Murray transform into Myrah.
"I didn't mind him dressing up," she said. "He would come home and dress up and put makeup on with me, and put his high heels on," Alvina recalled.
"I used to laugh at him and say, 'I don't know how you walk in those heels. I can't even stand in them.' And he would just laugh."
'He was my best friend'
Like her mother, Myrah also dreamed of returning to school to study as a social worker, but struggles with addiction held her back.
When Myrah's life darkened with depression, they would pray together and smudge with sage.
RCMP released this photo of Myra Whitstone, who was also known as Murray Whitstone. (RCMP)
Alvina said she spent many sleepless nights in their shared apartment waiting for Myrah to come home safe.
"I told him, take care of yourself. Be careful."
"And he would say, 'Oh mom, don't worry. You know me. I'll be back.' "
As the family waits for answers, Alvina said she hopes Myrah will be remembered as someone who had a passion for cooking, valued family above all else, and had no shame about who she was.
"Murray was not only my son, he was my best friend," Alvina said. "We were so close.
"He was so loving, so caring, very outspoken. He doesn't lie. He'll tell you like it is."