'He's a natural': Dancing toddler steals the show at Camrose powwow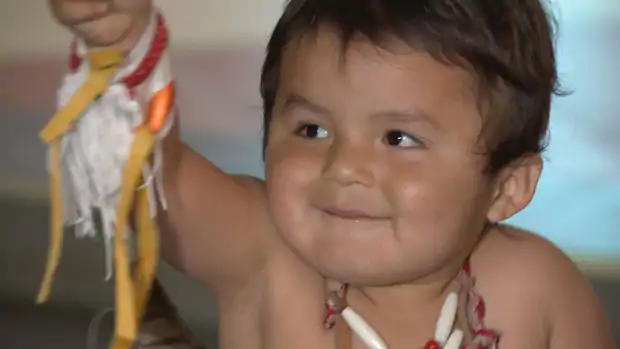 A video of a pint-sized powwow dancer has gone viral after the two year old stole the show on National Indigenous Day in Camrose.
Albert (A.J.) Apsassin may just be a toddler, but he didn't hesitate to jump in on a dance in front of 3,000 people on June 21.
Wearing jingle bells, feathers and fringe on top of his Pampers, he stomped and hopped his way through the chicken dance, keeping to the beat of the drum with the other male dancers.
His mother, Martina Desjarlais, posted a video of the dance on Facebook. It has over 800,000 views. She said she has received nothing but positive comments and is not entirely surprised at how her son captured everyone's attention.
"He's a natural. He listens to the songs well and knows what to do," she said.
"When he was a newborn, he would only fall asleep to powwow music. Even now, if he has a hard time sleeping, I'll watch powwow videos with him and he'll get sleepy."
When he was a newborn, he would only fall asleep to powwow music.– Martina Desjarlais
Martina Desjarlais started dancing six years ago after the death of her sister, who was a jingle-dress dancer.
When A.J. was born, she wanted to instill a connection to his Cree roots. He seemed to fall in love with dance on his own, she said.
A.J.'s father, John Apsassin, grew up competing in rodeo events like bullriding and saddle bronc. He said his son has also shown interest in horses — he anticipates long summers of powwows and rodeos in his future.
He said his son will be an inspiration to other kids. Watching his son dance inspires him, too.
"I was getting chills watching it," he said. "When the song ended, I just got goosebumps. I was like, wow, that was pretty good."