Happy Carter Place owners get keys to Habitat For Humanity homes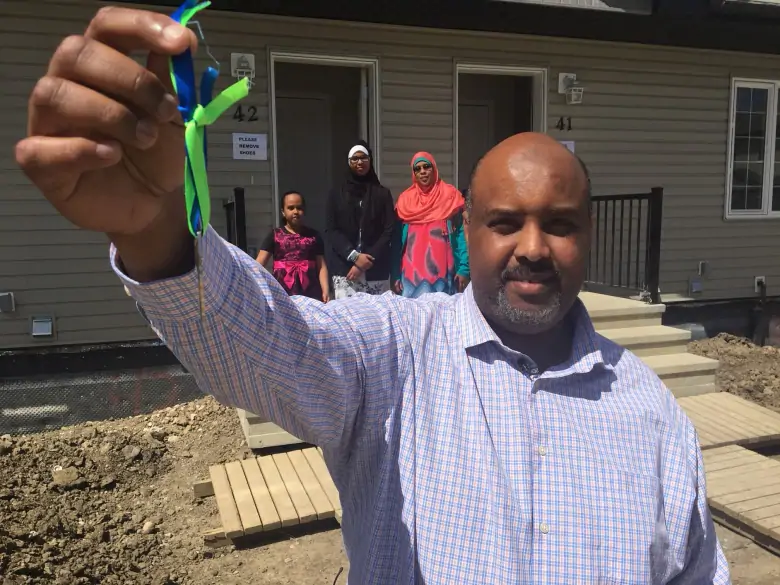 Eleven smiling families accepted keys to their new Habitat For Humanity homes in southeast Edmonton on Thursday morning.
Mohamed Abdi toured his new townhouse at Carter Place with his wife, Fatima Hussein, and daughters Reyhan and Ruwayda.
Abdi moved to Canada from Somalia 29 years ago and has wanted to own a home ever since. After moving from rental property to rental property, he now has his own home.
"Kids don't have to move around," he said. "They can stay in the same school. Same friends. Same neighbourhood. Don't have to worry when the landlord might be knocking at your door, telling you you've got to move."
Mohamed Abdi holds the keys to his family's new home at Carter Place. (Travis McEwan/CBC)
He had tried to save for a down payment numerous times, but said when family in Somalia needed financial help he didn't think twice about sending funds.
"You have to put them first to give them the money or help them pay their hospital bills," he said.
Owners worked 500 hours building the homes, and will pay interest-free mortgages that won't exceed 25 per cent of their incomes. Eventually, 58 families will move into the Carter Place homes.
Former U.S. president Jimmy Carter and his wife, Rosalynn, helped in the construction of the project in July 2017. Hence the name Carter Place.
Jama Farah and his wife, Ilham Mahmoud, and their four children also received keys to one of the Carter Places homes. (Travis McEwan/CBC)
Habitat For Humanity started the project to create homes that offer stability for low-income families who have never owned properties.
"A lot of them are moving time and time again between rental housing," said Ian MacDonald, Habitat For Humanity board chair. "Now they've got a safe, affordable and stable place to live."
The 11 families are expected to start moving in this weekend.