Fire consumes duplex in south Edmonton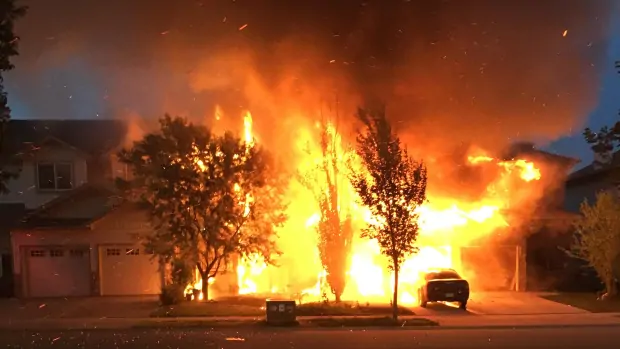 A duplex was destroyed and a second one damaged in a fire late Sunday in south Edmonton that sent one woman to hospital for smoke inhalation.
All of the residents were able to get out of the burning buildings, said Katie Stewart, a spokesperson for Edmonton Fire Rescue.
The call came in at 10:33 p.m. and eight units were sent to the area of 62nd Street and 6th Avenue, Stewart told CBC News Monday.
A duplex was fully engulfed in flames when firefighters arrived at the scene in the Charlesworth neighbourhood.
An adjacent duplex suffered heat damage, Stewart said.
The fire was under control by midnight.
Investigators will get to work on determining what caused the fire once it's safe to get on site, Stewart said.
Crews remained on scene overnight checking for hot spots.
Holy…a house just exploded in Ellerslie/Charlesworth. I hope everyone is alright. (Photo via my brother) He said the explosion was insane loud. Fire just arrived on scene. <a href="https://twitter.com/hashtag/yeg?src=hash&amp;ref_src=twsrc%5Etfw">#yeg</a> (Photo via my brother) <a href="https://t.co/pnoAMRcMTq">pic.twitter.com/pnoAMRcMTq</a>

&mdash;@LEAHinCANADA
Another pic. <a href="https://t.co/5w6FZNrmfQ">pic.twitter.com/5w6FZNrmfQ</a>

&mdash;@LEAHinCANADA