Karlovy Vary International Film Festival 2018 Preview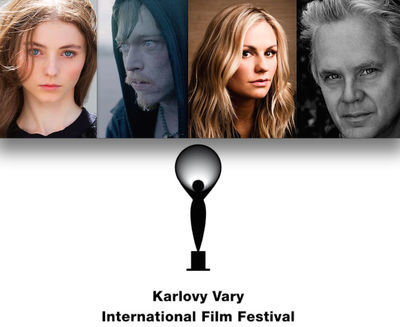 On Friday, June 29th, the most prestigious celebration of cinema in Central and Eastern Europe kicks off in the Czech Republic, and this year, RogerEbert.com will be there to cover it. The 53rd Karlovy Vary International Film Festival (KVIFF) runs through Saturday, July 7th, and has many special events planned in addition to its remarkable lineup of around 200 movies, several of which are making their world premiere.
Among the most enticing titles are Peter Brunner's Austro-American drama, "To the Night," starring Caleb Landry Jones, an actor who made an indelible impression last year in four consecutive masterworks, perhaps most notably in "Get Out." Paweł Maślona, the co-writer of Marcin Wrona's arrestingly eerie "Demon," will present his directorial debut, a dark comedy entitled, "Panic Attack." Karelle Tremblay, a Best Actress winner at the Canadian Screen Awards, headlines Sébastien Pilote's coming-of-age film, "The Fireflies Are Gone," while Anna Paquin will be in attendance for the premiere of the family drama, "The Parting Glass," directed by her husband and "True Blood" co-star, Stephen Moyer (who will join her on the red carpet). And Slavic director Olmo Omerzu, whose 2015 feature, "Family Film," was among my favorites of recent years, will be screening his latest work, "Winter Flies," re-teaming him with actress Eliska Krenková, a major talent on the rise.
Seven of the ten films in this year's East of the West competition are helmed by women, including Darya Zhuk, the Belarusian director of the highly anticipated "Crystal Swan," and student Academy Award winner Klara Kochańska, making her feature debut with the road movie "Via Carpatia." Though there are many intriguing titles set to screen in the documentary section, none promise to be quite as incendiary as "Putin's Witnesses," a film tracing the events that led to Vladimir Putin's ascension to the Russian presidency on the final day of 1999. The picture is directed by Vitaly Mansky, a Ukrainian-born filmmaker who earned acclaim for his 2015 feature, "Under the Sun," an eye-opening portrait of North Korea blending scripted propaganda with un-staged truth.
Microbudget trailblazer Andrew Bujalski will be honored with the European premiere of "Support the Girls," a perceptive comedy about the service industry, and Thomasin McKenzie will be on hand for a screening of Debra Granik's "Leave No Trace," a film that already ranks among the very best I've seen in 2018. McKenzie's astonishing, understated performance is guaranteed to earn well-deserved raves from festivalgoers. Another special guest screening his latest work in Karlovy Vary is Terry Gilliam, the celebrated auteur whose polarizing, long-awaited epic, "The Man Who Killed Don Quixote," will open in the Czech Republic a day after its KVIFF premiere, though it has yet to secure a U.S. distributor.
An entire section of this year's festival will be dedicated to the extraordinary legacy of the Austin Film Society, the non-profit film organization founded in 1985 by Richard Linklater that has gone on to foster major talents in American independent filmmaking. Among the film society's selections set to screen are Linklater's "Slacker," Bujalski's "Computer Chess" and Jeff Nichols' "Take Shelter." Two Oscar-winners will receive the festival's coveted Crystal Globe for Outstanding Contribution to World Cinema: "Rain Man" director Barry Levinson and "The Shawshank Redemption" star Tim Robbins. A special concert performance by Tim Robbins and The Rogues Gallery Band is also in the works.
Stay tuned for dispatches posted throughout the festival at RogerEbert.com. For more information about KVIFF and the full festival line-up, visit its official site.