Domestic violence work earns MacEwan prof distinguished research award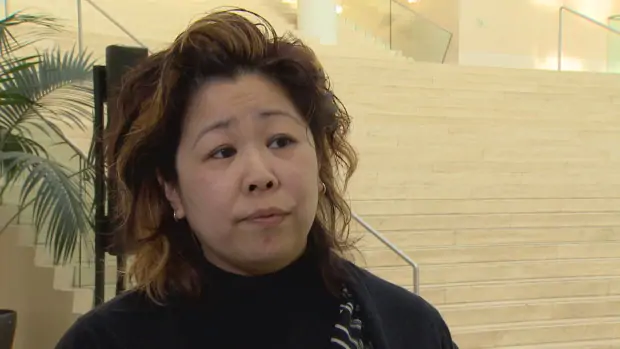 A MacEwan University prof has been honoured for research that could improve how Edmonton police handle domestic violence cases.
The Edmonton Police Service fields as many as 8,000 domestic violence calls every year — which can mean a lot of spent resources.
Those resources aren't only spent on the initial reporting of the crime, either.
"They're putting a lot of energy into putting together a plan for the victim to ensure that they're not going to be harmed again," said Sandy Jung, a professor and researcher at MacEwan University.
Jung is looking into how police officers can better their practices when dealing with each case.
The hope, Jung said, is to improve practices to best determine whether the perpetrator is at a high risk to reoffend.
"By using the appropriate risk assessment to identify the high-risk cases, it makes a lot more sense to allocate more of those resources to those high-risk cases to prevent something that's more likely to happen," she said.
The research, which took Jung almost a year, earned her a distinguished research award from MacEwan University.
She looked at practices used by police agencies across Canada and found the Ontario Domestic Assault Risk Assessment, or ODARA, is more effective than the assessment used by the Edmonton Police Service.
"When I looked at that measure, I found that that actually predicted substantially better and more validly than using the existing one that's being used and mandated by the province," Jung told CBC's Radio Active.
ODARA's question line for officers involves an ask of victims what their perception of risk is and what they think the likelihood is the perpetrator would reoffend. Jung said this, along with the officers' perception of risk, can go a long way in determining which cases need more attention.
"If we just put the uniform amount across every single perpetrator in terms of each of those cases, what you're doing is you're leaving by the wayside some of the high-risk cases," she said.
"You're not putting as much effort into those ones that should get more attention."
EPS implemented the ODARA method in January 2017.
Within 24 hours
Jung said if police can ask these questions and make their assessments within 24 hours of the incident, they've got the best chance to determine whether it's a high-risk offender.
Asking these questions within a day minimizes the chance that a perpetrator would convince the victim they've changed or that it wouldn't happen again, Jung said.
The jobs of police are difficult, Jung said — in that they are acting as both a police officer and a bit of a therapist when listening to victims of domestic violence.
"You have a victim who is often enmeshed in the life of a perpetrator," she said. "So trying to ensure that you have enough evidence to support any charges can be really challenging."
Jung's research aims to help them identify high-risk offenders, allocate the proper resources and ultimately streamline the police response to domestic violence in Edmonton.