Alberta trade minister supports retaliatory tariffs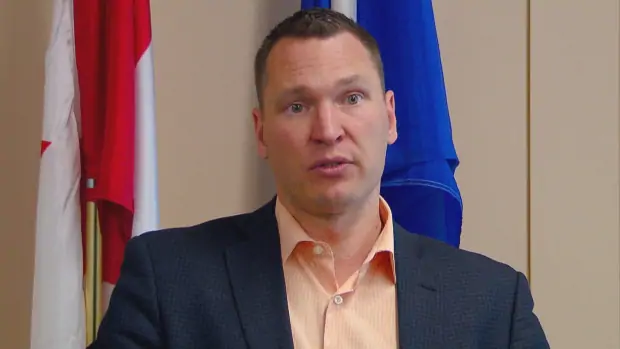 Alberta trade minister Deron Bilous fully supports the federal government's decision to slap $16.6 billion of tariffs on a long list of U.S products.
The counter-tariff list, which goes into effect Sunday, was created in response to U.S President Donald Trump's decision to impose tariffs on Canadian steel aluminum.
In a news conference Friday, Bilous stressed that "illegal, protectionist" tariffs hurt people on both sides of the border.
"There is and will be an impact, absolutely, to not only Canadian industry, but American industry and also consumers," Bilous said.
He noted that about 70 per cent of aluminum and steel produced in Alberta is exported to the United States. But trade between the province and the U.S. is mutually beneficial, he said.
"There are a million direct American jobs because of this relationship they have with Alberta," he said.
Bilous said he plans to stress the benefits of that relationship to American legislators at the Pacific Northwest Economic Region conference in Spokane, Wash. in July.
The annual conference presents Canadian politicians and business leaders with an opportunity to engage with their U.S. counterparts — particularly those who share the same opinion on the tariffs, and understand that the Canadian and U.S. economies are intrinsically linked, Bilous said.
"Having them engaged and informed as far as the value of trade from an Alberta point of view with their local state helps equip them when they're in Washington to talk to their federal government about the impacts that this has on individual communities and workers," he said.
$2B dedicated to supporting Canadian industries
When Canada's retaliatory tariffs were first announced, Bilous said he met with Alberta business leaders to hear their concerns. He relayed their feedback to Foreign Affairs Minister Chrystia Freeland and International Trade Minister François-Philippe Champagne.
"We're pleased that the federal government listened to our feedback," Bilous said, highlighting the federal government's promise to spend up to $2 billion to protect steel, aluminum and manufacturing jobs in Canada.
He said the province isn't planning on introducing additional supports for Alberta businesses.
"Believe me, if the $2 billion they've announced today is not enough to support our industry," Bilous said. "We will be pushing the federal government to ensure that our industry and businesses are supported first and foremost through this steel tariff dispute."