Your Roger Stories: The Fans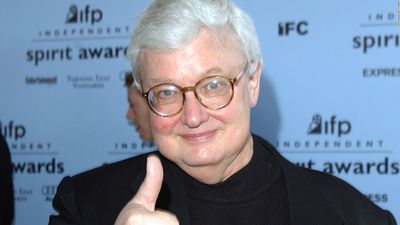 As we celebrate empathy this week on the fifth anniversary of Roger Ebert's passing, we'll be sharing some of your Roger stories submitted over the last week. In this installment, we've gathered some memories from the fans who loved his work and what it stood for. We previously published a collection of memories from fellow film critics, and stories of those who met or talked with him over the years. Our deepest gratitude to everyone who submitted for these pieces; we were not able to use all of the submissions, but we might feature them on this site in the future.
ERIC BERLIN
Back before the Internet consumed us all, Roger had a database of his reviews on one of the early online service providers, Compuserve. I was a fan of his work, and would read reviews at random, and that's how I came across an unusual bug: Inserted somewhere into each review was the name of the previous movie alphabetically. This often revealed a doorway into a surreal alternative Hollywood universe. My favorite (and unfortunately the only one I can remember almost thirty years later) went something like, "In Terms of Endearment, Debra Winger plays a woman at odds with her mother, who is The Terminator."
I wrote to Roger to tell him about this … and that led to a week or so where we went back and forth citing our favorite examples. It was neat to get even one reply from him — I was pretty bowled over when he wrote me again to continue the conversation. It pleases me even now to think of him coming across a particularly amusing one and thinking, "Oh, I gotta share this one with that guy who wrote to me!"
JOHN BONAZZO
While Roger Ebert's reviews were the best in the business, my favorite of his writings were always the personal reflections. Whether he was extolling the virtues of his beloved Chaz or facing the reality of his illness and impending death, his journal entries were always filled with passionate honesty and the same empathy that characterized his reviews.
It's precisely that empathetic candor, and the fact that he was an open book about his many health struggles, that made Roger's death so painful. But to their credit, the staff at RogerEbert.com has kept his legacy alive- not only because the memorial page is still front and center on the website, but because their own writing is infused with the same energy and empathy as Roger's. I can't believe he's been gone for five years, but I take comfort in the fact that his legacy is being carried on so beautifully.
BENJAMIN BRONSON
It's difficult to pinpoint an exact story about Roger that best encapsulates my appreciation of him. Rather I feel it's more appropriate to say that a great many things he did helped me greatly.
First and foremost I am on the Autism Spectrum. High functioning but still noticeably "off" in some areas. Naturally I had a great deal of trouble finding places to fit in as whatever I was typically interested did not interest my classmates. Sometime after Martin Scorsese won for "The Departed" I proceeded to watch the film because I thought it might be interesting. And it was! I was invigorated by watching Scorsese talk openly about his work which was something I'd never really experienced before. The issue was is that growing up where I did (a small town in Montana) I didn't really have many people to talk about the film with. So, naturally like any young intrepid person I went to the internet to look for like minded people. I found Roger website rather early on and it was a real watershed moment for me.
I was struck at first by Roger's accessibility which at first glance might make some people laugh but I wish to stress the importance of just how Roger wrote. It's very difficult for me at times to understand people's actions not out of a sense of outward malice but because of a biological inability. Complex, imprecise or pretentious writing is an incredibly difficult thing for me to get through because I have a hard time understanding what people mean specifically and when I struggle, I struggle very hard.
Roger's writing, specifically relating to directors like Ozu, was paramount in my attempts to understand him. Roger stressed that the entire film was the point rather than whatever was simply happening on the screen. The blocking, the way the camera was positioned the color of a lone teapot, etc. While these analyses may seem rudimentary to most people, it struck a chord with me because it made me realize that understanding a movie meant more than reading the character's faces and feeling emotions when something happened. Film was to be consumed in total, not piece by piece. How many films had I watched simply looking for basic concepts to surface only to be disappointed? It caused me to reevaluate everything I'd learned before.
For a young man whose entire life is based around a brain that doesn't always function like other people's, it made me feel like I truly belonged somewhere for the first time. I devoured reviews and purchased several of his books because for the first time I felt as if I had a legitimate interest and it was something I could pursue in an honest fashion. And the fact that people in general liked movies certainly didn't hurt either!
I remember when Roger died it was a moment of deep clarity for me. There wasn't going to be any more jokes or political columns. No more would I check his site weekly for how he felt about things. I never met Roger but knowing that he was no longer with us was a bit like losing a teacher and someone who made you feel validated. He was a major player in convincing me that my interest not only mattered but it was something to be proud of. And I take great heart at still reading his old reviews because I can still hear his voice when reading them. They're things I hold dear even now even now over ten years after discovering them. I never met Roger but it's my sincerest hope that he would have been pleased to know that he touched a life in the capacity that he did.
MATT BROWN
I am one of the thousands of young filmmakers/cinephiles who wrote to Mr. Ebert seeking advice or stories.
From about the age of 13, I started obsessively watching every movie from my local video store, and seeking out movie reviews and writing on film. When I was about 14, I started going through Roger's "Great Movies" archive and made my viewing lists accordingly.
I read Roger's reviews religiously every weekend on the original site, and it seemed that every movie I really wanted to see had a little info line at the bottom of the review that said "X film is playing at The Music Box for a limited engagement." Growing up in a small city in East Tennessee, a place like The Music Box seemed like a far-away and exotic dream. The closest independent cinema that showed films like Atom Egoyan's "Exotica" or Errol Morris' "Fast, Cheap, and Out of Control" was a small theater a few hours away in Knoxville, TN.
My dad occasionally would take me to see films there, but it had to be a special occasion. When I was about 15, Todd Solondz's "Happiness" hit theaters, and after reading Roger's review, I decided I HAD to go see it. My parents, upon reading the same review, weren't particularly keen on me seeing a film who's central character is a semi-redeemable pedophile.
So I wrote to Roger, telling him my plight and asking if he thought 15 was too going to see the film. I've been digging and can't find the original email, but I said something along the lines of that I wanted to see if Solondz could pull off the delicate balance of comedy and empathy for horrible people. Roger wrote back "If you're a 15-year-old that is thinking about delicate balances and empathy in a movie, you're old enough to see this movie. Have your parents email me if they want more details about the film's content."
First, I was stunned he'd written me back. Second, all I had to do was show my parent's Roger's response and they took me to see "Happiness," which remains to this day one of my favorite films.
After a lot of work and a series of odd circumstances I got out of East Tennessee and now live in Chicago, where I'm a member of the International Cinematographer's Guild; I work on major TV shows and films that come into town. I also live a 15-minute walk north of The Music Box, that far away, exotic dream.
Reading Roger Ebert's reviews coincided with and guided me in my love of cinema. They still do. His response to an ostentatious 15-year-old's email put a little more wonder into my heart and pulled the dream of working in the movie business a little bit closer.
MATT CIPOLLA
I began reading film reviews a few weeks after my 13th birthday. As clichéd as it may sound, I didn't have much of a social life during eighth grade, and my emotions swung viciously between ecstasy and apathy. In the mind of a boy who had survived long enough to earn the title of "teenager", hatred was a predisposition. It wasn't a response; it wasn't a feeling; it simply was the epicenter of everything. As angsty as it sounds, the only thing I didn't hate was seeing or talking about movies.
But I didn't feel like talking, and I didn't feel like listening. If I were to forge a connection with someone by reading words not meant specifically for me, so be it. I came across a web article listing all of Roger Ebert's zero-star reviews, which, at the time, shone with neon lights signifying the apex of hatred. I didn't get true hatred, though—I just got humor. As much as I didn't want to, I laughed. I laughed when he simplified the title of "An Alan Smithee Film Burn Hollywood Burn" to "AASBFHB," and I later laughed when he declared that "Freddy Got Fingered" "doesn't deserve to be mentioned in the same sentence with barrels."
It may sound inconsequential or even trite, but those two little quips came at a time when I was trying to figure out how to channel my anger. Even though I had gone looking for rage, Roger's writings instead presented me with the drollness of a troll, a voice more piercing than any late 2000s ringtone. I often read to myself when I was alone in my room, and when I read Roger's words, I for once liked what was coming out of my mouth. He showed me the ability to present pain as passion, and passion as piss-taking. He taught me the heart that lies within humor, even if that heart might as well be piercing itself with a dagger.
I set up my Twitter notifications to alert my phone every time Roger tweeted. (He tweeted a lot.) My final walk out of that school was accompanied by a buzz from my phone, and the final thing I read in eighth grade was one of his tweets. If I'm to be completely honest, I can't remember what it said, but I know this: if I was damned with anything walking out of those doors, I was damned with a brain.
PAUL ALLEN HUNTON
The only correspondence I ever had with Mr. Ebert was an email to his Answer Man page inquiring why one of his reviews for "The Black Stallion" was missing from RogerEbert.com. His response:
"Good heavens! I've told the webmaster to put it back on, pronto! It's a definite great movie candidate."
That was on 10/22/07, a little over a decade ago, but I'll never forget it. I grew up in New Mexico where "Siskel and Ebert at The Movies" was shown on our local NBC after Saturday Night Live. My Dad would let us stay up to watch the cold open of SNL and if we pretended to fall asleep we could just lay on the couch. I didn't care too much for SNL but I'd lie there faking sleep waiting for S&E. By the time the show began my Dad had usually fallen asleep himself and I'd come alive. I remember several segments vividly, the trashing of the film "North" with Elijah Wood still stands out. However, it was a small documentary made in Chicago about two inner-city youths that I'll never forget. The championing of "Hoop Dreams" by Roger and Gene changed my life. The empathy they showed for the two main protagonists of the film, Arthur Agee and William Gates, and the passion they proclaimed for the power of the film, and even more so, the power of the medium, set me on my path to become a documentary filmmaker. I was 12 then, I'm 35 now, and two years ago at the IDA conference in LA I got to meet Steve James and relay the story. Of course, I didn't get to see "Hoop Dreams" until much later when it came to VHS at my local rental house but I remember being so moved and so grateful that Roger and Gene had unlocked a portal for me, and millions of others, to understand, to see, and to empathize with those whom we would never meet in our daily lives. As a young white middle class kid growing up in a town of 12,000 people Roger showed me the world and taught me that movies were more than entertainment, they were tools of understanding. I've never stopped learning. When people ask me why I became a filmmaker the answer is always, "Roger Ebert and Gene Siskel."
KATHY JOHNSON
Our three kids were born in the '80s, and as they grew up we ate every meal at the kitchen table except one: lunchtime on Sundays. We'd get home from church, quickly change, throw together lunches, and gather in front of the TV to watch "Siskel and Ebert At the Movies." All five of us were Roger fans, and we loved the back-and-forth between the two friends. My son made it his goal to watch all of AFI's Top 500 Films before he graduated from high school, and (with the exception of a couple X-rated movies) he did it! He's now a professor and working in Roger's beloved Chicago.
In our family we do not exchange many tangible gifts; for many years we have made charitable donations instead. And here's where Roger became another exception to the family rule. When he wrote Life Itself, my kids got together and ordered a signed copy for me as a Christmas gift that year. And Roger went along with their plan to make it even more special: for the decade my oldest daughter lived in Tanzania, she depended on me for DVD recommendations when people who were planning to visit the Children's Home she ran would offer to bring gifts. Whenever she'd write asking about DVD's, she'd call me "Kathbert" (my name is Kathy) and they asked Roger if he'd make out the book to "Kathbert." He did. I cried.
Thank you for putting together this collection in his honor. Although I never met him, Roger Ebert informed, challenged, and inspired all of us and I wish I could tell him thank you.
MILTON LAWSON
I'm a comic book writer in Houston, Texas. Roger's impact on my life continues to this day – every time I walk into the theater, I do so with an appreciation for cinema informed and crafted by Ebert's writings.
I've recently written a short 10-page comic book story about Roger, titled, "Roger Ebert and Me." I'm in a comics-creation workshop and we are compiling an anthology of stories about people taking a trip with someone famous. So, of course I chose Roger to be my traveling companion. This is a story about the healing power of cinema featuring one of the art form's greatest champions, written by me with artwork by Rem Broo. You can read it online at my website:
http://miltonlawson.com/rogercomic/
STEVEN LEE
I never met Roger Ebert personally, but we had mutual friends. Once one of them forwarded an email of his to me … He had a sound effects related question for his "Answer Man" column … and after almost 30 years in the business of post-production sound, I felt fairly qualified to help him. He incorporated the information I sent into his column … and from then on, he would occasionally forward other sound-related questions to me. One of them, about the classic baby giggle sound, he actually used the entire text of my reply. We became email buddies off and on for a few years, occasionally sending each other interesting bits of film history. When I mentioned to him that I had started a book about movie sound effects, he wrote "You SHOULD write a book … instead of giving all your good stuff to people like me!" Since his death, I've started developing plans for the Hollywood Sound Museum. I wish he was still around for when it finally opens … I think he would have enjoyed it. Thanks for helping to share the craft, Roger.
JEFFREY MARSHALL
I write this today having recently turned 45 years old, but Roger Ebert was my movie hero from the time I was in middle school.
I started watching Roger and Gene Siskel on television in 1985. I wasn't your average 12 year old. I became fascinated in seeking out films like "Prizzi's Honor" and "Kiss of the Spider Woman" mainly because of Roger.
I would anxiously await for Fridays to arrive as I would ride my bicycle down to the nearest newspaper stand that sold the Chicago Sun-Times for the sole purpose of reading Roger's reviews. He inspired not only my love of film, but my desire to learn more about it.
In eighth grade, I gathered up the nerve to actually send him a fan letter. I told him how much I loved to read his reviews and hoped to one day be able to see enough movies to come up with my own ten-best lists like he did.
I recall not necessarily expecting any kind of reply, but a couple weeks later, I received a letter from The Chicago Sun-Times. Roger had kindly not only acknowledged and appreciated my letter to him but enclosed a list of every ten-best list he had compiled for the last 15 years. To say I was overjoyed would be an understatement! I will never forget the kindness he demonstrated by taking the time to recognize a young, awkward pre-teen who shared a unique and unusual love for cinema. It is a vivid memory I cherish to this day.
I'm not sure exactly what drew me to Roger. Perhaps it was that we both hailed from Central Illinois. Frankly, perhaps I related to his weight, being an obese child myself. But I looked at Roger and saw someone else who shared a passion for the movies that matched if not eclipsed my own.
I still live in central Illinois – Decatur to be exact – and I have been freelance movie blogging for a few years now. I have recently begun plans for my own website. No one has influenced me as a film lover more than Roger Ebert. It may seem outwardly artificial and trivial, but to those of us who share a deep love of motion pictures, we know that nothing could be further from the truth.
Thank you, Roger!
DAVID RODRIGUEZ
When I first saw Roger, I was a 10-year-old boy watching him and Siskel review some of my favorite movies. It was one of my favorite shows to watch as a kid because seeing people have such strong opinions about such things as movies was so interesting to me. I then found Roger's writings and I was forever hooked. His reviews are so well written and thoughtful, always spot on. There weren't many reviews from him that I disagree with. I never watched a movie without reading Rogers reviews. Before spending money on going to the movies, I made sure to read Rogers review of it first so that I wouldn't waste time or money on a movie that only got 1 star from him.
Once, he recommended a movie called "Spirited Away." I had never heard of it prior to reading his review if it. I showed my daughter the movie and now it will forever be one of my family's favorite movies, thanks to Roger for telling me about it. I also loved that he reviewed independent and foreign films as well. He introduced me to so many great films, even ones that I would never heard of if I weren't reading his work constantly. When he passed away I realized something. I realized how much the world lost. I realized nobody can replace him. I somehow feel vulnerable without him because I've been having to go to the movies without his insight. I can only hope that his wisdom and perspective have rubbed off on me. I really miss him.
"AWAKE IN THE DARK" by SAM WATERMEIER
We knew he'd be there,
awake in the dark.
Eyes always shifting,
looking for a spark.
Even though he knew the tricks,
<span class="s1" the magic never faded.
Beloved Roger Ebert,
well-versed in film, not jaded.
He said the familiar
was a crime against our minds.
He taught us to love movies
as escapes from daily grinds.
Life has unhappy endings
but fun along the way.
Roger's life was a theater,
one in which he could not stay.
But he is always with us,
looking down at that big screen,
hoping he makes us grateful
for everything we have seen.