Bill Browder, who led effort for sanctions act, detained on Russian warrant in Spain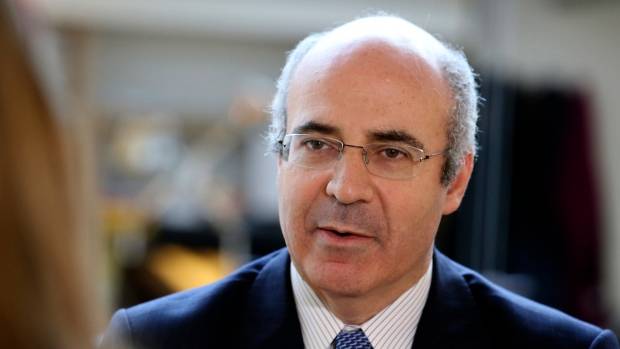 A Britain-based financier who has spearheaded a United States law targeting Russian officials was briefly detained Wednesday in Spain on a Russian warrant, which authorities later said had expired.
William Browder tweeted Wednesday that he was being arrested, posting a photo on his official profile saying that he was in the back of a Spanish police car on the way to a police station.
"Urgent: Just was arrested by Spanish police in Madrid on a Russian Interpol arrest warrant. Going to the police station right now," Browder wrote.
A Spanish national police spokesperson confirmed that Browder had been detained Wednesday morning in Madrid and taken to a police station to check on the arrest warrant. Police found out there that the order was no longer valid, she said.
The spokesperson, who wasn't authorized to be identified in line with police rules, said the financier was released minutes after his detention. Browder confirmed his release on social media.
In an image of a detention report posted by Browder himself on Twitter, police identified the reason for the detention as "fraud."
Signed into law in Canada, U.S.
A Moscow court sentenced Browder, who was born in the U.S. and is now based in London, to nine years in prison in absentia over tax evasion and funnelling money overseas. He has dismissed the accusations.
The financier and Ivan Cherkasov, an associate who was sentenced to eight years behind bars, were also ordered to pay four billion rubles ($83 million Cdn) to the Russian government in damages.
This is the arrest warrant <a href="https://t.co/Cr1Sf4vS4a">pic.twitter.com/Cr1Sf4vS4a</a>

&mdash;@Billbrowder
Browder has advocated for U.S. sanctions targeting Russian officials over human rights abuses. He was the driving force behind the Magnitsky Act, named after Browder's former employee Sergei Magnitsky, who died in jail after accusing Russian officials of involvement in a tax fraud scheme.
The Magnitsky Act became a sore point between the U.S. and Russia after it was signed into law by then President Barack Obama in 2012. Shortly afterward, President Vladimir Putin signed a law banning American citizens from adopting Russian children, in a move widely viewed as retaliation.
Canada signed its version of the act into law in 2017.
Ironically, the reason I'm in Madrid is to give evidence to senior Spanish anti Russian mafia prosecutor Jose Grinda about the huge amount of money from the Magnitsky case that flowed to Spain. Now that I'm released my mission carries on. Meeting with Prosector Grinda now

—@Billbrowder
Browder led one of the biggest investment funds in Russia for 10 years before he left the country and was barred entry in 2006 as a threat to national security.
The United States this month imposed sanctions on five more Russian officials under the Magnitsky Act, including the leader of Chechnya.