'Why am I not happy?': What it's like to have postpartum depression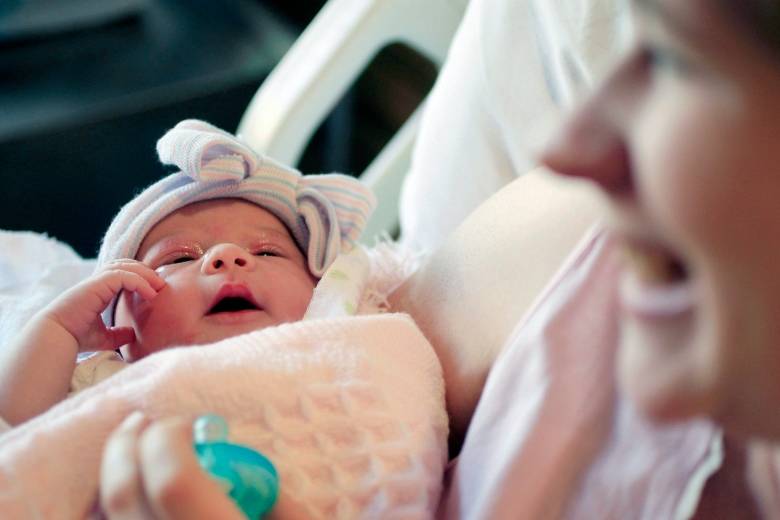 Amanda Spidel had trouble getting pregnant with her first child. After her son was finally born, the stress of conceiving turned into anxiety around his health.
Before long, her anxiety turned into postpartum depression, a condition that affects about 14 per cent of mothers. She struggled with her emotions and how she thought she should feel about motherhood.
"I only wanted to be nothing but grateful, but he was very colicky, he cried all the time, and there were moments where it was really hard," she said. "All I could think was I should just be happy. Why am I not happy? But it was because he was crying all the time."
'It was really hard to admit'
Spidel's family doctor asked her how she was feeling at every visit, and that's how she reached out for help.
"One day I went in and he asked that question and I just broke down and said, 'You know what — I'm not okay.'"
Postpartum depression can show up within the first year after birth, and can last months or even years. (Michael Zamora/Associated Press)
Now 32 and expecting her third child, Spidel is speaking out about her experience with postpartum depression for the first time in hopes that it will help other mothers struggling not feel so alone.
"It was really hard to admit that there was something wrong with me and it needed to be fixed," she said. "It's an illness, it really is and I was sick."
Postpartum depression is a depressive disorder that sets in after childbirth. It can manifest as debilitating sadness or anxiety and usually occurs in the first year after giving birth.
It can last months or even years. Depression can also show up during pregnancy, which is known as peripartum depression.​
It's more serious than the "baby blues," where a mother may feel sad or anxious for a few weeks.
Charlottetown-based psychologist Ken Pierce said parents often prepare for a baby "externally" but aren't always prepared for the more difficult emotions that can come from raising a baby.
"They get the crib, they get the diapers," he said. "We don't realize that parenting, it's a dualistic experience. It's wonderfully painful."
Any mother can be affected
The Canadian Maternity Experiences Survey, published by the Public Health Agency of Canada in 2009, interviewed 6,421 new mothers across Canada. It assessed the mothers' emotional state and found that 7.5 per cent of the women had postpartum depression, while a further 8.6 were at risk of experiencing it.
The highest rates of postpartum were reported in Nunavut (14.3 per cent) and in the Yukon and Manitoba (10 per cent), while the lowest rates were reported in P.E.I. (five per cent) and New Brunswick (4.5 per cent).
Postpartum was most likely to develop in mothers under the age of 19, those with less than a high school education and those living in low-income households.
A survey of Canadian mothers found that 7.5 per cent had postpartum depression, with a further 8.6 per cent at risk of experiencing it. (Maria Sbytova/Shutterstock)
Any new mother can be at risk, according to the American Psychiatric Association (APA), which estimates aobut 14 per cent of women experience postpartum depression.
The chances can increase if a mother has a family history or personal history of depression or a lack of family support.
'Every day was a roller coaster'
Emily Myers also struggled with postpartum depression.
"I don't know that I would say I'm a hypochondriac because I'm definitely not now," said the 26-year-old, now a mom of two. "But at the time that's kind of how it manifested — terrified of one of us getting sick."
She was washing her hands so frequently that they were raw and prone to bleeding.
Emily Myers says she was so anxious about germs or herself or her baby getting sick that she washed her hands until they bled. (Submitted by Emily Myers)
"Every day was a roller coaster — it was making me angry, I was impatient, I cannot imagine I was fun to be around," she said.
Myers met with her family doctor and with a therapist at the Richmond Centre in Charlottetown — something she said was anxiety-inducing in itself.
"I honestly went in there thinking what if I have a more severe form of a mental health issue that I wasn't aware of like bipolar or what if I'm schizophrenic? Thinking all these things are going to happen that aren't going to."
A difficult pill to swallow
The treatment for postpartum can include therapy, medications such as antidepressants or a combination of both, depending on the case.
Myers and Spidel, who both live on Prince Edward Island, attended therapy and took medication.
Myers was also worried about the prospect of taking an antidepressant — that it would make her symptoms worse, not better. But the therapist talked her through it, and she decided to try a type of antidepressant known as a selective serotonin reuptake inhibitor, or SSRI.
She said it started making a difference within a week.
"It just made everything else better. I started to sleep a little better, I wanted to exercise, I wanted to socialize, I wasn't so quiet, I wasn't as nervous," she said. "I stopped washing my hands constantly."
Spidel was also prescribed medication. In her case, it took a few months for the medication to work, but when it did Spidel said it "turned everything around."
Denial with 2nd child
Both Myers and Spidel got pregnant again, and each of them decided to wean off their medication during the pregnancy.
They both found the anxiety and depression creep in again, something they both had trouble admitting.
"It's hard to know too, when you're in those states of mind too, that you're in them," Spidel said.
Spidel says her third pregnancy has been 'far more normal.' (Jesara Sinclair/CBC)
"I was in denial," said Myers. "I wanted to push through it."
She ended up at the Queen Elizabeth Hospital, where she said speaking with medical professionals helped her feel okay about going back on her medication — and again, things improved.
​Spidel is now taking medication during her third pregnancy — a difficult decision, she said, but the right one for her.
'We all have struggles'
Both want other mothers to know that it's okay to feel unhappy at times — and urge those who are struggling to get help before it gets worse.
"I think in the media, motherhood is portrayed as this beautiful, wonderful, glorious thing all the time," said Spidel.
"We all have struggles and I think that if everyone knew that, it would normalize it and people would feel better about it at least."
Both have also found support through Facebook groups like Island Mothers Helping Mothers and Moms in Mind.
"Everybody knows what you're going through, and you don't need to go through it alone," said Myers.
If you or someone you know is struggling, you can contact the Island Helpline at 1-800-218-2885, the Women's Wellness Program at 1-844-365-8258, Community Mental Health in your community, or go to a mental health walk-in clinic. If the situation is urgent, go to the hospital emergency department.