What you can do to keep the mosquitoes away this summer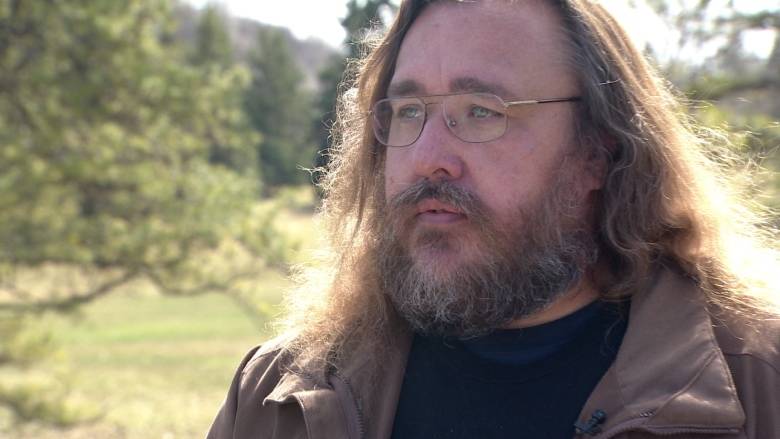 It's that time of year again — when mosquitoes emerge to ruin your outdoor fun.
The extent to which mosquitoes thrive depends on the amount of rain and hot temperatures the city receives over the summer, said Edmonton's pest coordinator Mike Jenkins on May 1.
"Our mosquito populations are driven almost entirely by precipitation," he said. "If we get a lot of rainfall, that generally turns into a lot of mosquitoes."
Mike Jenkins, the City of Edmonton's Pest Coordinator, says mosquitoes are able to speed up their development depending on weather conditions. (CBC)
Similar to last summer, mosquitoes this year are delayed in their growth due to spring's late start, said Jenkins.
Unfortunately, the insects can speed up their metabolism based on the weather — warmer temperatures mean faster metabolisms since they're cold-blooded, Jenkins said.
"They're able to speed up their development, and so they're able to go through their life cycle that much quicker," he said.
If temperatures are cooler, larvae can take over a month to go through their development cycle. If it's hot outside, the bugs can do it in under four days, Jenkins explained.
There are about 30 species of mosquitoes in the Edmonton area, each developing at different points in the year, Jenkins said. Some can adapt to colder conditions, he added.
Repellents, light clothes and garlic
Tadek Sampson is the buzz boss and educator at Buzz Boss, a Calgary company that specializes in yard mosquito control. They use a garlic solution mixed with vegetable oil, silt and water, and mist the solution in areas where it's cool, dark and shady.
"Mosquitoes need to stay out of the sun, and they need to stay out of the wind because they have soft bodies that dehydrate, and then they die," Sampson said Tuesday. "So where they're waiting for you is on the undersides of leaves."
The pesky insects use your blood to produce a protein to be able to lay more eggs, said Sampson. When a garlic solution is used, it blocks the mosquito's sense of smell, so the pest has trouble following the scent of blood.
"Their sense of smell is roughly 10,000 times greater than our own," Sampson said.
Mosquito expert Tadek Sampson swears by DEET-based repellents. (Lynne Sladky/Associated Press)
But if you're out in nature, repellents work just like the garlic spray, Sampson explained, recommending DEET-based products.
"Mosquito repellents will have DEET as their main active ingredient and that is because for 50 years, it's a gold–standard for keeping the bugs off you," he said.
"It's safe because you're not using a tremendous amount of it to be effective."
But don't use it on babies less than a year old, Sampson cautioned.
"As an adult using DEET, we're not absorbing very much of it," he said, adding that toxicity is all relative.
"Any product that uses 20 per cent or higher content of DEET will do a much better job of keeping mosquitoes and ticks off of you."
With plant or oil–based repellents such as citronella or eucalyptus, Sampson said they need to be applied every 30 minutes to an hour to be effective, whereas DEET can work for about four to six hours.
Other tips from Sampson:
Wear light-coloured, loose-fitting clothing (mosquitoes are attracted to dark colours and body heat) and try permethrin-based clothes, a synthetic product that's good at insect control
Keep grass and bushes short: If you don't, it gives pests a place to hide from the sun
Pets can use the same repellant as people — just check with your vet first
Clean out standing water (bird baths, wading pools, tarps, eavestroughs, etc.) each week because mosquitoes could lay eggs and hatch in a short period of time when the heat stays
It really doesn't take much water for mosquitoes to spawn, Sampson said.
"All they really need is about two ounces of water to lay eggs in," he said. "In a cup of water throughout the entire season, you could have 1,000 eggs laid."