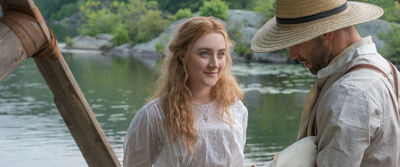 The creation of producer Tom Hulce and theater director Michael Mayer, the latest cinematic incarnation of Anton Chekhov's "The Seagull" is handsomely mounted and well-acted by a stellar cast, but it's one of those theatrical adaptations that has no reason to exist for any viewer who can recall a superior stage version of the same work.
For me, that was a production in London that starred Vanessa Redgrave and her daughter, Joely Richardson. Though I saw it decades ago, the experience remains in memory as a night of transcendent theater, one in which the play was illuminated not only by the superb performances and direction but also by the space it allowed the audience's imagination. There are rooms of a country house outside Moscow, there is a lake in the distance. But these things are just sketched in visually; we give them reality in our heads.
Giving us a well-appointed country house and a real lake adds nothing to the work, in my view. In fact, it can diminish it, substituting un-resonant literalism for poetic suggestion.
"The Seagull" was a famous disaster when it was first performed in 1896. The audience booed, one actress froze in fright, and critics savaged it. It was only when Konstantin Stanislavsky directed it for the Moscow Art Theater in 1898 that the play was hailed as a masterpiece and Chekhov, previously a noted short story writer and doctor, was launched on the playwriting career that would yield "Uncle Vanya," "Three Sisters" and "The Cherry Orchard."
The play is known for introducing a naturalistic form of writing that challenged the melodramatic conventions and cliches of the time, and is often credited with introducing subtext to the theater. These are dubious distinctions when it comes to making a contemporary movie, though, since cinema absorbed both innovations long ago.
So what can one do to "The Seagull" to give it freshness? One thing that screenwriter Stephen Karam does is take the beginning of the play's fourth act and make it the first thing we see, so that the body of the story then plays as a flashback. Though some viewers may find meaning in the temporal shift, to me it just seemed like pointless gimmickry.
The main reason to see this production is the cast. Annette Bening anchors the proceedings with a strong performance as Arkadina, the famous, self-absorbed actress who's visiting the country estate where her ailing, cantankerous brother Sorin (Brian Dennehy) lives. She's accompanied by her younger lover, Trigorin (excellent Corey Stoll), a celebrated writer.
Billy Howle and the ubiquitous Saoirse Ronan, who play young lovers in the new "On Chesil Beach," essay similar roles here, albeit transposed to the Russia of 1904 (shifting the time a decade ahead of when Chekhov wrote the story is another puzzling innovation). He is Konstantin, Arkadina's son, who has grown up on the estate and has artistic ambitions that make him insanely jealous of both his mother and Trigorin. He's in love with Nina (Ronan), a local lass who's toying with the idea of a theatrical career and who becomes infatuated with Trigorin.
The cast also includes Elisabeth Moss as Masha, a gloomy young woman who drinks too much, harbors an unrequited crush on Konstantin and resists the puppyish attentions of Medvedenko (Michael Zegen). The roles of Dr. Dorn, Shamrayev and Polina meanwhile are played by Jon Tenney, Glenn Fleshler and Mare Winningham, respectively.
While Chekhov called "The Seagull" a comedy and it was regarded as subtle and complex in the changes it wrought on dramatic conventions, the tale's melodramatic content today is undeniable. The fact that when Konstantin decides to kill himself, the attempt—which only leaves him with a bandaged head—isn't shown hardly has the impact on screen that it did more than a century ago on stage.
What Chekhov left to audiences and actors is a play in which the characters are rich, multi-dimensional and embroiled in passions—amorous, artistic, or both—that are often contradictory or ultimately destructive but always recognizably human. As a stage piece, "The Seagull" seems sure to last for ages. When thinking of what I'd like to see in a film of it, the idea I kept returning to was a Russian production that would convey the flavor of the original's setting and language. But Mayer's film was shot in New York State and its cast is entirely Brits and Americans. I'll keep hoping for that Russian version.